Then and Now: Charlie Ward
Charlie Ward coaches Florida High to first state championship in decades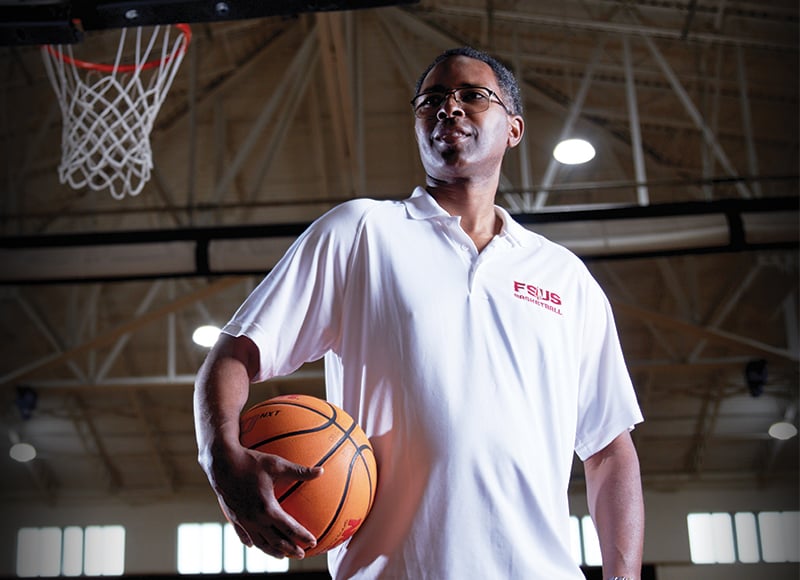 For young people otherwise removed from the chance that they might attend one of America's leading universities, athletic ability can provide a ticket to opportunity.
Among the fortunate few who become varsity athletes at Florida State University, a tiny fraction will become far more familiar to Tallahasseans than the lieutenant governor or the president of the Florida Senate. They will experience moments between sidelines, foul lines and end lines so big that fans seeking football or roundball fixes will play them during offseasons, time and again.
And, if they are truly elite — if their fastball touches 97 mph or they can cover 40 yards in 4.5 seconds, they may attract the attention of pro scouts and enjoy success with MLB, NFL or NBA teams. They are the stuff of water cooler — or chat room — conversation. Early success, big bucks and bright lights bring challenges of their own, however. Humility can become hard to maintain, even muster. An appetite for highs may become consuming. Eventually, though, most gain perspective, a sense of gratitude and a desire to give back.
-Steve Bornhoft, Executive Editor, Tallahassee Magazine
---
Uncompromising Commitment
Charlie Ward has been a household name since the '90s. His successful career in both football and basketball afforded frequent appearances on television, in newspapers and on the radio. He still gets recognized, but today's kids know differently. To them, he's Coach Ward or that sport's broadcaster from Netflix's Family Reunion.
Ward admits it's a bit strange, but he was never in it for the recognition — he wanted to play ball as well as he could for as long as he could.
He closed out his college football career as one of the most decorated players in history. During his 1993 senior season with the Seminoles, the spark plug quarterback received every award he was eligible for, including the coveted Heisman trophy.
Ward made history as the first and only Heisman winner to play in the NBA.
Following a successful collegiate career with the Seminoles in both basketball and football, Ward went on to have an impressive 11-year professional basketball career with the New York Knicks, San Antonio Spurs and Houston Rockets. After a series of injuries, Ward retired in 2004 and began coaching for the Rockets under Jeff Van Gundy.
Coaching proved intimidating at first, but advice from notable figures guided Ward's coaching philosophy. From Bobby Bowden, Ward learned that a great coach is fair and honest. Coach Van Gundy taught Ward the importance of preparation.
"The outcome was the outcome, but Coach Van Gundy was going to make sure that we were prepared to play."
Ward was grateful for the opportunity to foster young talent. College and professional sports afforded him many opportunities to learn and develop his skills, but Ward always held a special place for the pick-up games and high school rivalries of his youth.
Ward returned to that childhood passion by sharing his talents as a high school coach. He went on to coach football at high schools in Texas and Pensacola, but in 2018, Ward returned to Tallahassee and to basketball.
In 2022, Ward led the Florida High boys basketball team to its first state championship victory since 1963. Refusing to let the team get complacent, Ward began scheduling tougher teams out of district and sometimes out of state to keep the boys pushing their hardest. Victory comes from the camaraderie and commitment built through months of workouts, tough schedules, watching film and life skills training.
After years of pressure in his own athletic career, Ward has learned how to handle the heat. Now, he's teaching his players.
"Where there is pressure, there is opportunity for you to rise," Ward said. "Pressure can form a diamond, or pressure melts. Sometimes I melt, but I continue to rise. A lot of times we run from the heat, but if you are a competitor, that's where you want to be. You want to give yourself the opportunity to be legendary."
Off the court, Ward stays committed to youth betterment. The Charlie & Tonja Ward Family Foundation is dedicated to youth character development and disaster relief. Ward, his wife and their children organize relief efforts, raise money for local organizations and host sports camps that endeavor to deepen the bond between fathers and their children.
The foundation is currently seeking funding for a new sports and wellness center in the Big Bend.
"It's something that is much needed and a great passion of ours because it will bring all the things that we have been doing into one facility," Ward said. "My wife is a wellness and digital media person. I'm a sports guy, and our kids love sports and music, so we are looking to try and bring all of our experiences into one facility that the community can enjoy."
---
FSU quarterback and Heisman Trophy winner Charlie Ward (1989-93) set 19 school records and led the Seminoles to their first national football championship in 1993. Ward's jersey number was retired 20 years ago. He played in the NBA with the New York Knicks for nine years and started in the 1999 NBA Finals. He later had short spells with the San Antonio Spurs and Houston Rockets before retiring in 2005. He was inducted into the College Football Hall of Fame in 2006.
Photos courtesy of Charlie Ward and FSU Sports Information