Their Relationship is All In
Sweat Therapy owners Brian and Kim Bibeau take 'togetherness' to a whole new level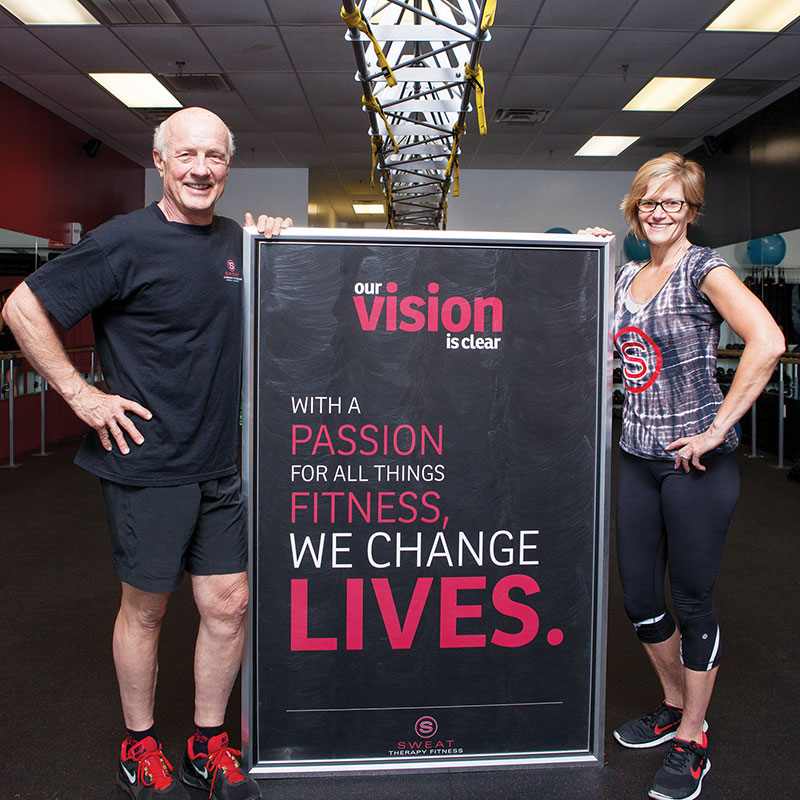 With just nine years left until she could draw a nice pension, Kim Bibeau was working in a good state job making a nice salary — but that wasn't enough for her. She wanted to focus her life on her passion: helping people get healthy.
At the time, she was working at Gold's Gym alongside many friends and fellow instructor Brian Bibeau. The two married in 2007.
Kim was juggling a good career, parenting, marriage, her fitness gig on the side, and she was struggling to make it all work.
Matt Burke
Brian and Kim Bibeau serve as transformational influences in the lives of their gyms' members. For Brian, exercise has been a lifelong habit. Kim was 30 when she discovered its benefits.
Then, along came fate.
In 2009, Gold's changed its business model and stopped offering group classes. For Kim, this was a big blow.
"I was teaching 13 classes and I had a following," she laments. "It really was quite a loss because fitness had become part of the way I defined myself."
Shortly thereafter in 2010, Brian and Kim opened Sweat Therapy Fitness in a tiny space behind Kool Beanz Café on Thomasville Road. The business now encompasses two bustling locations and hundreds of Bibeau devotees.
Brian and Kim came to fitness from two very different angles. He is a lifelong athlete, and she started exercising at 30.
Coming to the fitness industry as an adult gives Kim an edge over many natural athlete-type instructors. Her personal passion — and one that you can actually feel at the Sweat Therapy studio classes — is finding the balance in life to make a healthy lifestyle work.
Kim admits she's not good at compartmentalizing areas of her life, but she's "working on it."
"It's difficult drawing the line between not talking about a problem (at work or at home) and taking space for perspective," she explains. "I think the key to our success is that we always talk things out."
"Kim is a very active thinker," Brian says. "I can turn it off and switch roles, but she's always going, always figuring stuff out."
This constant interaction as wife, husband, co-worker, CEO and best friend would, for most people, wear thin the relationship. However, Team Bibeau makes it a priority to preserve their connection.
Brian and Kim have relied upon Sweat Therapy and its staff and clientele to help them keep going despite the past four years filled with turmoil and tragedy. Together they've lost a mother, brother, daughter, good friend and two dogs.
"These things aren't in the business plan," Brian explains. "They aren't what you think of when you start a business — that you're going to have to keep getting up, keep going to work every day when you really just want to hide under the covers."
But Sweat Therapy and helping clients make real-life, visible improvements in their health is in large part responsible for how Brian is moving through his pain. For Kim, the business made her get out of bed and move forward during those dark days.
Brian characterizes a small business as a big risk with big reward.
"I'm always surprised that a small business is 150% encompassing — it never ends," he says. "There's always pressure, always a need to try and do everything by yourself if you can, to save money." He points to an air conditioner problem that cropped up that very morning.
The Bibeaus enjoy Sweat Therapy and the work-family they've created because it allows them to be together, chase their dream and live their passion. Kim is interested in helping Parkinson's patients through therapy exercise, and she recently became certified in Rock Steady Boxing for that reason.
"Some studios push people beyond their personal limits," Brian warns. "That's an industry-wide problem right now, to think that just by virtue of wanting to do some extreme sport you can — sometimes with real consequences."
Sweat Therapy's mission is to teach people how to find that elusive balance in their lives — and to make "healthy" an easy choice on a daily basis. While it's hard, they can't envision handing it off to someone else or a franchise.
"We won't grow Sweat Therapy beyond what we can handle ourselves," Kim says. "I think two locations is that limit for us, at least right now."
Every 12 weeks or so, though, the two take mandatory rest breaks from the hectic lifestyle. Relaxation with umbrella drinks, chairs and books is the formula they use to relax, unwind, connect.
"It's what we call an 'active retirement,' " Brian says. "But we wouldn't have it any other way."
What's clear is neither one would be happy doing any of this without the other by his or her side.