Theater for One and All!
The FSU School of Theatre reaches out to schoolchildren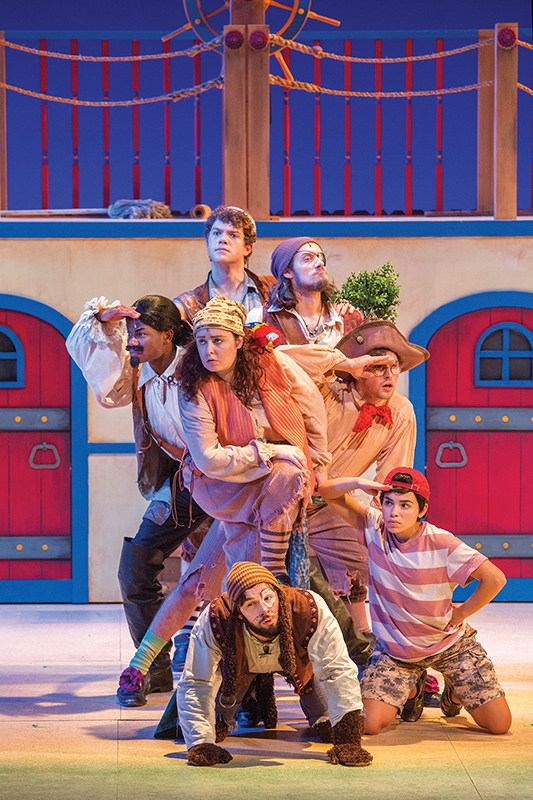 It's a pirate's life for Jeremy Jacob. His backyard treehouse is his ship, and his sandbox is his Treasure Island. It's one afternoon of pirate-play after another, but this seadog longs to have a real adventure. Cue Captain Braidbeard, who arrives at Jeremy's sandbox and invites him aboard his pirate ship. There, Jeremy learns how to sneer, swab the deck and sing chanteys. But at bedtime, no one will tell him a story, because pirates don't know any stories. And no one will tuck him in, because pirates don't need no tuckin'. As for goodnight kisses … well, who wants to be kissed by a mossy-mouthed pirate?
Maybe home is where one's treasure lies after all …
"How I Became a Pirate" is an award-winning children's book; but it's also a musical play that was presented by FSU's School of Theatre as part of their Theatre for Young Audiences program. The play's exciting plot, charming characters and heartwarming message are ideal for elementary school-aged boys and girls. This year's production, "The Cat in the Hat," is sure to be a hit, too.
"When we choose a play, we acknowledge that a kind of balance has to happen," says Cameron Jackson, executive director of the School of Theatre. "The story and characters have to entertain, but the story has to have value and substance, too."
Jackson explains that theater, in general, has been described as ephemeral, or "there and gone again." But theater for children lives on because children are the audiences of the future. "That, in itself, makes theater for children viable," says Jackson. "It's also what makes us want to give back to the children who come to our productions."
Brad Brock, associate director of the School of Theatre, explains that the school gives back to children in a number of ways: "When we have our 'Plays on School Days,' we bus in about 1,900 Leon County elementary school students for a field trip to see one of our performances," he says. "We do four back-to-back shows over the course of two days. We also partner with anywhere from five to eight schools in a fundraising program where they promote the show, people buy discounted tickets and then we give half of the ticket price right back to the schools." 
To date, FSU's Theatre for Young Audiences has raised $15,000 for schools in Leon County.
Jackson is quick to explain that it isn't just public elementary schools that attend the special performances; homeschool groups, private school groups and co-ops are also invited. "Our approach to theater in general is that it's for everyone," Jackson says. And that "everyone" includes the actors who perform in the plays.
"Actors and their audiences are inextricably bound to each other," says Jackson. "Theater is not fixed in time, like a painting. The way an audience responds to a play affects the actors, which makes a play a living, breathing, engaging work of art. And children are such a responsive, engaged audience. The line between what is fantasy and what is reality is so much blurrier for them than it is for adults, which means the experience can be richer for actors when they're acting for children. That's part of the challenge, too — that this type of theater, in particular, isn't fixed. Things can change in a moment, and actors have to be able to adapt."
Adaptability is an important characteristic for actors on and off the stage. "Artists need to have a balance of vulnerability, grit and resilience," says Jackson. "That makes for a sustainable career, with a sustainable impact."
But is it actually possible to have a sustainable career in the arts now, when the arts are being so obviously threatened? The folks at the School of Theatre think so. And they're determined to make it so, because as they see it, theater is essential to humanity.
"For centuries, theater has tackled difficult topics," Jackson says. "It has helped people to see their biases and fears for what they are. It's about community coming together. It's about coming to know our lives through storytelling. It's about sharing the message that there's always hope."
What better place to plant that message than in the heart of a child?