The Wilbury Brings Heat With Funk, Rock and BBQ
Railroad favorite is shaping up to be a major factor in Tallahassee's growing live-music scene, offering local bands and national talent.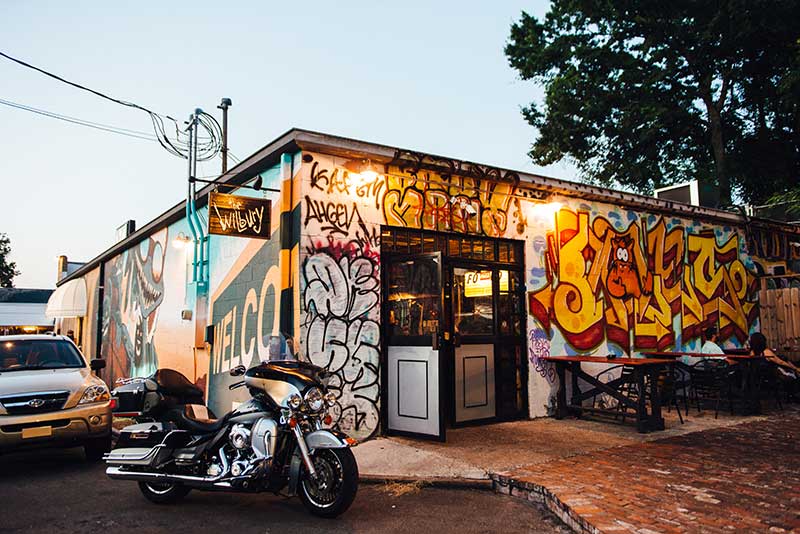 It's an unseasonably warm Thursday night in February when a coupla hundred people intent on ignoring the looming demands of Friday morning work/school obligations cram together around the stage at The Wilbury on Gaines Street.
The occasion? A chance to soak up the quintessential New Orleans sound of the Grammy-winning Rebirth Brass Band.
Entering their 35th year, Rebirth is an institution, part of the first wave of the NOLA brass band revival begun by the Dirty Dozen Brass Band in the late '70s.
The brass band tradition has been a core element in New Orleans culture and identity since the late 1800s and is arguably the original breeding ground for jazz. Rebirth Brass Band honors that tradition even as it stirs rock, funk, R&B and hip hop into the mix.
The sound system in The Wilbury is very good, and when a few early mix and monitor problems sort out, every instrument comes through loud and clear. The low ceiling and cozy room capacity — around 300 if the fire marshal is to be believed — lends a close and intimate cast to the group. We are all in this cauldron together.
Everybody dances, even spazzo journalists who really should go sit down, but sitting down is impossible in front of the Rebirth funk, so let the critics pound sand.
The tables and chairs are pushed against the walls to make way for an audience that, in solid NOLA tradition, is every bit as essential to the evening's festivities as the band itself.
A mostly ignored television is playing Olympic figure skating. Oddly enough, all the routines seem to fit Rebirth's deep groove.
The place is smoking, but the venue is non-smoking. No worries about smelling like an ashtray when you leave. For the nicotine inclined, the outdoor patio offers refuge.
The aesthetic is decidedly funky. Due to the club's proximity to Tallahassee's Art Alley, colorful graffiti adorns every vertical surface as you approach the entrance.
The brick patio behind the club features a dozen or so tables under the trees.
An Airstream trailer, retrofitted to serve as a kitchen, sits beside a wood shack equipped with meat smoker and deep fryer.
The patio is a crazy beehive of hard work and hard play.
A couple of local bands got the crowd ready ahead of Rebirth that night, and while the energy was less than the Rebirth-level overdrive, the crowd was enthusiastic and supportive, especially for up-and-coming guitar slinger Hub Chason and his band of Good Little Chickens.
The Wilbury is shaping up to be a major factor in Tallahassee's growing live-music scene, offering a mix of local bands and national talent including Cindy Wilson of the B-52s, Wreckless Eric, and Rebirth.
Most of the shows have no cover charge, and the national acts are modestly priced. With live entertainment roughly three nights a week and a fully stocked bar with more than a dozen quality craft beers on tap, this latter day juke joint near the intersection of Gaines and
Railroad is becoming a crossroads favorite of the college crowd and adventurous locals of all ages.
The range of musical genres at The Wilbury is impressive, ranging from blues-rock to hip hop to shoegaze to full-blast, paint-peeling rock.
This diversity is seen too at local clubs like Fifth & Thomas, Blue Tavern, Junction at Monroe, and Indianhead Factory that are taking chances both in their artistic curation and in giving local musicians a supportive place to present their work, sometimes alongside established artists like Rebirth.
Are we witnessing a live music renaissance in Tallahassee? CowHaus Productions' Brian Giblett has been promoting live music here for 20 years, including this Rebirth show.
He spoke about the importance of venues such as The Wilbury to a live music scene that has long suffered for lack of viable stages.
"Well, it's been harder with there being fewer venues, for sure. But The Wilbury has been stepping up to fill more of that void, and I know they are planning to do more to make shows better there. I think people are getting back into seeing live music a little more now than maybe a year or two ago."
The Wilbury opened in November 2016, one of several new Gaines Street businesses that followed the streetscape renovation, a surge that turned the district into a polyglot of offbeat hotspots. We asked owner Ryan Smith what he envisioned when he opened his joint.
"We wanted The Wilbury to be a place that preserves the sense of community, art and music that the Gaines/Railroad district has always stood for. We grew up coming to shows and First Fridays in this area, and it provided us countless good times, experiences and memories. We want to hold on to the past and at the same time embrace the future."
And what does the future hold?
"We hope that the Gaines/Railroad district keeps its sense of identity and expands upon it in a positive direction by fostering personal, cultural and local economic growth. In five years we would love for The Wilbury to be known across the country as the place for up and coming, mid-level and the occasional larger band to come to Tallahassee and play."
That's it?
"Oh … and we'd also like to be known for our fantastic BBQ, badass bartenders and awesome mini-bowling lanes! We aren't your normal type of place. You can't get much more Gaines Street than that."
The Wilbury is open Monday through Saturday from 11.30 a.m. until 2 a.m., making it a convenient place for lunch, a casual dinner or a late-night nosh.
And if you need a bite after Sunday go-to-meeting — or if you crave a little hair of the dog — Sunday brunch is served from 11 a.m. to 4 p.m.