The Wait is (Almost) Over for Cascades Park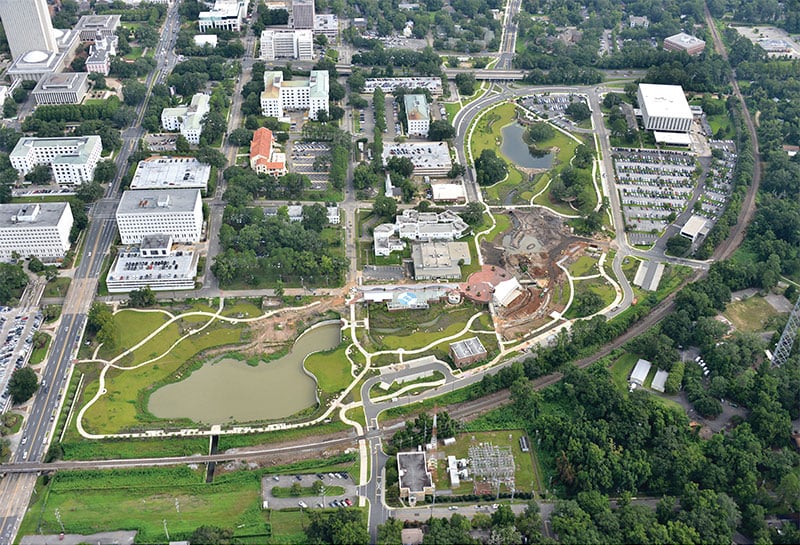 After years of delay, the "Countdown to Cascades" is official. During a live-stream press conference Feb. 10, city and county commissioners Scott Maddox and Kristin Dozier announced Cascades Park will officially open on March 14.
A rainy morning would seem to be the worst time to reveal the date, but the weather during this announcement was a perfect fit. "It's a storm water management facility designed as a world-class park," said Blueprint 2000 Director Wayne Tedder. The park will help to alleviate flooding at Franklin Boulevard, Leon High School and South Monroe Street.
Cascades Park will also contribute to Tallahassee's economic growth. "The park is a game changer; not only did it redevelop a site downtown, but we're able to attract people from the entire region to see shows at the amphitheater," said Dozier. The canopied amphitheater is large enough to accommodate over 3,500 people in permanent seating and a landscaped seating area.
Another community benefit — fun! Cascades Park offers fun for everyone with trails, a kid zone, interactive fountain and more. "Every day people are going to be using the trails for walking, jogging, and biking," Dozier said. The interactive fountain has more than 60 jets that will entertain the kids with water fun. At night, the jets and lights are choreographed to music.
On the morning of Friday March 14, the public is invited to explore the park and all it has to offer, followed by a family-friendly movie in the evening. The celebration continues on Saturday March 15 with local acts performing at the amphitheater and an array of fun activities.
The project was partially funded by the one-cent sales tax approved by voters in 2000 to help with storm water projects and improve parks and recreation. Tedder described Cascades as the "crown jewel" of the all those efforts.
Tallahassee has been patiently waiting for the grand opening since Blueprint 2000's initial announcement in 2009 to restore Cascades Park. "It's taken a long time, but it's a great product," Maddox said.
View our previous stories about Cascades Park: