The Uptown Cafe Turns 40
Family business stays humble, hungry, smart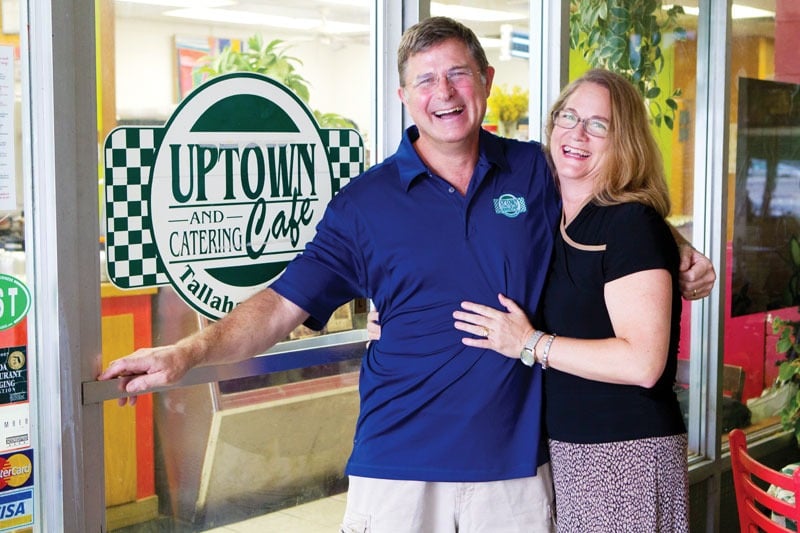 The owners of the Uptown Cafe are grateful to the Tallahassee community for its support of their business for the past 40 years.
Neither Nic Tedio, who runs the restaurant these days, nor his parents Beth and Fred, know what its first day in business was in 1983. That, however, is good by Fred, who enjoys having an excuse to celebrate all year long.
Forty years, Beth said, "is big for any business but especially for the restaurant business, and a locally owned one? That's almost unheard of."
Fred and Beth took over the business from original owners Robert and Martha Cunningham in its early years. Before moving to Miccosukee Road kiddie-corner from Tallahassee Memorial HealthCare in 2000, Uptown was a fixture downtown.
A great deal has changed since then. Today, customers prefer brunch to lunch and apricot-glazed, smoked salmon is a daily menu favorite.
"I remember growing up in the restaurant," Nic said. "I remember doing Springtime Tallahassee and Festival of Lights and selling cookies and hotdogs out on the streets. That would have been pre-middle school. When I was in middle school, I would come in before school, restock ice and things like that. I just remember always being here."
Nic took over daily operations around the beginning of COVID due, in part, to concerns about his parents' age and potential exposure to the virus.
"We could not close," Nic said. "There is no working from home for us. We had to stay open, so it was just a matter of figuring it out. We were counter service initially, so we just reverted back to that. We took customers at the back door. We did the best we could."
"And we survived!" Fred chimed in.
The Tedios say community service has been a factor in the cafe's longevity. For many years, monthly "Uptown Cares" events generated contributions to nonprofits such as Lee's Place, the Humane Society and St. Francis Wildlife Association. This year, Uptown has made donations to LeMoyne Arts.
"I tell everyone that our values are humble, hungry and smart," Nic said. "'Humble' is the concept that everyone is going to give and receive feedback. You're going to tell me things that happen that need to change, and it is my job to listen and understand that. 'Hungry' is the concept that we are all trying to be better people every day. That includes work and personal life. 'Smart' is people smart, not IQ smart. Know that everybody has different values and different values and respect that." 
The Tedios introduced their now famous salmon in 2008 when the economy was tanking.
What started out as a one-off catering dish quickly became a hot commodity. Customers lined up for the sweet and savory treat, first on holidays, then monthly by special order. A few years later, the smoked salmon made its way onto the main menu.
"That is a lot of what helped us get through the recession," Beth said. "It was a new revenue stream."
When asked for the recipe, the Tedios could not help but laugh.
"It's a three-day process," Nic said. "We get the salmon in, wash them, clean them and then we brine them for 24 hours in salt and sugar and spices. Then we wash the brine off before it is smoked. Then it's smoked for three to four hours at about 350 degrees. The glaze goes on in the last few minutes on the grill."
Those spices? They're a closely guarded secret.