The True Power of Your Eyebrows
Boom-Chicka-Brow-Wow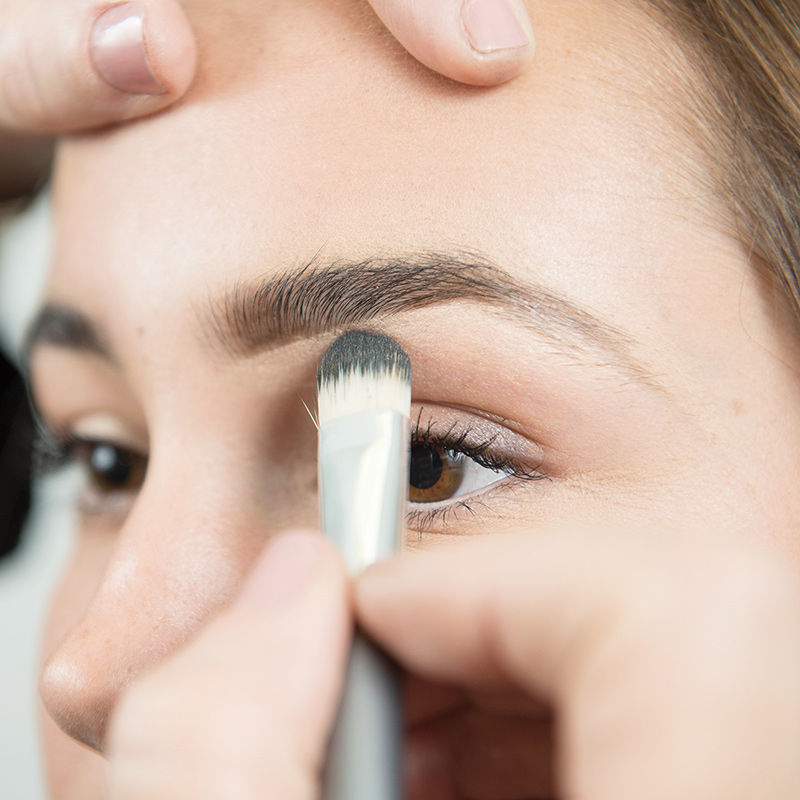 Ever since Ponce de León's mission to find the Fountain of Youth turned up diddly, mankind has been resigned to the fact that growing old is inevitable. Considering the billions of dollars thrown at the global beauty industry each year, though, it seems we're still not quite as comfortable with the notion of actually looking older.
Interested in presenting an air of youth? Then perhaps it's time to take an inquisitive look in the mirror to see what your eyebrows are saying about you.
"The 'youthful look' definitely means full brows," says Veronica Schultz, hairstylist and makeup artist at Haute Headz salon. For Schultz, a polished look begins with well-groomed brows. When time is of the essence, her product of choice is always brow pomade, a creamy product applied with an angled brush.
For centuries, humanity's two furry patches of facial hair have captivated cosmetologists of the ancient and modern worlds alike. According to Randi Buchanan, owner and makeup artist at Tallahassee's Randi Buchanan & Co., there's a simple reason for everyone's infatuation.
"Brows shape our eyes," Buchanan explains. "Eyes are the focal point of our face. So (eyebrows) really help in drawing attention to one's self in hopefully a flattering way."
---
1.
Know what to look for.
To find everyone's own uniquely perfect brow, makeup artists such as Veronica Schultz and Randi Buchanan subscribe to a readily available formula that focuses on the angles of the face and eye.
Starting at the nostril, begin by following an invisible line straight up the face to determine the proper placement of the innermost corner of the brow. To get the arch of the brow just right, align the highest point (remember, not too high now) with the outer corner of the iris. Both artists agree that individual brow length should always follow the shape of the eye — extending ever-so slightly beyond the edge of your eye.
2.
Start with a clean canvas.
Tweezing is acceptable, but for best results, experts recommend getting regular monthly brow waxings. Not only will this ensure symmetry, it will remove any peach fuzz that might fly under your magnifying mirror's radar.
"You can pluck your own eyebrows, but I would suggest waxing," says Shultz. "It's less painful, and if you have someone who is good at waxing, it usually turns out better. They'll have a better sense of how even, or uneven, your face is rather than you." Explain to your waxing professional the look you're going for. Much like the hair salon, pictures never hurt.
3.
Brush, trace, brush.
Brush brows with a spoolie — a little round brush that looks like a mascara wand. Trace the bottom line of brow with a fine-pointed brow pencil, emphasizing proper arch placement, as per the formula. Continue to the desired length, following the natural shape of the eye socket. Brush again.
4.
Find the right color.
There aren't any hard-and-fast rules about what color your brows should be: Marilyn Monroe was beautiful with a striking contrast between her blonde hair and ultra-dark brows, and fashion designer Marc Jacobs caused a stir earlier this year when his runway models all had bleached brows. But for a natural look, choose a brow color that's a shade or two darker than your hair, and stick with colors that match the tone of your hair (cool with cool, warm with warm).
5.
Fill, fluff, feather.
Beginning at the innermost point, fill your entire brow in with light, feathery strokes. These strokes are what give the brows their full, youthful appearance, so it's important to be meticulous.
Over time, hair loss can gradually occur, giving eyebrows a sparse and tired look. Once brows are filled, brush and fluff again. "That can happen for a number of reasons," Buchanan says of brow hair loss. "One, we over-tweezed. Or two, just life in general. Your hormones change, or something like that, and it can just begin to thin out, particularly at the tail."
Expert tip Consider switching to a brow pomade (such as Anastasia Beverly Hills, DIPBROW Pomade — $18 locally at Sephora and Ulta) for a youthful, fun and fuller brow.
6.
Highlight for effect
.
To fix any imperfections, trace the bottom of your brows with a highlighting pencil. For brows that really pop, highlight both top and bottom. "Arch definition is definitely a big thing," Schultz says.
7.
Almost done.
For the final touches, brush brows once more. For a look that will last all day, finish with a clear holding gel.