The Ties that Bind
The Currys are a band bound by more than just family ties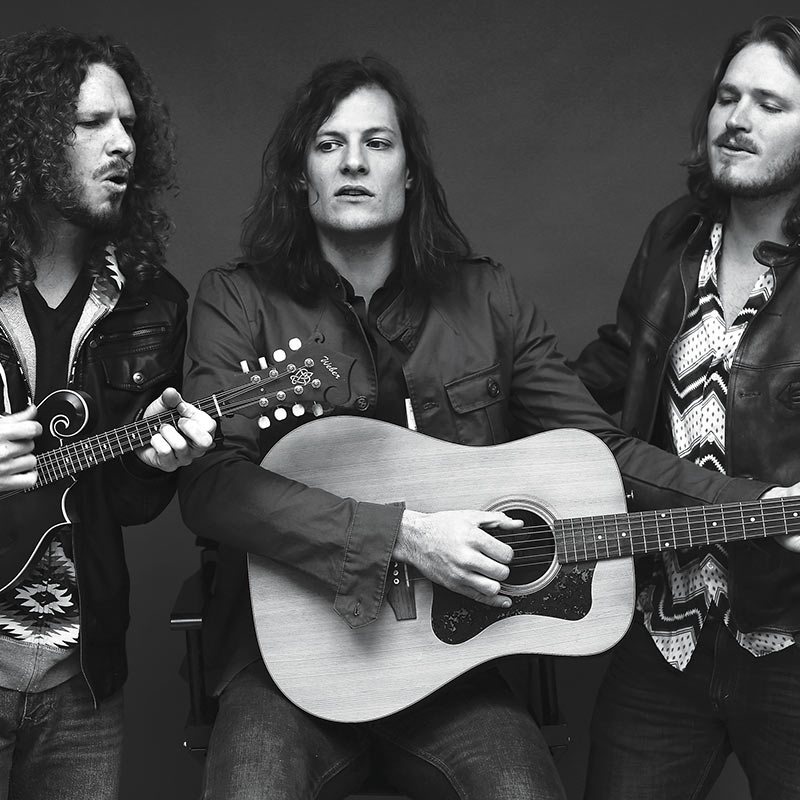 Galen, Tommy and Jimmy Curry talk to me on speakerphone from their van, where they are speeding up the highway toward Indiana. Tonight they'll do a house concert at Floyd's Knobs, a clubhouse venue for the private show. They enjoy these events, because it's an intimate performance that suits their style.
Galen, Tommy and Jimmy make up the front-porch band The Currys, a band born out of family ties and a mutual love of the arts.
Self-described as "folk rock," they claim many different influences, from Ray Lemonte to Josh Ritter. The kernel of every song, though, is one man and one guitar.
Their sound would be right at home at the Suwannee Music Park. It's full of intimate lyrics and standout solos tinged with twang and carried on the strum of folksy guitar music. It's exactly what you would expect to hear from the wood porch at a modern-day, Southern get-together.
Tommy and Jimmy are brothers, and Galen is their cousin. They come from a big — but close — extended family with roots in the Big Bend and in the performing arts.
The brothers grew up in Port St. Joe and connected with Galen (who hails from Potsdam, NY) via their shared love of music and performing at family events. The trio got into music (officially) at different times and through varying avenues — orchestra, choir and guitar — but they convened in 2010 to record an acoustic EP, called, "Follow."
Their latest release is "West of Here," which was born out of their considerable time spent on the road, touring. 
"We spend a lot of time thinking about what a home is and what we want it to be," Galen explains. "'West of Here' is about discovering that home."
All of the band members write and sing on the albums, and they've been able to quit their day jobs and commit to playing and writing full time. 
The close quarters of a van and the fact that none of them has an official address can be hard on the trio, but they rely on honesty and the close-knit nature of their relationship to see them through. 
"Writing on the road is hard," Jimmy admits. "We all write privately, but there is no personal space on the road."
Politeness doesn't help a music group grow, the band explains, but they are pretty good about communicating when things need more work and keeping hard feelings at bay. Playing and singing the songs over and over again helps the band refine the sound — and really come to love or hate a certain song. 
It's this commitment to the work and their true sound that keeps The Currys bound together; but it's also a love of the process and a tremendous pride in their work.
"It feels wonderful, because it's our words, our voices, our sound and our expression," Jimmy says.
"We built this band and our following ourselves," Galen continues. "We didn't know what we were doing." But what they did worked, and they've gathered a following and found their voice.
"We write about the concerns of young men," Tommy says. "Leaving home, being in relationships, losing family members, being compelled by current events — it's all there."  
---
Want to catch The Currys on stage? 
See them at Word of South festival in Tallahassee, April 7–9, 2017
Want to check out music from The Currys?
Find them on iTunes or online at TheCurrysMusic.com.
Discography:
Follow (2010), West of Here (2016)