The "TBUF" Year
Tallahassee's Postwar Gator Invasion Led to the Start of FSU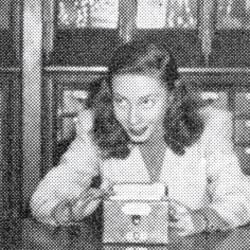 State Archives of Florida, Florida Memory
While the newly arrived men of TBUF enjoyed the all-female campus of Florida State College for Women, from this photo it appears the ladies had an eye for their new classmates, too.
In 1946, Jim Tippen came to college in Tallahassee — head brimming with visions of a classic campus straight out of central casting, excitedly expecting ivy-covered walls surrounded by rolling green lawns.
That idyllic notion couldn't have been further from the stark Tallahassee scene that greeted Tippen and more than 500 other guys who came to enroll in the once-in-a-lifetime "Tallahassee Branch of the University of Florida" for the 1946-47 school year — blazing a trail that turned Florida State College for Women into the coed Florida State University.
For the record, the University of Florida and Florida State University are now and always have been fierce rivals, competing to top each other in every way. But for one almost-forgotten postwar academic year 66 years ago, a reluctant University of Florida grudgingly agreed to share a campus in Tallahassee.
The result was establishment of the Tallahassee Branch of the University of Florida, or TBUF (pronounced TEE-buff), as that phenomenon immediately became known.
Its sole purpose was to accommodate the flood of ex-GIs overwhelming Gainesville after World War II.
The TBUF students — mostly veterans mustering out from the war — were lodged at a makeshift campus forged on the fringes of FSCW from the old abandoned Dale Mabry Air Force Base west of Tallahassee. Euphemistically designated "West Campus," it was a conglomerate of temporary wooden buildings and a couple of runways out at the end of Jackson Bluff Road.
Bus routes on regular schedules were set up to shuttle students the five miles between the ragtag West Campus and the sedate brick buildings on the main FSCW campus, which was referred to as "East Campus."
The "dorms" greeting the TBUFfers were remnants of rickety barracks that had been thrown up hurriedly to house soldiers going to war. Some had no running water or toilets when they arrived. Flimsy walls were erected on the spot to make dorm rooms. Steps were cinder blocks.
Although the facilities left much to be desired, the TBUFers were happy to be there. After World War II, hordes of GIs impatient to get their college education underway after fighting the battles of war rushed home to Florida to take advantage of the benefits of the GI Bill of Rights, which paid tuition and living expenses for any veteran who wanted to attend college.
At the time, the University of Florida was for male students only (e.g., "We are the boys from old Florida") and there was no FSU yet — the Tallahassee school was still Florida State College for Women (FSCW).
As soon as the war ended, UF was swamped with a record number of applications. There was space for 6,000 students and 8,000 had applied. Overloaded, the male applicants were asked if they would attend the all-female FSCW in Tallahassee until housing facilities in Gainesville were completed.
The Florida Legislature was resistant, with UF legislator loyalists using as an excuse that there were legal ramifications to men attending a women's college. But UF officials found themselves in a quandary about these veterans. Finally, a legal compromise was reached. Gov. Millard Caldwell, UF President John Tigert and FSCW President Doak Campbell (yes, that Doak Campbell) agreed that a temporary Tallahassee Branch of the University of Florida could be established at the former Dale Mabry Field, which the federal government had given to the City of Tallahassee.
So, grudgingly, the Florida Legislature authorized TBUF.
It became the cornerstone of legal maneuvering by Secretary of State R.A. Gray and others to permit men to attend "for women only" FSCW. The men who enrolled for the 1946-47 academic year not only broke that gender barrier, they also broke ironclad traditions to do it.
Earle Bowden, editor emeritus of the Pensacola News Journal, later wrote of his time as a TBUFer: "Tallahassee, liquor-dry, home of Florida government then controlled mainly by a rural political faction known as Porkchoppers, would never be the same. Nor would we … the campus was suddenly, unofficially co-educational …. Suddenly ex-GIs, single and married, occupied wooden barracks; baby clothes waved like flags from clotheslines. Then there we were, hanging out at the old Dale Mabry officers club — now the student 'O' Club.
"These first male students were not stereotypical Joe College in a frat beanie and navy blazer," he added. "They sat in classrooms wearing combat boots and field jackets. They were building their war-delayed future."
The tide of coeducation was inexorably underway. TBUF was the spark that spurred state legislators to legally dissolve the separation of genders in the state's two main universities in May 1947 — which, in turn, eventually dissolved TBUF because the behind-the-scenes legal maneuvering paid off, and FSCW became the coeducational Florida State University (FSU) for the 1947-48 term.
Over the years, almost all traces of where this historic transformation happened have disappeared. And the corps of trailblazers who made it happen is dwindling with the passage of time.
But the hilarious TBUF tales told by alums are still going around. And the lucky guys who were there say their heads were full of "If I'm dreaming, please don't wake me up," to be on a campus of so many beautiful women. The Tallahassee Democrat headline announcing TBUF proclaimed, "500 Men Come to FSCW" — and the 2,300 FSCW students were glad to see them after years of slim male pickings when most young men had marched off to war.
With TBUF, inevitable changes had to come about in housing, rules, regulations and student government. Barracks and officers' headquarters were converted into dorms, classrooms and other administrative buildings. Housing was the pressing necessity, and the converted WWII barracks actually would continue to be utilized by FSU into the late 1950s.
Housing on the ad hoc campus was far from ideal. Jim Tippin, one of the overflow from the University of Florida, was a true freshman, not a veteran. He wrote a humorous memoir titled "A True Obligation" about his experiences there, remembering that on the day he arrived, "Dale Mabry Field had been closed for months and was now under reclaim by the rust, rock, weeds and vines of nature's own recycling system. Just a matter of days prior to our arrival, bulldozers, chain saws, rakes and shovels had first been deployed against a six-year accumulation of military litter and more recent pollution. On the horizon was a sprinkling of barracks held together by that which my new veteran friends called 'eye-ease-green' asbestos shingles."
One redeeming quality of the ex-barracks dormitory setup was that the cost was less than that of the dormitories on "East Campus." Tippin described his dorm, former Building No. 641, as a "typical, generic U.S. Army structure, sitting high in the air atop cinder block pylons. Two-tiered wooden steps gave access." The walls of the ramshackle buildings had been hastily divided into rooms propped up with beaverboard "made of pressed sugar cane."
Although most TBUFers were older and experienced from their war years, any ideas that they were war-hardened men who introduced rough language and manners into the delicate world of an all-girl school would be somewhat exaggerated, according to Sandy Boyer. Now chairman of the TBUF reunion group, Boyer was discharged from the Navy in 1946 and was all set to go to Gainesville when Gov. Caldwell sent him a letter explaining that all veterans living west of the Suwannee River would go to the TBUF campus at FSCW.
"Sure, there was an attraction because of the girls," he said. "However, the simple truth is, the guys came because of the G.I. Bill. They wanted a good life, and they realized a college education was the way to achieve it. But, let's be honest, all those women didn't hurt."
He admitted the veterans smoked, drank and cussed with a nonchalance not seen before at FSCW. He recalled a veteran in one of the classes who was asked a routine question by a middle-aged female instructor who expected a "Yes ma'am, no ma'am" response. She was taken aback by his "Hell, yeah" answer and, Boyer said, "She didn't call on him again that semester."
But overall, the veterans were polite and serious. Their military training had instilled discipline and a respect for superiors such as professors. And the G.I. Bill gave the men, many who never dreamed of getting to go to college, a chance at a better future. Furthermore, no misbehavior was tolerated by the administration. Dr. Otis McBride was TBUF dean of men, and a "notice from Otis" was much feared.
Changes came quickly at the newly coed campus. A major difference was men's sports, at first just intramural, then against small colleges.
As sports crept onto the scene, the former military gymnasium was re-opened, actually managing to be held together to service FSU men's intramurals and intercollegiate sports for the next 10 years. It was constantly on the verge of collapse. The late Don Veller, who went on to become FSU's first head football coach and a physical education instructor, was quoted as jesting, " … the only reason the gym was still standing was that the termites were holding hands."
Those first pick-up teams were called "Bufs." They argued about athletic names from a long, widely circulated list sponsored by the Flambeau student newspaper — Crackers, Rebels, Statesmen, Tarpons, Fighting Warriors … and Seminoles. Seminoles won by 110 votes.
Meanwhile, while veterans were changing the ambiance of FSCW, on May 15, 1947, a bill was pushed through the Legislature establishing Florida State University. Campbell was named FSU's first president.
When UF built more facilities and TBUFers were given the chance to leave the new Florida State University to attend the University of Florida, few did. They stayed at FSU and proudly graduated from their new university. Now those TBUFers have organized into a reunion group, getting together at FSU Emeritus functions. A historic plaque sponsored by the FSU Emeritus Alumni Society and the Florida Department of State is slated to be erected on campus.
Earle Bowden wrote of the experience: "Each fall, amid the autumnal atmosphere of falling leaves and the thud of football in the air, I think of how a time-honored woman's college suddenly found its destiny as Florida State University … A cherished moment when we were present at the creation."