The Tastes of the Holidays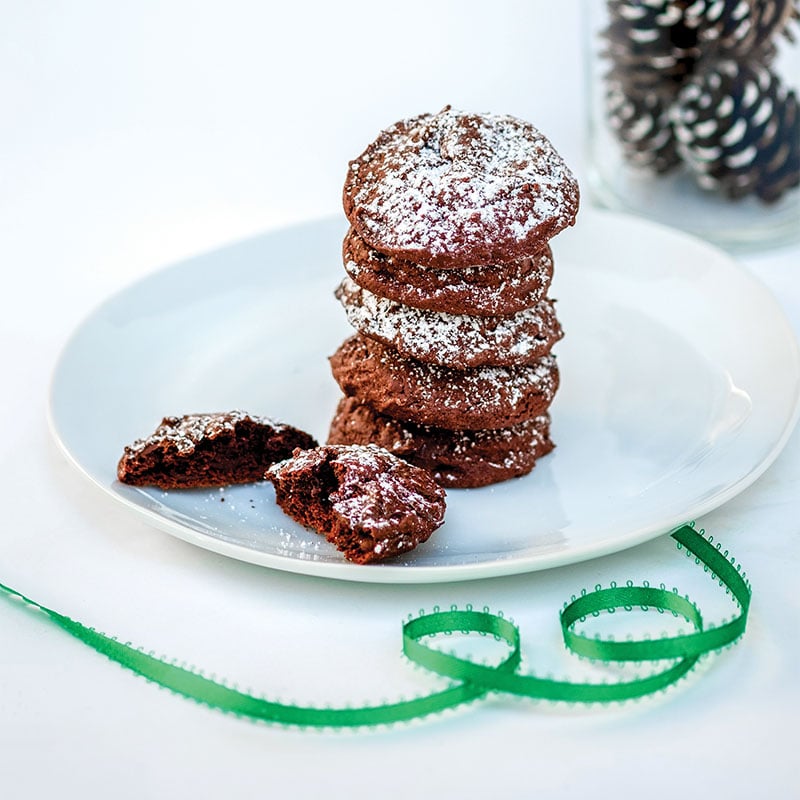 In England, the tradition is to leave out a plate of mince pies and a glass of sherry for Father Christmas. In Scandinavian countries, the bearer of gifts can look forward to risgrynsgrot, which is a rice porridge made with cinnamon, sugar and milk.
Cookies, cakes, caramels, fudge, divinity, toffee … these are just a few of the sweet treats of the holidays. If you're a fan of sweets, why not host a homemade holiday goodies exchange with neighbors? It works like this: Each family is responsible for making a certain amount of their favorite holiday treat. Then, everyone on the street gathers in one home to share the treats with each other. The result is that everyone shares their season's greetings with their neighbors and gets a plateful of various yummies. How's that for ideal?
---
'Cherry' Chocolate Chip Cookies
Makes about 30 cookies
Ingredients
¾ cup (1½ cubes) butter, softened
¾ cup brown sugar, lightly packed
½ cup granulated sugar
1 large egg
1 teaspoon vanilla
½ teaspoon almond or cherry extract
¼ cup cocoa powder
1 teaspoon baking soda
½ teaspoon salt
1 teaspoon (or more) red food coloring
1 ¾ cups all-purpose flour
6 oz. (½ bag) chocolate chips
1 ½ cups dried cranberries
Instructions
In a large bowl, whisk together the cocoa, baking soda, salt and flour. In another large bowl, beat together the butter and sugars until fluffy. Add the egg, vanilla, almond or cherry extract and red food coloring and mix lightly, until the batter is an even red color. Add the flour mixture, a half-cup at a time. The batter will darken with the addition of the cocoa, so don't overdo the red food coloring in the previous step. Add the chocolate chips and dried cranberries. Mix lightly on low speed until the chips and berries are distributed throughout the batter.
Preheat the oven to 375 degrees. Use a cookie scoop to make small mounds of cookie dough that are about two tablespoons in volume. Place them a few inches apart on a non-stick or greased cookie sheet and bake for about 9 minutes. Check them at 7 minutes. These are a dark-colored cookie, so it's easy to burn them. When they're done, the tops should look dry, but not brown.
Cool the cookies on their tray for a few minutes, then transfer them to a wire cooling wrack. Decorate with powdered sugar or frosting.
---
Easy Fudge Supreme
This fudge recipe is completely foolproof and works great with milk or dark chocolate chips
Pour a bag of semi-sweet or milk chocolate chips into a glass bowl. Add one can of sweetened condensed milk and a dash of salt. Microwave on high for 1 minute, then stir. Continue microwaving, stirring every 30 seconds or until the chips melt easily when stirred. Stir until smooth, then add ½ teaspoon of vanilla and stir again, until vanilla is thoroughly incorporated.
Line a 9 x 13" pan with cling-wrap. Or go with a 9 x 9" for big, thick pieces of fudge. Coat the cling wrap with baking spray. Pour the fudge into the pan, and smooth it all around. If you like peanut butter, now is the time to dot the hot fudge with it, using a ¼ cup total. Use a buttered knife to swirl the peanut butter through the fudge, for a marbled look. For "Rocky Road" fudge, pour ½ cup of miniature marshmallows in the bottom of your pan before you add the hot fudge; add more marshmallows and nuts on top (tap them in place gently). Another variation is to top the fudge with walnut pieces (tapped into place). Simple and delicious!
Place the fudge in the fridge to cool. Once set, remove it from the pan by lifting the cling wrap. Cut the fudge into squares and wrap each square in colored cling wrap for a festive look. Store in a covered container in the fridge.
Find more Hommade Holiday ideas
FESTIVE IDEAS | HOME DÉCOR | HOLIDAY SCENTS | HOMEMADE HOLIDAY CARDS