The Tallahassee-Leon Community Animal Service Center Celebrates a Season of Success
Two Paws Up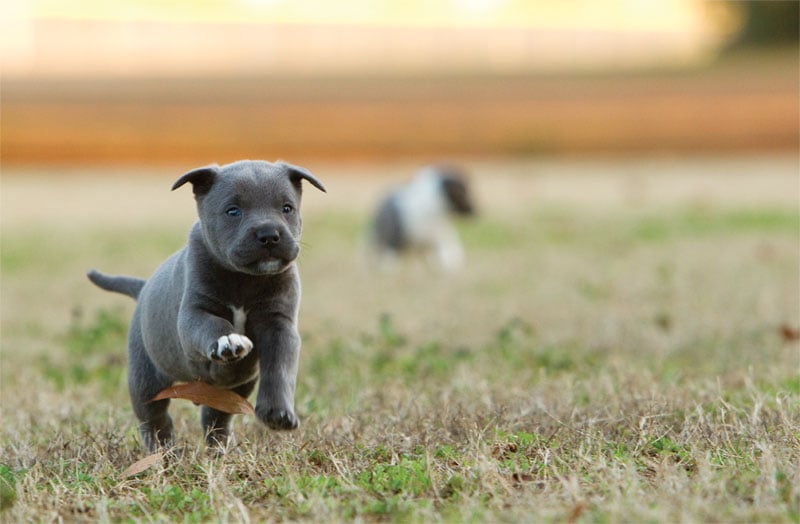 Last year, the American Society for the Prevention of Cruelty to Animals (ASPCA) threw out a challenge to 50 animal shelters and rescue groups nationwide: Save an additional 300 animal lives in three months.
The group that placed the most animals would win $100,000. An additional $25,000 would be given to the one that could best inspire the community to join in the effort to encourage pet adoption, reclaiming lost animals and transferring animals to rescue groups.
The Tallahassee-Leon County Animal Service Center (ASC) picked up the gauntlet and made an all-out effort to adopt out as many dogs, cats and other companion animals as possible. More than 1,200 would find new homes during the 90-day period — 335 more than the year before. While they met the challenge, it wasn't enough to win the $100,000.
But the ASC did bring home the $25,000 award, fueled by a creative array of adoption efforts and Facebook and tweet campaigns to encourage local residents to cast a vote for the local shelter.
"Not only did Tallahassee-Leon Community Animal Service Center save over 1,200 animals in three months, they inspired their entire community to become a part of their successes throughout the $100K Challenge," says ASPCA President and CEO Ed Sayres. "Their campaign was innovative and smart, and clearly it created the buzz they needed to engage the community."
"It was exhausting," says Animal Care Supervisor Ann English, whose job it was to assure a steady supply of adoptable animals during the three-month effort. "It was worth it. It forced us to think outside the box.
And it forced us to come outside our comfort zone."
To kick off the three-month challenge in August, the ASC held a "Midnight Madness" adoption event. "Who would have thought that people wanted to come in the middle of the night to adopt an animal?" asks ASC Director Erika Leckington.
"Well they did," continues English. "There was a line outside the door at midnight. It was incredible."
Throughout August, September and October, the ASC pulled out the stops with creative public events like a Halloween trick-or-treat showcase, a donate-blood-get-a-free-pet drive, local celebrity adoption "agents" and low-cost — and even no-cost — adoptions.
The ASPCA contest, Leckington says, "opened a lot of doors and opened a lot of minds about what can be done in animal welfare."
The ASC's efforts to win the contest weren't a flash-in-the-pan, but the culmination of years of effort to make the shelter a bright, welcoming place with professional staff, veterinary services and progressive methods of caring for animals.
But the feat does seem incredible, considering that as recently as five years ago, the facility was grim, the animals traumatized, the staff demoralized, and rescue groups demonized in a system that seemed intractably dysfunctional.
How it Was
Tallahassee old-timers may remember when the animal shelter was housed in an old, inadequate trailer near the airport. Ann English does; she started volunteering there 20 years ago as an intern before joining the staff.
It was the place where animal control officers from the city and county dropped off strays (Tallahassee and Leon County have separate animal control departments) and animals were adopted, reclaimed — and euthanized. The Leon County Humane Society provided services there for several years, but didn't have the funding to keep up with the need and preferred to focus on animal rescue. "That's when the city stepped in and picked it up," in the early '90s, English says.
In 1995, the operation moved to its current home on Easterwood Drive adjacent to Tom Brown Park and, over the next few years, developed cordial relations with rescue groups that would take animals from the shelter to be fostered and ultimately adopted. The city hired its first veterinarian, Dr. Gilles Meloche, in early 2002 to head the facility, in an effort to further professionalize the program.
It was a disaster.
Sheree Brown, now secretary of the Big Dog Rescue group, worked there — and was ultimately fired — during the Meloche years. "You could cut the tension with a knife," she recalls. "He wanted to do it his way. He wasn't interested in partnering. It was chaos with the (rescue groups)."
English remembers those days too. "He just had the belief that animals should not be euthanized," she says. "We had animals stacked in crates everywhere … in offices and bathrooms. It became a place where customers didn't want to be. It smelled … it was really bad."
Unfortunately, the placement rate didn't change during his tenure, and the euthanasia rates stayed the same, at about 60 percent. "So it wasn't helping anything," she says.
Meloche would ultimately be forced out amidst a storm of controversy. (He would end up working for the shelter in Louisville, Ky., where he resigned in 2009 after allegations of professional and sexual misconduct.)
A New Era
It is the mess Dee Crumpler inherited when he became Director of Animal Services in 2004.
Crumpler started working for the city as a police officer in 1985, worked for the city's Department of Neighborhood Services for several years and then the state Department of Revenue before getting the director's job. At the time, he was also the District 2 representative on the Leon County School Board. (He continues to be a member, serving as chairman this year.)
He mentions two things he recalls from his first days at the helm — a terrible smell that had permeated the carpets and a folder in the file drawer labeled "Bad Relationships."
"There were e-mails, there were handwritten letters," he says, of the inches-thick folder. His first order of business was having "breakfast, lunch, dinner and weekend" meetings with staff and people in the animal community to mend fences.
Assistant City Manager Tom Coe, who has known Crumpler since his days on the police force, summed it up this way: "Under Dee's leadership, in the past five years we have come light years in terms customer service and animal care. We are very aggressive getting as many animals adopted as we possibly can."
When Crumpler was promoted to director of the city's Department of Parks, Recreation and Neighborhood Affairs in 2008, Coe said the department was reorganized so that he would still supervise the ASC, which has a budget this year of $1.83 million.
English articulated Crumpler's new attitude. "He kept saying, if you want it, go for it," she says. For her, "go for it" has meant the creation of two prison-based programs aimed at increasing the adoptability of dogs.
Undergoing Training & Obedience in Prison to Increase Adoptability — or UTOPIA — started in June 2007. In the program, inmates from the Taylor Correctional Institution's Work Camp give obedience training to hard-to-place dogs from the ASC.
Inmates had been training dogs all over the U.S. in the past, usually to do work such as drug sniffing, says English. But behavior training for adoption was a first here.
Ideal canine candidates are "rowdy dogs … like Dino in 'The Flintstones'," she says. "So we took those dogs and put them in the prison so they could get some manners. Those could have been dogs that just sat here for a month or two that just couldn't handle the situation and the stimulus here." While in their minimum of eight weeks of training, the dogs are advertised on the facility's website and there's a 98 percent placement rate.
"When they come back, there's a list of people who want the majority of them," English says.
Once the rambunctious pooches were taken care of, English shepherded in a program for dogs that were nearly impossible to place — those that had heartworms. Veterinary treatment for the parasites can cost up to $1,000. "I've actually gotten dogs from vet clinics that were abandoned because people couldn't afford treatment," she said. Enter H.A.R.T. (Heartworm Assistance Rehabilitation Training), which began about a year ago.
In this program, dogs live in Wakulla Correctional Institution for three months. For the first six weeks, the dogs are treated and put on cage rest "so the worms can dispel and remove themselves from the body," then their activity level is increased and they're obedience trained by inmates. Placement for this program is 100 percent, English says.
While the dogs helped by these prison programs number in the dozens, English is in negotiations to implement yet another that has the potential to save about 1,000 animals each year. "In our euthanasia numbers, about 20 percent of that is infant animals," she says. Her plan is to have female inmates bottle-raise and socialize orphaned puppies and kittens until they're big enough to be adopted.
The prison programs are just the tip of the iceberg when it comes to improving shelter services.
The ASC has created a satellite facility at Pet Supermarket for cat adoptions and adoptable animals regularly appear at adoption weekends in local pet stores. Local businesses such as Lucy and Leo's Cupcakery, Best Buy and Kevin's Guns & Sporting Goods host four-legged adoption ambassadors. All of the shelter's adoptable animals can be viewed online.
Four years ago, a group of dedicated volunteers created the Animal Shelter Foundation, a nonprofit organization that raises money to help the ASC in its efforts. The Foundation attempts to use its $130,000 annual budget for services that go beyond what can be expected of a taxpayer-funded municipal shelter, says Kate MacFall, president of the organization.
For example, the Foundation subsidizes an eight-week-long, $35 "doggie manners" class for dogs adopted from the shelter. "We know, because we're well versed in the animal field, that dogs that bond and that are well trained and not behaving badly stay in those homes," she says. "We don't want them to come back. We want them to be happy and we want the humans to be happy." They've also funded a folder given to all adopters to help educate them about pet care and local resources.
The Foundation holds fundraisers like the shelter's "Bark and Wine" happy hour/art show, but it's largest event, the 10th annual Tails and Trails run, is set for April 30. More than 1,000 runners are expected for the 5K, 10K and 1-mile races that start and end at the ASC facility. For more information, visit tallytailsandtrails.org.
Shelter managers have also refined the adoption process to make it more streamlined, by doing such things as cutting down on the paperwork, making the process easier with on-site spaying and neutering and microchipping, and relaxing adoption rules.
"It's about not judging the public," says English, "(but) giving them the opportunity to try, even for those that have never had (a pet) before." Basically, shelter staff checks three areas: Have you been a problem owner in the past? Are you allowed to have the animal? And can you take care of the animal? They don't make adopters promise to keep cats inside and there's no requirement to have a fenced-in yard for dogs, for example.
"If you want an animal, you're going to get an animal, because if we tell you 'no,' you're going to go to the paper, you're going to go to Craigslist — you're going to get one," says English. "So we might as well let you try. If it doesn't work out, we won't penalize you. We're not the enemy, we're here to help."
Leckington says the ASC is also benefiting from a cultural shift that tells people adoption is the way to go.
"You see a lot of adoption messages out there now. Pedigree used to be 'recommended by top breeders,' and now it's 'come adopt from an animal shelter, Pedigree is supporting adoption in your area,'" she says.
"We're continuing to put the message out there that we have a lot of animals to adopt and that there is a pet overpopulation problem here and that we do have your next best friend," says Leckington. "We want people to know we're a fun place to come, whether it's to browse or look for a lost pet, we want to welcome them here (and be) used as a resource in the community."
"The doors didn't open for any of this until Dee got here," English says. "Before that we were your standard pound, unfortunately."
The Sad Truth
To clarify, the Animal Service Center is what has historically been thought of as "the dog pound." It takes all of the animals picked up by animal control officers — "dogcatchers" — working for the city and the county.
The animals can be purebreds, mutts, feral, sick, injured, abused or as cute as can be. The center also takes animals that are given up by owners, left in the overnight drop-off cages or — and this happens, according to Crumpler — thrown over the fence.
Just under half of the animals that come through its doors are euthanized — killed. Some are too hurt, sick or wild to be adopted. Some get sick or stressed in the shelter environment and are put down. But there are also plenty of perfectly adoptable pets that must be euthanized because there is nowhere for them to go. "That is a very unfortunate aspect of what we do," Crumpler says.
In round numbers, about 10,000 animals come to the ASC each year. The percentage of those euthanized has dropped 9 percent since 2005 and is below the national average, but it is still at 47 percent. During the busy spring and summer breeding seasons, Crumpler estimates 30 or 40 animals can be put down in a day.
The ASC does work closely with other animal rescue groups like the Humane Society, Big Dog Rescue, Capitol ARK and other breed- or species-specific nonprofit organizations, usually by releasing animals into their care.
Currently, the shelter has room for about 300 animals at a time. But the answer, says MacFall, is not a bigger facility. "If we had a shelter three times the size (of this one), we'd be full again," she says. "It's decreasing overpopulation … . It's decreasing the flow that comes in the door."
With that in mind, the foundation funds a voucher program that low-income individuals can use to sterilize pets that weren't adopted from the ASC. "We feel like by spaying and neutering, that's preventing a litter from coming into the shelter," MacFall says.
Postscript
There was a very personal payoff for ASC director Leckington when the three-month Challenge was all over.
During it, Leckington fostered, and ultimately adopted, an adult Boston Terrier that had lived outside and needed heartworm treatment. She named this canine "diamond-in-the-rough" Smellie and their adoption story earned the ASC an additional $1,000 grant.
Smellie now accompanies Leckington to work, cadging cuddles throughout the day from Mom. "I'm trying to make up for all those years of not being in someone's lap," Leckington says, channeling her dog's thoughts. "She's just a love. She can't get enough."