The Story of Lichgate, Laura Jepsen and the Struggle to Continue Her Legacy
A Woman, a Tree and a Cottage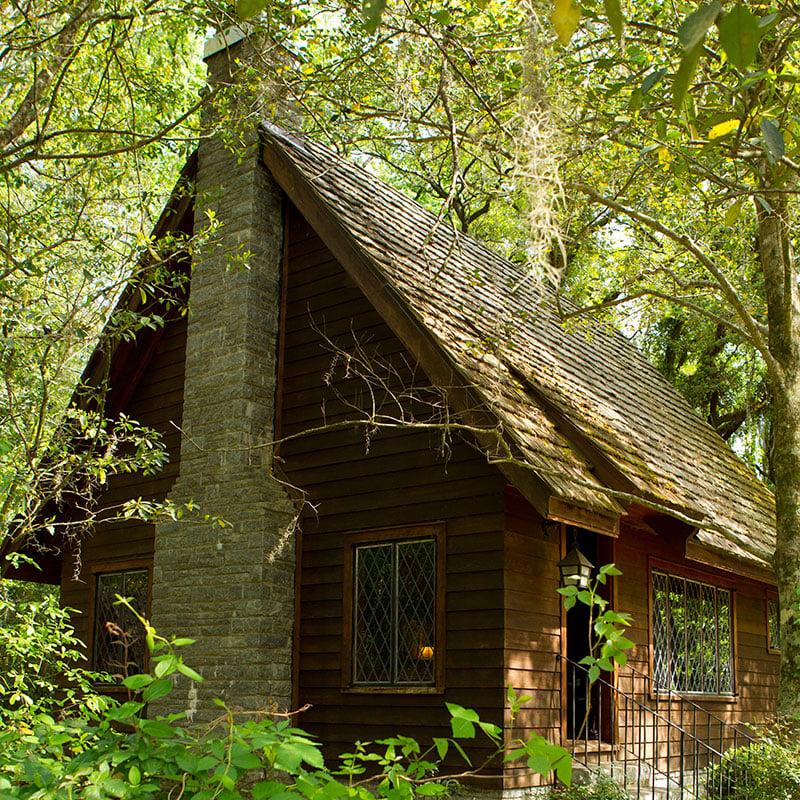 Tucked away in a wooded area on High Road, Lichgate is little known, even to many Tallahassee residents. Its cornerstone and claim to fame is an ancient, fairy-tale live oak tree, whose branches wind and reach out and dip toward the ground from a massive trunk. The tree's beauty is what lured Laura Jepsen to the property in the first place. And it was Jepsen, with her literary mind and passion for antiquity, who built Lichgate.
… with the grace of a southern belle in a billowing skirt, this moss-draped live oak swept the ground in every direction. It was a tree to inspire poets.
In her book, "Lichgate on High Road," Jepsen recounts building her cottage near the tree. It was not simply a construction project. In everything that Jepsen did, she was building an elaborate statement. In her book she recalls, "To conquer time, to preserve the essence of the past, to escape into reality, these were my triple desires when I started to build Lichgate."
Jepsen first fell in love with the tree during her two-year search for land on which to build the cottage of her dreams in Tallahassee. When she settled on the cow pasture on High Road with the incredible tree, she applied for a loan, which was denied. She bought the property with $5,000 borrowed from a friend and built the house in stages as funds became available, moving in while the tarpaper was still up.
Laura Jepsen Institute board member Nita Davis observed that visitors at Lichgate often react with a look of awe, similar to those entering a church. Jepsen's ambition and adoration for timelessness pervade the design of Lichgate's cottage, from the appearance to the materials used.
"There was nothing trivial in her life. The simplest decision, whether she was writing or building her home, or anything that she did, had layers of meaning to it, which is always very interesting," noted Christopher Linton, a Lichgate volunteer, caretaker and researcher.
Few of the building materials for Lichgate were local. Her white pine floors, almost 250 years old, came from a cottage demolished in Vermont. The tidewater red cypress, redwood and cedar used for the rest of the home impart a warm aroma to the interior even now. The granite used for her fireplace and foundation came from the same Georgia quarry as the Capitol steps downtown. Jepsen chose this stone, among the oldest rocks on the planet, because its durability would anchor her cottage forever — structurally and symbolically.
Lasting into the future was not the only way Jepsen intended to conquer time. Her second goal, to preserve the essence of the past, was very personal. In addition to her dream cottage, Jepsen built an actual lichgate at the edge of the property. For Jepsen, it functioned as a symbol for transition and timelessness. The word "lichgate" literally translates to "corpse gate" and is the transition point between the graveyard and the churchyard — or, as one Austrian visitor put it, between "life and the light." Walking through the lichgate each day, Jepsen saw herself transported through time. There was the outside, modern world where she worked and volunteered, and there was Lichgate- — where she could escape.
"Loving the 16th century and Shakespeare like she did, she used the lichgate as a way of transporting herself back in time, back to the period of time she loved and wanted to live in, instead of the one she did live in," Linton explained.
The Life Behind (and After) Lichgate
In every respect, Jepsen strove to lead a simple life, focused on pursuits far removed from material wealth. She walked to work at Florida State University, where she taught literature, humanities and creative writing. Her cottage had no air conditioning until she was in her 70s, when her friends convinced her she needed it for her health (although she had installed it in her doghouse much earlier). For music, she had an old Victrola record player, which she also used later to play recordings of frogs and birds, as the woods surrounding her home dwindled under construction efforts.
There might have been an additional motivation behind Jepsen's desire to escape to the past. Her life was full of intellectual pursuit, philanthropy and artistic creation, but one thing was glaringly missing.
"She never dated or had any relationships that we could ever find," Linton noted. "There was a piece of her that never got expressed; for all the good she did, she never had that one piece in her life."
Some believe that between 1936 and 1946, something might have separated her from a person she loved. Her 1936 master's thesis was on Cupid, and in 1946 Jepsen's doctoral thesis, "Ethos in Classical and Shakespearean Tragedy," was far more somber. Whatever her reason, she never married or started a family of her own.
Jepsen's solitude was not for lack of male interest. According to some former students, she even managed to pique the interest of a high-profile literary suitor. Jepsen met William Faulkner when she was on an Oxford cruise as a speaker. The enamored Southern Gothic author later sent her a clock as a gift. This was an overly pretentious gesture to Jepsen, so she sent the clock back and told him not to write her again.
While her life appeared to be devoid of romance, the love with which Jepsen built Lichgate has proven as enduring as the place itself. Many local couples have chosen to marry under the tree, in beautiful ceremonies where the sprawling oak is a perfect symbol for the personal growth and abundance ahead. Students bring their parents and loved ones there during visits, hoping to share the wonder. Even international travellers stop by on occasion. Each visitor forges a unique relationship with the site.
Years after building Lichgate, Jepsen filed a sexual discrimination suit against Florida State University. Although she had worked there for 30 years, she was still an assistant professor making $14,000 a year, while male colleagues around her who had taught for far less time got promoted around her. It took 10 years to settle the suit, but Jepsen was eventually awarded monetary compensation, which she used to start the Leon County Humane Society and Animal Aid.
In the last year of her life, Jepsen fell and broke her ankle, and six months before she died she developed cancer. In 1995, while she was in hospice, her home was vandalized by students of nearby Godby High School. Many of her papers and books were burned, along with some personal effects. The windows were broken along with the doors. Afterwards, teachers and some students pulled together, volunteering to fix the cottage, but many documents that could have filled in some gaps in Jepsen's history were lost.
Jepsen died on Christmas Eve 1995, and her ashes were brought home to Lichgate and placed at the base of her beloved tree. Litchgate and properties in other states that she owned were given to the Nature Conservancy, and in her will she wrote that it was her desire to see the place preserved. Instead, the Conservancy prepared to sell Litchgate, which appalled several of Jepsen's former students, who banded together to form the Laura Jepsen Institute.
Carrying on the Legacy
In August 1996, after a year of negotiation, the Institute took out a mortgage and bought the place back from the Conservancy. The grounds were overgrown, both from the period of neglect following Jepsen's death and from her desire for seclusion from the outside world bustling nearby. The group is made up of ordinary individuals with a touch of whimsy — people who, above all, respected Jepsen's dream.
The central motivation of the Institute when it took over was to have Lichgate designated as a historic site. "One of the things that we felt was important was to get the house on the National Register of Historic Places," board member Jody Taylor explained, giving Lichgate more lasting recognition as a site of importance. The tree is also listed with the Live Oak Society.
"We've tried to incorporate some of the philosophies she had in her other properties," Taylor said, referring to their preservation efforts. Wildflowers abound, as do butterflies, much like they did in her other homes throughout the years. They have also worked to foster a relationship with Florida State University, its students and its film school.
The partnership with the Damayan Garden Project is another effort to continue Jepsen's philosophies. The showcase garden at Lichgate is used to teach people organic gardening methods. The Damayan Garden Project also donates food to places like The Shelter and Planet Gumbo, and sells produce at markets to raise funds. They also bring school groups to the grounds, reaching out into the community in any way they can.
Davis explained that all of the Institute's efforts strive to preserve Lichgate's innocent, timeless quality.
"What we escape to, she built. She lived it," Davis explained. While many of us pay to rent cabins to embrace simplicity, Jepsen embraced it in her everyday life. She called Lichgate her "place of retrospect" for reasons obvious to anyone who visits.
When showing local students the house, Taylor said the most interesting part is the realization it brings within them. "When they come and realize you can live a simple life and give back to the community, it opens something up in them — a different perspective … . You never know what that can kindle in them." Davis added that Lichgate fosters an embrace of innocence, and a moment of authenticity. "I've seen it from the very beginning," she recalled. "People who come here … their persona falls away, and this little part of them that they've never expressed before comes out."
Although Lichgate is a community gem, and despite the value visitors find within the site, its permanence is far from guaranteed. The property's mortgage is still being paid off, and keeping up is not always easy.
"People think it's saved," said Davis. "It's not saved." Currently, there are no deep-pocketed benefactors for the preservation project. "This fell towards people who were more like Dr. Jepsen — more reclusive, more introverted and (with) very shallow pockets," she continued. "But somehow, maybe because of the kindred spirits, they were able to see the beauty and keep it going."
Lichgate will not be guaranteed permanence until the roughly $35,000 left from the original $100,000 mortgage is paid — and even then funds and structures must be kept in place for things like repairs and ground maintenance.
While it has lasted so far, there is no guarantee for the future. There's no paid staff; it is run entirely by volunteers. Preserving Lichgate continues to be an act of love, just as it was when Jepsen bought the land.
Institute members are hoping more members of the local community will commit to preserving this beautiful piece of history. Angela Herring, a Lichgate volunteer and caretaker, emphasized the value of Lichgate's perpetual ability to bring peace to its visitors — and even volunteers who work there regularly.
"Even as we walk onto the place, each time that we step onto it, there is a peace as you step through that threshold," she said.