The State of Real Estate
Sales on the Upswing at the Start of 2013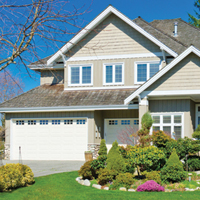 The real estate market is on the rebound.
Home prices have begun to rise, while at the same time, the inventory of homes for sale has started to shrink. With continued low interest rates, this adds up to good news — for homebuyers as well as home sellers.
"Things are looking up from a few years ago," said Debbie Kirkland of Armor Realty, 2012 president of the Tallahassee Board of Realtors. "2009 and 2010 were probably some of the worst years we've ever experienced — (for) Realtors and our community in general. It's still a bit of a buyer's market, but average sales prices are going up every quarter."
The market started to turn in 2011, she said, with sales prices up over 2010. That trend continued throughout 2012.
"Real estate is very localized," said Donald Pickett, a Realtor with Coldwell Banker/Hartung and Noblin Inc. and owner of TRENDS, Tallahassee Real Estate N Data Services. "Prices aren't up that much in Tallahassee, but they are up somewhat. They have generally stabilized, and sales are up."
According to figures from the Tallahassee Board of Realtors, there were 2,208 sales of single-family homes the first 11 months of 2012, up 9.3 percent over the same period in 2011. The number of days a home was listed dropped from 101 to 87, a decrease of 13.9 percent, with the single-family home median price listed at $162,500.
The median price is not the average price — that's the mean. The median price is the midpoint, with half the sale prices above it and half below it. Distressed properties — those in foreclosure, lender-owned or under short-sales contract (meaning the owners owe more than the property is worth and the bank must agree to a sales price that is short of the full amount owed) — continue to pull the median price down. But as the market improves and the inventory of distressed properties shrinks, the median price should begin to inch upward.
Tallahassee didn't take as much of a hit as other areas of the state, Pickett said, but the real estate market here still suffered. Most areas of the state are seeing similar improvement to Tallahassee's.
"The sizzle is back," Summer Greene, 2012 president of Florida Realtors, said in late December. "With home sales strongly trending up and the supply of homes for sale drying up, the market is hot. And we expect these trends to continue into 2013 with the jobs market improving, low mortgage rates continuing and consumer confidence getting stronger."
Mortgage rates remain low, with Freddie Mac reporting that a 30-year, fixed-rate mortgage averaged 3.35 percent in November 2012, down from the 3.99 percent averaged during the same month a year earlier.
What does this mean for homebuyers? More house for their money. People can now afford larger homes with more amenities than they could in 2006, at the height of the real-estate bubble.
"Three hundred thousand dollars in today's market will buy you a nice, four-bedroom, 2,200- to 2,400-square foot home in the northeast, the northwest, pretty much any area of the city," Kirkland said.
The majority of sales continue to be in the northeast, which was at one time significantly more expensive that any other quadrant in the city, she said. Now, the prices are more even across the board.
Most of the homes categorized as "distressed" that remain on the market are at the lower end of the price range, Pickett said. "These are cases where people bought a house and really couldn't afford it. They wouldn't qualify for a mortgage in today's market."
The real estate boom that began around 2004, peaked in 2006 and began to collapse in early 2007 was exacerbated by easy money for mortgages. As one Realtor described it, "anyone with a pulse" qualified for a mortgage of some sort, even people whose incomes and credit scores would have disqualified them a few years earlier. Thought by some to be the banking industry's answer to charges it discriminated against minority and low-income applicants, the easy money also encouraged middle-income buyers with good credit to purchase bigger houses than they could afford. They all suffered in the collapse.
It's much more difficult to get a mortgage now, with banks more regulated and good credit scores more important. But if you qualify, the deals are there.
The market for townhomes and condominiums has not recovered as much as the single-family home market. Before the economic meltdown, parents of college students in Tallahassee, particularly Florida State University students, found condos and townhouses to be good investments as well as providing housing for their student-children. With a couple of roommates paying rent, the mortgage was pretty well covered, and once the student graduated, Mom and Dad could sell the condo for a nice profit. That's no longer the case. Neither prices nor sales have made a turnaround.
"The most popular was the 3-3, three bedrooms and three bathrooms," Pickett said. "There are a lot of condos and townhouses sitting out there now. Parents are renting instead of buying."
Condos and townhouses targeting the student market were a big driver for the construction industry, which is still struggling to recover, but new construction can be seen along and near the Gaines Street corridor. These developments combine housing, retail and bistros and are expected to draw the young professional demographic more than students, although the Seminole Boosters' CollegeTown construction project could appeal to FSU alumni with children approaching college age.
As for detached single-family homes, contractors are building for specific clients; very few houses are being built "on spec" — to be placed on the market at completion — these days.
"Premier is the only contractor building on spec right now," Pickett said. "They have an understanding of the market, which helps them determine what to build and at what price range."
The market for units in downtown high-rises, which stalled during the recession, appears to be on the upswing. Two of the downtown high-rises, the Plaza Tower and The Tallahassee Center, were not designed to be year-round residences but instead for people who wanted their own place to stay when they came to Tallahassee for business or pleasure — football games, business meetings or legislative sessions and committee meetings. The Plaza Tower, with 202 units, has been going through foreclosure but Pickett said the legal proceedings are almost concluded and he expects units will be on the market before summer. Things are looking up at The Tallahassee Center, too, which had sold all but nine of its 115 units before the market meltdown.
"At The Tallahassee Center, we did as many sales in 2012 as we did total in the previous three years," said Pickett, one of two agents for the property.
If you're thinking about selling your home or buying a new one, this is a good time of year.
"The real estate market is like an ocean wave," Pickett said. "It starts building in January, peaks in June or July and then goes into ebb tide for the rest of the year."
Your Credit Score
What It Can Do For You, or To You
Although it's harder to get approval for a mortgage these days than it was before the economy tanked, it can be done. A good credit score is the first step.
The major credit reporting companies — Equifax, Experian and TransUnion — use credit score analytics pioneered by Fair, Isaac and Company (FICO) to assign you a number that lets lenders know how risky it would be to lend you money. Each company uses a slightly different variation on the formula — thus the different scores from each one — but the higher the score, the better.
A difference of 100 points in your credit score can mean one percentage point or more difference in the interest rate you're offered. According to the FICO website, a credit score of 730 could get you an interest rate of 3.3 percent for a 30-year fixed mortgage. A credit score of 630 increases the likely interest rate to 4.6 percent, a difference of more than $150 in the amount of your monthly payment. The lower your score, the higher your interest rate — until you don't get an offer at all.
Just what components make up your credit score? It's a combination, but the two big ones are your debt load and your payment history. Also factored are the length of credit (how long you've had a credit card or account, for example), what type of credit you have and how much new credit you have.
What can you do to improve your credit score?
» It's a no-brainer, but pay on time. If you have to pay late, notify your creditor and work out a catch-up plan, and ask that it not be reported if you meet the terms and get caught up.
» Keep your balances below 35 percent of your credit limit, if possible.
» Don't close accounts you've paid off; they enhance your "length of credit" aspect.
» Have a variety of types of loans — mortgage loans, car loans, credit cards — but make sure you manage them responsibly. // AUDREY POST
Photo by Scott Holstein
"Some of these units aren't for students; they're for singles, young married couples, graduates who want the vibrancy and the connectivity of the college atmosphere."
— Gil Ziffer, City Commissioner
Rental Renaissance
Construction of apartment complexes, particularly on and around the Gaines Street Corridor, is a major factor in the rebounding local building industry.
An estimated $130 million in multifamily-unit construction is under way, much of it targeting students at Florida State University, Florida A&M University and Tallahassee Community College.
Anyone who has driven down Pensacola Street from the Civic Center to the stadium in the past few months, or along parallel St. Augustine Street heading back toward downtown, has seen the landscape change. The single-family homes and duplexes that once populated the area have been replaced by three-story apartment buildings that offer all the modern amenities minutes from the heart of campus.
Three high-end apartment complexes are under construction in close proximity to FSU and FAMU, and all are scheduled to open this fall. CollegeTown, a project of the Seminole Boosters at the corner of Woodward Avenue and Madison Street, is a combination of residential, retail and restaurants/nightclubs.
At the corner of Copeland and St. Augustine streets, 601 Copeland will offer student housing with the latest amenities and a variety of floor plans. The Luxe on West Call, between Whitehall and Conradi streets on West Call Street, will have retail on the ground floor and one-, two-, three- and four-bedroom units on the second through sixth floors.
City Commissioner Gil Ziffer said the boom in multi-family construction is good for Tallahassee as well as for the students.
"This is going to get them out of their cars and off our roads," he said. "They're within walking distance to campus, whether they go to Florida State or Florida A&M. It's going to be good for our bus system."
Ziffer acknowledged that the new complexes, with retail and restaurants on the ground floor and modern amenities in the apartment units above, could have a negative impact on existing rental property that serves students, but that could create an impetus for renovation construction.
"Some of these units aren't for students; they're for singles, young married couples, graduates who want the vibrancy and the connectivity of the college atmosphere," he said. "Our generation graduated from college and moved where the job was. This generation figures out where it wants to live, then finds a job there. Things have changed." // AUDREY POST
Photo by Scott Holstein
The flat threshold of this shower makes it less hazardous for a senior to step in or to roll in a wheelchair.
Aging in Place
Design Can Help Keep Your Home Livable Longer
Tallahassee's climate, cultural environment and cost of living make it a great place to retire, so the demand for "senior" housing continues to grow. But not everyone wants to live in a traditional senior community with graduated levels of care.
Enter "aging in place," which the Centers for Disease Control and Prevention defines as "the ability to live in one's own home and community safely, independently and comfortably, regardless of age, income or ability level." Since many seniors downsize as they head into their golden years, moving into a new home designed for "aging in place" is a logical step.
The Florida Department of Elder Affairs and AARP have joined forces to promote statewide development of "aging in place" communities; locally, two homes with universal features were built in the Park Charleston subdivision off Miccosukee Road, just east of Capital Circle Northeast. The first house sold last year and was given AARP's "Better Living Design" award; the other was still on the market as of mid-January. With three bedrooms, two baths and a fireplace, it has 1,828 square feet and was listed for $268,000.
Robert Estevez, a Realtor with Neil Ryder Realty, said the homes have flat, one-level floor plans with "zero step" entrances and widened hallways and doorways, which can accommodate wheelchairs or walkers. Other features include elevated toilets and grab bars next to the toilets and showers, roll-in showers, elevated electrical outlets and levered handles on all cabinets and doors.
"With the number of seniors growing, along with Tallahassee's popularity as a retirement destination," Estevez said, "the demand for houses that allow people to age in place is also going to grow."
Fifteen of the 101 lots in the Tippecanoe Hills development to be built off Hartsfield Road also have been designated for "aging in place" design, Estevez said, but they will be smaller than the Park Charleston homes — another advantage for people who want to downsize. // AUDREY POST