The Seminole Nation Pins Its Hopes for an Era of Winning On New Head Coach Jimbo Fisher
Trying to Maintain a Family Life in the Football Spotlight.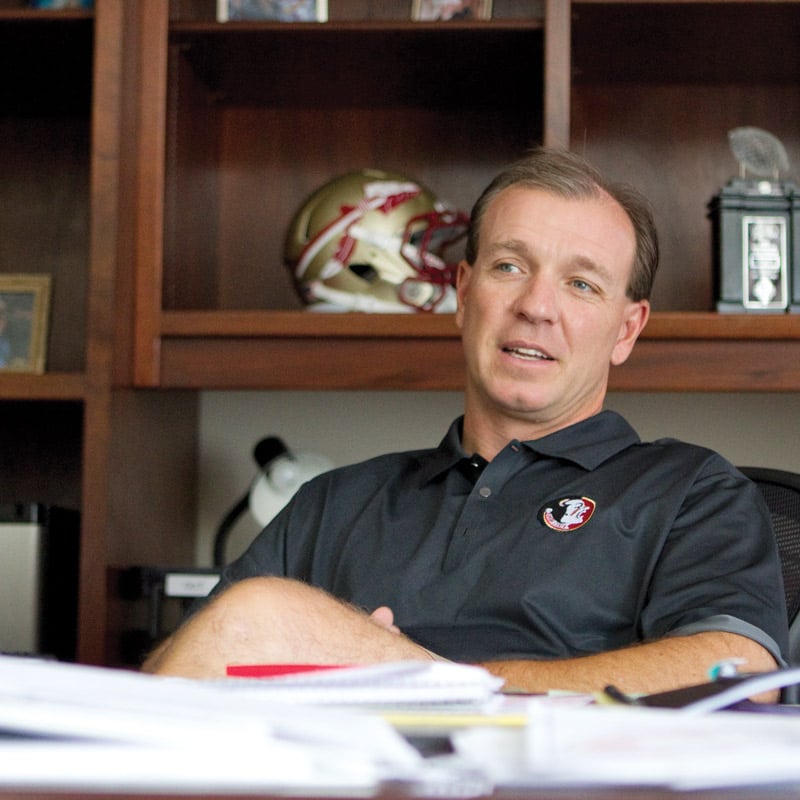 From the outside, the brick house in Golden Eagle is impressive, but it's not on Lake Diane or the golf course and it's not the gated community's biggest or most grand by far. The skateboard and bike out front as well as the backyard play set peeking over the privacy fence let you know there are kids in the house.
Inside, it's obvious the lady of the house has indulged in a penchant for tasteful decorating. There's a nice pool out back, featuring stacked stone and a hot tub, as well as an outdoor kitchen with a stainless steel grill big enough to serve a small army.
It could very well be the residence of a successful insurance agent or a state administrator, but it's not. It's home to Tallahassee royalty — Florida State University's head football coach Jimbo Fisher, his wife, Candi and their two young sons, Trey and Ethan.
And while Jimbo's ascension to the top coaching spot has made them a power couple — with a few notable exceptions the Fishers' home life might just sound familiar to many local families, focused on church, school and running kids around to activities.
Fisher said he doesn't want his new job to force him to completely alter his family life.
"I'm not going into a shell," he said. "I want my kids to try to have as normal a life as they possibly can. I don't want my appearance or my being somewhere to be an event. I'm there trying to be a dad. I'm not there being the head football coach at Florida State."
But for most of his waking hours, Jimbo Fisher will be reminded that's exactly what he is..
Jimbo's New Job
When Fisher comes to work at FSU every day, he has to do something few other people do.
He has to walk past a 9-foot-tall statue of the guy he replaced.
But Fisher appears way too busy as the new head coach to worry about the traditions of the past, or the reverence that many have for former coach Bobby Bowden.
Fisher has put aside the drama of the past year and moved quickly to put his own mark on the FSU program. He replaced several coaches, changed how the players train, and instituted rules that put limits on how much interaction players and coaches have with the news media.
"We have a new plan; we have a new idea in what we're trying to do," Fisher said.
Yes, it's the start of a new era, with a new coach who brings with him values that stem from a no-nonsense upbringing in a small town in West Virginia, as well as experiences with such storied football programs as Auburn and Louisiana State University.
But the expectations haven't changed. Fisher's main job is to return FSU to glory on the football field. The Seminoles haven't won an Atlantic Coast Championship since 2005, and the team's run of 10-win seasons seems like an eternity ago. FSU hasn't beaten one of its chief rivals, the University of Florida, in seven years.
"He's under a lot of pressure," said former FSU President T.K. Wetherell, who helped put Fisher in his current position. "I don't care if you have been coaching 30 years or have never coached a game … .
Overall, there's an expectation that you are going to win the ACC, you are going to beat the Gators and you are going to beat Miami."
Fisher, meanwhile, is also trying to be a father to his two sons, Trey and Ethan, and maintain the same normal Tallahassee life he has had since 2007. That life includes going to church, youth baseball games and occasionally out to eat. He even tries to squeeze in a few days each year to go hunting, a longtime passion that he is now passing down to his boys.
But Fisher's time — and his attempt to blend into Tallahassee life — may have been gotten a little harder now that he's the guy in charge — and probably a more important celebrity in this town than even the governor.
"Because we've been here for three years and we know so many people, I thought it would be no big deal," said Candi Fisher, who has been married to Jimbo for 17 years. "But it's kind of funny; places that we've gone for the past three years, now we go there and people are surprised to see us. And we've been going there all along."
Jimbo Fisher maintains that he's ready for this moment, although he is quick to point out that rebuilding a "foundation" is not something that can be done right away.
"I think a job of this level, I think there's going to be scrutiny on you no matter what, because it's one of the top jobs in the country," he said. "We didn't get into this situation overnight, and we're not going to totally fix it overnight. I'm not saying we're not going to be successful right off the bat. I don't know."
Being direct and to the point is part of Fisher's style. While courteous, and willing to crack the occasional smile, Fisher doesn't have the same gregarious, back-slapping style of Bowden. Even in his brief stint so far at FSU, television cameras have often captured Fisher's serious game-day demeanor.
"He's genuine," said assistant coach and longtime friend Rick Trickett. "What you see is what you get."
Fisher says that's just the way people are in his native West Virginia.
"People there are very hard, very driven," he said. "They are hardworking and fight for everything they've got."
He also says that being honest is part of his overall coaching style.
"I think honesty is the best way. People respect honesty," Fisher said. "It's not about being liked, it's about making them respect you and understand that you are trying to help them. I think that once they understand that, then they trust you and you can coach them."
'This is Not Work'
The responsibility that Fisher now has for a nationally known football program, as well as the hopes and dreams of dozens of young men, brings with it not only celebrity but financial security. Fisher got a five-year contract worth $1.8 million a year to replace Bowden, with a chance to earn significant bonuses if he does well.
It seems a far cry from Fisher's roots in Clarksburg, W.Va. The son of a coal miner and a teacher, Fisher played football, baseball and basketball and was an all-star athlete in all three sports. His father died in 1994 at age 62, while his 73-year-old mother is still teaching chemistry and physics.
"We weren't rich, we weren't poor, we were average middle class," said Fisher, who is now 44.
While he speaks positively of his West Virginia upbringing, Fisher will be the first to admit that "if you weren't educated and had a way to leave," you wound up working in the coal mine.
He also jokes that what he does now — even with its nonstop pace during football season — doesn't come to close to what it was like when he was growing up and had to get up at dawn to go out and rake hay on the family farm.
"Compared to what I worked when I was a child and the way I watched my father work, this is not work," Fisher said.
Fisher worked hard enough at sports that in 1983 he got a baseball scholarship to go to Clemson University. But he left the school after just one semester after getting homesick. He now labels his decision to leave Clemson the mistake of "a 17-year-old kid" who had never been away from home.
But it's a decision that put Fisher on his current path. He transferred to Salem College (now Salem International University) in his home state, where he wound up playing for a young football coach by the name of Terry Bowden. It was the first head coaching job for Bowden, whose father was already coaching at FSU.
When Terry Bowden got a job in Birmingham, Ala., at Samford University — the same school where Bobby Bowden got his coaching start — Fisher followed to play for him. During his senior year, the 5-foot, 9-inch Fisher won Division III Player of the Year honors after racking up nearly 2,400 yards passing and throwing 34 touchdown passes.
Following a brief stint in the Arena Football League, Fisher returned to Samford and joined Bowden's staff. He went from being a graduate assistant tutoring quarterbacks to eventually working as offensive coordinator and quarterbacks coach.
"My goal was to play as long as you could possibly play and advance as far as you could advance and be a part of it in some form or fashion," he said of his plans for football at the time.
But Fisher's time at Samford didn't just start his professional career; it also marked the start of his romance with Candi.
One of her friends had met one of his college roommates during spring break ("the old cliché," she said), and when they planned a meet-up later in Birmingham, Ala., Candi tagged along.
"We went out with this big group of guys and I met Jimbo, and the next week I went back and we all went out together again," she recalled.
At the time, Candi was living about an hour outside of Birmingham in the small (population 10,000) northeastern Alabama town of Jacksonville. She grew up a few miles farther up the road in the even smaller town of Piedmont (population less than 5,000).
When asked who pursued who, Candi Fisher was quick to answer: "I think he chased me, he thinks I chased him." They married two years after they met.
"It's kind of funny, it was one of those kinds of things that we just fell into and … it just was never really a question after we started dating that we were just going to be together," she said.
But she makes it clear that her love of football predated her relationship with Jimbo.
"I've always been a big football fan," she said. "I grew up in Alabama. It ranks right up there with religion."
The same year Jimbo and Candi got married, Terry Bowden was hired as the new head football coach at Auburn University. Fisher followed and Candi attended college there, earning a degree in secondary education. She would teach middle- and high-school English as her husband moved up the coaching ladder, in Auburn, Cincinnati and Baton Rouge.
While FSU's head coaching job brings a multimillion-dollar salary, Fisher's considerably smaller paychecks during his early coaching years — in a 2007 story on ESPN.com, he told writer Mark Schlabach his first year's salary at Samford was $20,000, and it was $40,000 when he coached at Auburn in 1993 — meant Candi needed to work to help with finances.
"That's why we waited eight years after we got married to have kids, because we wanted to be to a point in our marriage where I could stay home and take care of my kids," she said. "I saw the other wives that I was around for so long trying to balance working and being a coach's wife and having their children."
Becoming the Coach in Waiting
Fisher's stint in Auburn also marked the start of his longtime friendship with fellow West Virginia native Trickett, who had already been in coaching for 20 years. Soon the two were hunting, and their wives became good friends. Even today, Trickett lives a few doors down from Fisher in the Golden Eagle subdivision north of Tallahassee.
"We just both hit it off," Trickett said. "We just kind of clicked."
Their friendship has endured amid the sometimes rough-and-tumble world of coaching. Terry Bowden abruptly resigned midway through Auburn's 1998 season, contending that he was told that he would be fired at the end of the season.
"We were all caught off guard," Trickett said.
Bowden's sudden departure meant both Trickett and Fisher were looking for new jobs and forced to go their separate ways. Trickett notes that both he and Fisher "were the last two guys" from Bowden's staff to get work.
Trickett wound up as head coach at tiny Glenville State College back in West Virginia, while Fisher went to the University of Cincinnati to become offensive coordinator. Fisher, however, was on the move again quickly, this time to LSU, where he took the job as offensive coordinator under head coach Nick Saban.
It was Fisher's seven-year stint at LSU that cemented his reputation as an up-and-coming coach. The Tigers won a national championship in 2003, went to seven bowl games and picked up two Southeastern Conference championships. Also during that span, four quarterbacks coached by Fisher were drafted by the NFL.
Fisher came close to getting his first head-coaching job back in late 2006 at the University of Alabama at Birmingham. But that fell through, and instead Fisher was asked to come to FSU and succeed Jeff Bowden, whose tenure as offensive coordinator under his father had ended badly. Former FSU President Wetherell said the job came down to Fisher and Lane Kiffin, who is now the head coach at the University of Southern California.
Wetherell said at the time that no one thought they were hiring Bowden's replacement. But they wanted someone who could take the job if needed.
"We didn't know it was going to be the coach-in-waiting," Wetherell recalled. "'Let's just see how this works out' (was the thinking at the time.) We wanted a young guy, we wanted enthusiasm, we wanted someone Bobby could be comfortable with, we wanted someone who could take over."
But over the next several months, Wetherell got to know Fisher and his family. He even invited Fisher to his 1,200-acre spread in Jefferson County, where the two men went duck hunting. In December 2007, Wetherell designated Fisher as "coach-in-waiting" and promised to compensate him if he wasn't head coach by January 2011.
FSU pledged to pay Fisher $2.5 million if he did not become head coach by 2011, while Fisher pledged to pay the same if he left to take a job elsewhere. The amount in the buyout was later doubled.
Wetherell said that what he saw in Fisher convinced him he was the right guy to eventually succeed Bowden.
"He's just got character, he's got values that go beyond football," Wetherell said. "He reminded me of Bobby Bowden 30 years ago."
Family Life in Tallahassee
The move to Tallahassee reunited Fisher with Trickett, and it didn't take long for Fisher and his family to become accustomed to life here. Fisher says Tallahassee is bigger than Auburn but a bit smaller than Baton Rouge.
"I like living here," he said. "There's plenty of things to do, except it's small enough to have a small-town atmosphere at the same time. It's a very unique city. I think it's a great place to have a family and raise kids and those types of things. It has a lot of Southern culture, as I would say. We feel very comfortable."
Fisher has a hectic schedule, but he says he wants to try to be with his family as much as possible, and he sometimes will rush straight from work to his son's baseball game.
"Coaches — we're the biggest hypocrites in the world — we'll take care of your kids but ignore our own," he said. "The time I get I really cherish with my family."
Nine-year-old Trey is actually named John James Fisher III.
"Jimbo always said he wanted to have a 'the third,'" Candi Fisher said, although she insisted that their son be called Trey or Tripp for short when he was born. "I didn't want to run the risk of anybody ever calling him Little Jimbo."
The senior Fisher was called Jim, and the coach was originally known as "Jimmy" until an aunt "for some reason started calling him 'Jimbo,' and it stuck," Candi Fisher said.
The Fisher's oldest son spent the summer playing all-star baseball, but his favorite sport is still football.
"Trey has actually been going to the games with me since he was a baby. I would carry him in the papoose thing and he would sleep through the whole game," she says. "As he got older he sits, he watches, he understands it all. He is heartbroken if we lose."
When casting about for names for their second son, she said, "My mom suggested I name him Hunter, and I said, 'What's his middle name going to be? "And?"'
"She didn't think it through."
Ethan is back for another year at Killearn United Methodist Church Preschool (which is also where the family goes to church). Candi Fisher says her boys share a love of sports and a competitive streak, but they're also very different.
"Trey is our ask-for-permission kid and Ethan is our beg-for-forgiveness kid," she said with a smile. "And while he's begging for forgiveness, he's still doing what it is that you just got on to him for doing. He's the one that gets buckets of sand from the sandbox and dumps them in the hot tub because he's trying to build a sandcastle."
In addition to the expected sports memorabilia, Fisher's stadium office décor includes a Playstation III and a rolling tub filled with crayons and markers to amuse his sons when they come to visit.
Keeping the family together sometimes requires creative solutions, said Candi Fisher. During busy times, the coach would leave before the boys woke up and come home after they slept. "He could go two or three days without ever laying eyes on them," she said. "A lot of times we'll just jump in the car and drive up. During the season, one night a week Tara Trickett and I would make cookies and brownies for the whole football team and the kids would give them out to the players as they were coming off the field from practice and then we'd go up and eat dinner with Jimbo in his office."
Fisher's Ascension
The deal to keep Fisher in Tallahassee made it clear that he would eventually become head coach. But FSU's poor start in the fall of 2009 accelerated the schedule. Midway through the season, the team was 2-4 and had lost to both perennial rival Miami and an upstart University of South Florida team.
There were calls for Bowden to step down after more than 30 seasons and to bring in Fisher. There was a back-and-forth among FSU alumni and former athletes about whether Bowden deserved another season. There were also reports of dissension in the coaching ranks — a charge Fisher strongly denies.
"We heard all the stories," he said. "We used to laugh about them."
Fisher said the "lines of communication" with Bowden were always open, and he always tried to remember that Bowden was in charge and that the most important thing was to maintain his focus on things that he "could control."
"Sometimes coaches have the biggest egos and try to separate themselves even more so than players," Fisher said. "What we tell our players not to do, sometimes coaches do."
But even Fisher doesn't deny that something wasn't working. When asked about it, Fisher's candor briefly retreats. After a long pause, he said, "I don't know what happened, but the perception on the outside is that we weren't progressing."
Wetherell is a bit blunter, saying that Fisher could only make so many changes while Bowden remained the head coach.
"The big problem there was he was respectful of Bobby," Wetherell said. "'Until it's my show, Bobby is the man and I'm going to respect him.' It was a matter of when we were going to turn him loose."
Bowden told everyone he wanted to coach one more year. But instead, he left a December 2009 meeting with Wetherell and said he would retire after coaching one last bowl game.
Months later, it's clear Fisher is firmly in charge now. He replaced several coaches on Bowden's staff. He has gotten the program to beef up its conditioning staff, and he has brought on a nutritionist and even a sports psychologist to work with the players.
"A team takes the qualities of its coach and the things that he thinks that are important," Fisher said.
And for Fisher, that means focusing not just on x's and o's, but also trying to get his players to deal with the mental aspects of the game.
"There's going to be days you are better than somebody, there's days you are not," he said. "You can beat people with your mind.
"Everybody has got good players," he said. "My belief is that the development of your character, and your intelligence level and the ability to process information and make decisions, and then the ability to deal with adversity is what separates the good teams from the average teams."
Candi Fisher said she is looking forward to the first game of the season.
"I've seen him work for so long to get to this point, it's like the hard work has paid off," she said. "Now he's still working hard. He's actually working harder now than he's ever worked, but it's different now. He knows he's doing it to build something he really believes in."
Before Fisher took over at FSU, his name was briefly circulated with regard to coaching opportunities at other big programs. But sitting in his office overlooking Bobby Bowden Field at Doak Campbell Stadium, he says this is where he envisions being five or 10 years from now.
"This is one of the top jobs in America," Fisher said. "I love it here. I love the atmosphere, I love the family, I love the tradition. There's everything you need to be successful here."
Perhaps in a nod to some of the turmoil of the past year, he adds: "But we also understand in this business, things happen, things you can't control. I don't ever pretend to predict the future about those things.
"… This is not 'I'm planning on winning here, and turning it back around and taking another job,'" Fisher said. "There is no inclination to that at all in where we are going. I hope to be here a long time. This business has taught you one thing. Never say never."