The Secret Behind What Makes Madison Social So Special
'Social' Drinking — and Eating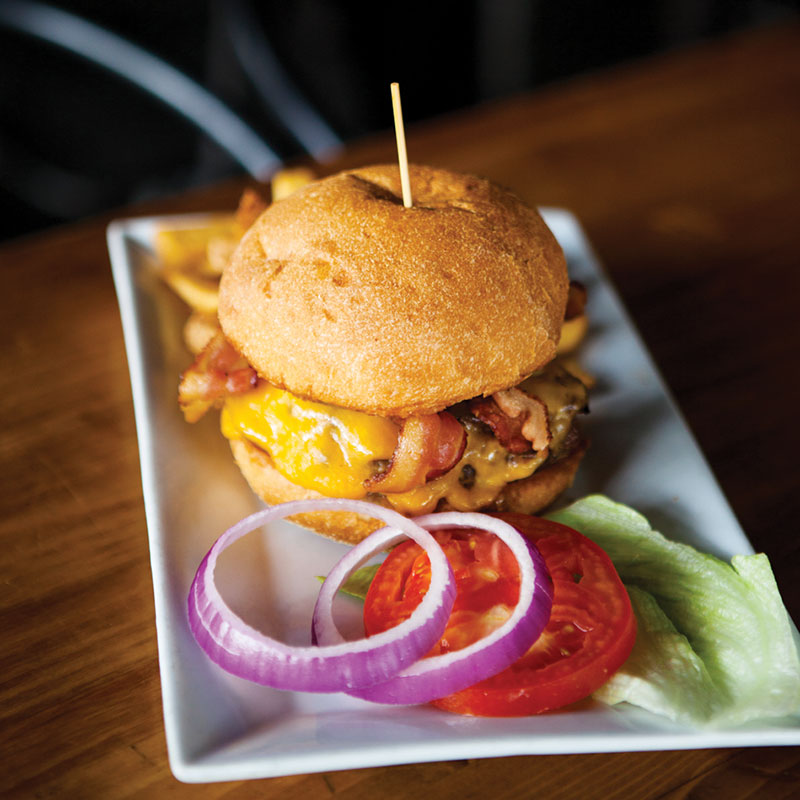 Well before rolling up its garage doors for the first time in August 2013, Madison Social had buzz. After all, it was the front-and-center restaurant in the Seminole Boosters' innovative CollegeTown project, designed to revitalize the formerly industrial Gaines Street area.
In this town, any new restaurant is guaranteed to attract a crowd during the opening honeymoon, but if it doesn't strike the right chord, Tallahassee foodies won't come back. Case in point: The Japanese restaurant Ginza Red opened in CollegeTown about the same time and just a few steps away from Madison Social but quickly closed.
Not so for "MadSo." Just a year and a half after opening, it was declared the "Best Bar" by readers of Tallahassee Magazine. With a convenient location within eyeshot of Doak Campbell Stadium, fans flocked to the restaurant during football home games. But in order to succeed, there needed to be good food, drink and something to attract diners the remaining 350-odd days of the year.
Madison Social's success is as much about the vibe as it is its pub grub with a twist, creative cocktails and wide selection of beer. And that, the management team says, is no happy accident.
"I always wanted to have a place, and (Operations Manager) Brian (McKenna) did too, where a 21-year-old Tri Delt would sit next to a 21-year-old Marching Chief who sat next to a 26-year-old young professional and a 40-year-old guy that was on the end — and they struck up a conversation they would never have anywhere else," said Managing Partner Matt Thompson.
"The vision is in the name — Madison Social," said Marketing Manager Amanda Morrison. "You can't be social without interacting, and that's the focus every single day."
In addition to face-to-face interaction, Madison Social is a social media juggernaut, with 15,100 likes on Facebook, 5,700 Twitter followers and 5,900 followers on Instagram.
While Thompson, Morrison and their band of MadSo merrymakers are always dreaming up fun promotions to attract customers, many special events are inspired by the restaurant's social media friends.
"Our audience probably writes 25 percent of our marketing plan for us," said Thompson. A recent example was "Galentine's Day," held Feb. 13. On the show "Parks and Recreation," perky Leslie Knope (played by Amy Poehler) declared that the day before Valentine's Day should be set aside for "celebrating lady friends" with brunch — and the concept caught fire on social media.
"We had a lady from (FSU's) English department reach out to us, and she wanted to do a Galentine's Day brunch with her friends," he said. "Then I got a Facebook message from a different woman saying we should do Galentine's Day on Friday, and we just said 'Screw it, let's do it.'" Although it is usually only served on the weekend, the staff rolled out the brunch menu and mimosas for the occasion. "I think we had 75 reservations."
In another case, "Our audience was doing nothing but talking about Girl Scout cookies because it was the time of the year" they were sold, Thompson said. He bought 100 boxes of Tagalongs, Samoas and Thin Mints and had the chefs layer them into the restaurant's chocolate chip cookie skillets.
"That came from just listening. If you want to talk social media philosophy, listening comes before publishing any day of the week. So we do a lot of listening," he continued. "Sometimes we find out about things we never knew about. There's so much going around. I didn't know Bill Nye the Science Guy is coming to Florida State to speak. What can I do with that?"
That said, all the social media hype in the world won't save a restaurant if its food, drink and service — the "guest experience" — is subpar. That is the purview of McKenna, an FSU grad who managed a bar named The Saloon in Manhattan that was the official gathering place for Seminole alumni in New York City. He was the person originally pitched by the Boosters to open CollegeTown's marquee restaurant.
MadSo Burger (above) & MadSo's Classic Manhattan (below)
Matt Burke
The restaurant serves sandwiches, entrées and salads for lunch and dinner daily. The menu is limited but full of offerings that add a little fillip of something different. For example, their hamburger, the MadSo Burger, is topped with the traditional bacon and cheddar — as well as fried avocado, Jameson whiskey-caramelized onion and a house-made aioli. Or one can go way off the beaten path and enjoy a Roasted Buffalo Cauliflower sandwich, dressed with tomato, spring mix, sliced carrots, blue cheese crumbles and a drizzle of ranch dressing.
There's also a popular brunch menu offered on Saturdays and Sundays from 10 a.m. to 4 p.m.
After 9 p.m., Madison Social morphs into a 21-plus bar. Experienced bartenders are on hand to craft your favorite cocktail — or try one of their specialties. The MadSo version of the classic Manhattan includes Jack Daniel's Tennessee Honey, sweet vermouth and orange bitters.
Occasionally, you will find inexperienced folks shaking things up behind the bar. A few times a week, Madison Social sets aside a couple hours for "guest bartenders" to try their hand at serving up drinks — with all the tips going to the person's chosen charity. Staff members are always happy to offer a hand to charitable endeavors, with bartender gigs, selling special pint glasses, cornhole tournaments, food and liquor pairings … whatever it takes to raise money and awareness.
"If you have a charitable cause, you have just as much need as us to be different," Thompson said. "We lend our brains and our creativity to that. We try and tailor something specific to the audience."
While Madison Social shot to the top of the local bar/restaurant list, management takes its role in the community seriously — and takes a long view of its ultimate success.
"I don't want to be a college bar," Thompson said. "We want to be a pillar of Tallahassee for years to come."