The Rowland Team Conqures The Digital Age
Our Winning Team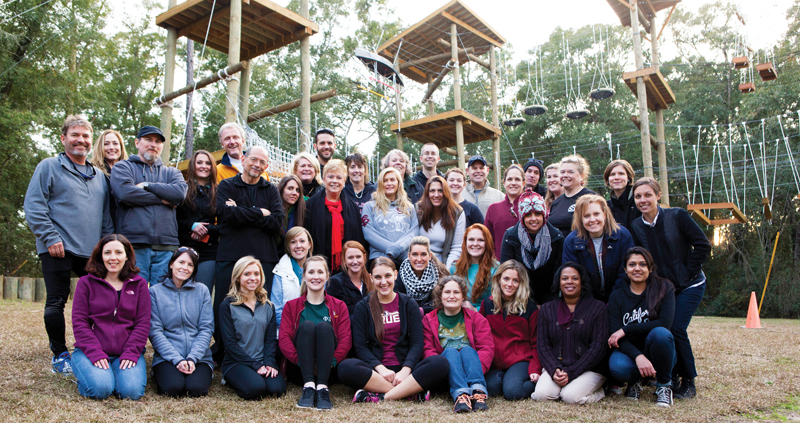 Over the past several years, I have heard plenty about the death of the print industry and how the world of media and advertising will shift totally to the digital world — basically saying to a publisher: "Fold your tent and throw in the towel."
I'm sorry, but that memo never made it to the desks of the employees at Rowland Publishing.
Our team successfully navigated the Great Recession and the second tsunami of economic turmoil that hit our footprint — the perceived deluge of BP oil on Gulf Coast beaches. Although the impact was more like a drizzle, it devastated the region's tourism industry and made it even more challenging for our sales team to meet its goals and the business community to maintain stability. But our team of publishing professionals made the necessary adjustments to our company and their personal playbooks to stay focused, keeping their eye on the horizon and not complaining, just doing their absolute best job every day. Taking on a negative attitude was definitely NOT an option for this squad.
Brian Rowland
Scott Holstein
The media world has drastically changed since I became publisher of Tallahassee Magazine 25 years ago. At that time, the Internet had not been invented. The car phone industry was just developing, and words like Facebook, Twitter, Pinterest and blog had not been spoken. Newspapers, radio and TV were still the primary source of breaking news, and there was no such thing as a "smart" phone. All we could do then with a phone was make telephone calls.
When the recession arrived, "traditional" media, with its high operational costs, was hit hard when advertising dollars dried up. Digital news outlets grew, and predictions of the death of print were widespread. Yet at Rowland Publishing, we were deaf to that death knell.
Since the economy began to tank in 2008, we have launched five new titles, including 850, Northwest Florida Weddings and Honeymoon Destinations, Sandestin Living and the Tallahassee Medical Resource Directory. We now have a department that plans and runs six annual events, and we have committed ourselves to the digital era with a three-member digital media department. And all the while, we have grown the page counts of our magazines — Tallahassee Magazine by 38 percent and our other titles by between 8 and 10 percent. The company, meanwhile, has grown from 24 to 36 employees strong.
During the recession, we were often tempted to accept advertising revenue in exchange for a "puff" story about an advertiser. But we simply said, "No." That is not our business model. Our editorial team maintained high journalistic standards, and I feel today that is one of the major contributing factors to our ongoing growth and excellent brand reputation in Northwest Florida. We have and will continue to stick to our publishing mission to be "Current, Quotable and Well Read."
We believe our local and regional titles are a critical communications link between people in the region. They keep people informed and help create a sense of community, keeping it strong and giving those who live here a sense of pride in the place where they work and live.
Of course we have dealt with the natural attrition and transitions that every company must face, but I can proudly say that the RPI team that stepped out on the Northwest Florida publishing field on Jan. 5, 2015, is without question the finest all-around team of media professionals that Rowland Publishing has ever assembled. We are deep in talent, combining youth and experience, and everyone has a fire in the belly and a winning attitude.
I also would like to acknowledge and salute those who, over the past decade and a half, made positive contributions and helped lay the foundation this company is building on today.
I salute the team as together we forge through 2015 and beyond. I am so proud and honored to work with the 36 professionals we have here at Rowland Publishing.