The 'Round Holiday Inn' Gets New Life as an Environmentally Friendly Hotel
Hello, Green Sheraton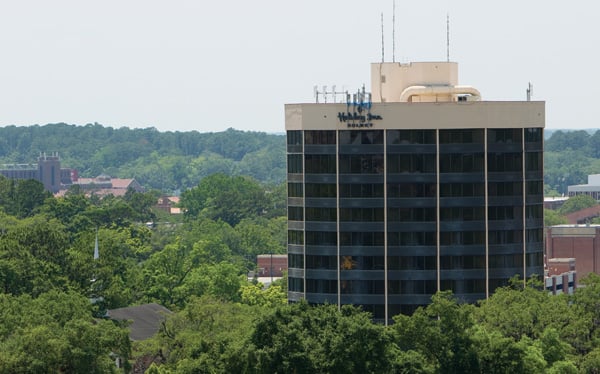 For 43 years, it has loomed over the intersection of Tennessee Street and Martin Luther King Boulevard, 12 stories tall with a distinctive design that makes it a local landmark.
While it has gone through several owners and recently fell on hard times, the building most commonly known throughout the years as the "Round Holiday Inn" is about to be reborn as a new Four Points By Sheraton hotel.
After a multimillion-dollar renovation to be completed by the end of 2011, operators say the building will go beyond being a place for tourists to stay while seeing the local sights and become an area attraction as Tallahassee's first hotel to be nationally LEED certified as environmentally friendly and energy efficient.
The certification works on a rating system and is a guarantee from the U.S. Green Building Council's Leadership in Energy and Environmental Design (LEED) program that the building meets, and its operators implement, green design, construction, operations and maintenance.
LEED certification for existing buildings examines many issues, including whole-building cleaning and maintenance and the use of chemicals, recycling programs, exterior maintenance programs and systems upgrades, according to the council's website. The number of LEED-certified hotels in Florida was not available, but the state estimates less than 700 hotels in the state carry some kind of environmentally friendly designation.
When completed, the hotel will feature green building materials such as renewable flooring in cork, teak or bamboo and will showcase filtered water stations around the property where guests can fill up drinking containers to reduce the use of plastic bottles. The hotel will even have bicycles on site so guests can pedal around town while sightseeing instead of using their cars, reduce carbon emissions and make the "already beautiful Tallahassee an even better place to live," said General Manager Bo Schmitz.
Hotel officials also plan for a "stylish bistro" and full-service bar on the premises to become hot Tallahassee night spots but aren't yet ready to unveil their plans for that space, Schmitz said recently. House-made pastries will be featured in a separate coffee bar.
The building will have a Presidential Suite, 10 other suites, 164 guest rooms, 7,100 square feet of meeting and event space, property-wide complimentary wireless internet access, a fully equipped 24-hour fitness center and a year-round pool with regulation lap lanes.
Originally scheduled to open during the summer, company officials want the "finished product to be high quality" and have pushed back the grand opening to ensure quality standards, Schmitz said. Because the project is still in the works, the actual cost of the renovation has not been determined, he added.
About 60 employees will be needed to get the hotel up and running, but Schmitz estimates he will need an additional 40 within six months of opening.
The owner, Union Hotel Company Tallahassee RLLP, also owns hotels in Grand Rapids, Mich., and Boulder, Colo., cities with similar demographics and similar business potential created by colleges and state government, Schmitz said. The company has been successful with renovation projects in the past, and choosing to renovate an existing building here is just another part of the company's green philosophy. The project was recently called "a great example of a successful conversion property that is incorporating leading-edge green standards into its operations" in a hotel industry publication.
Schmitz, who recently moved to Tallahassee, has nearly 20 years of hotel management experience that includes the overseeing of the Hyatt Place company's first LEED-certified property.
Joining him is Director of Sales Cheryl Hatcher. Formerly chief sales and marketing officer for the Kentucky Department of Tourism, she led that department's initiative to market Kentucky as a travel destination. She plans to use her experience to increase the number of visitors to downtown Tallahassee.