The Right Valentine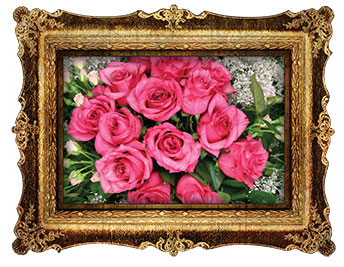 Valentine's Day is not a one-gift-fits-all sort of holiday. The same lovely diamond presented to a soon-to-be fiancée could send a "moving way too fast" message to a person you've taken on only a few dates. Here are some suggestions for the proper present — wherever your relationship might be on Feb. 14.
And for those who'd like to send the most traditional gift of the day, Lisa Metcalf of Blossoms Flowers On Monroe offers suggestions for floral tributes and advice appropriate for each stage of romance.
---
SECRET ADMIRER
Secret-admirer gifts can be flattering but stressful for the recipient. In today's age, a secret-admirer gift can make a person feel vulnerable and nervous (a complete turnoff!) if he or she can't figure out who has given the gift. Always keep secret-admirer gifts lighthearted and fun by putting hints or clues on the note to build excitement until the recipient has enough hints to guess who the admirer is. NEVER insinuate that you have been watching or following him or her; this could be interpreted as stalking.
For those admiring from afar, chocolates and love notes are the tried-and-true way to spark a romance. Designed to resemble love letters sent through the mail, each Chocolove candy bar contains a poem on the inside of the wrapper (World Market, $2.99). Or add a personal message on flirty Vera Bradley notecards in Cupcakes Pink (Cottage Collection $14).
---
JUST DATING
Even the name of this sweet little croco-embossed leather coin purse from Brighton – First Kiss – offers a promise of romance. Twin hearts encrusted with Swarovski crystals form the French clip closure. Pick the Valentine-appropriate red shown here, or choose her favorite color from a choice of 17. Available at Cotton Etc. or online at brighton.com. $48
---
TAKING IT TO THE NEXT LEVEL
Whether your relationship is chapel-bound, or you are simply taking your commitment level to a new plane, diamond jewelry conveys a message of deepening devotion. This white gold and diamond pendant necklace says "I love you" while avoiding the outmoded and often-confusing sentiment of a promise ring. Meanwhile, at slightly over 1 carat, this stunning princess-cut engagement ring asks one question only. (Robert's Jewelry and Designs: ring, $6,350; pendant, $1,199)
---
SO IN LOVE
Even when you're blissfully in love, there's no better way to fan those flames of romance than a beach getaway. Enjoy a "Romance Package" at the Hilton Sandestin Beach Golf Resort & Spa, or save the date of Saturday, Feb. 13, for a romantic evening called "Just the Two of Us … A Valentine Interlude." The event includes romantic music, dancing and intimate tables for two, and a filet and shrimp entrée served with wine. Choose from five special packages, customized to include overnight accommodations at the Hilton Sandestin, brunch or spa services (a couples massage, perhaps?) and much more. For package details or to make reservations, call Carolyn at (850) 267-9689. Reservations are limited.
---
TOGETHER … FOREVER
When your love has stood the test of time, this beautiful ring by Hearts on Fire is the ultimate commitment statement that can replace an original wedding set or be worn on the right hand. The three main diamonds symbolize the past, present and future of your life together. This ring is 2.13 carats of very fine diamonds set in platinum, fitting for the "forever" love story! (The Gem Collection, $24,000)