The Right to Vote
Elections officials safeguard the foundation of democracy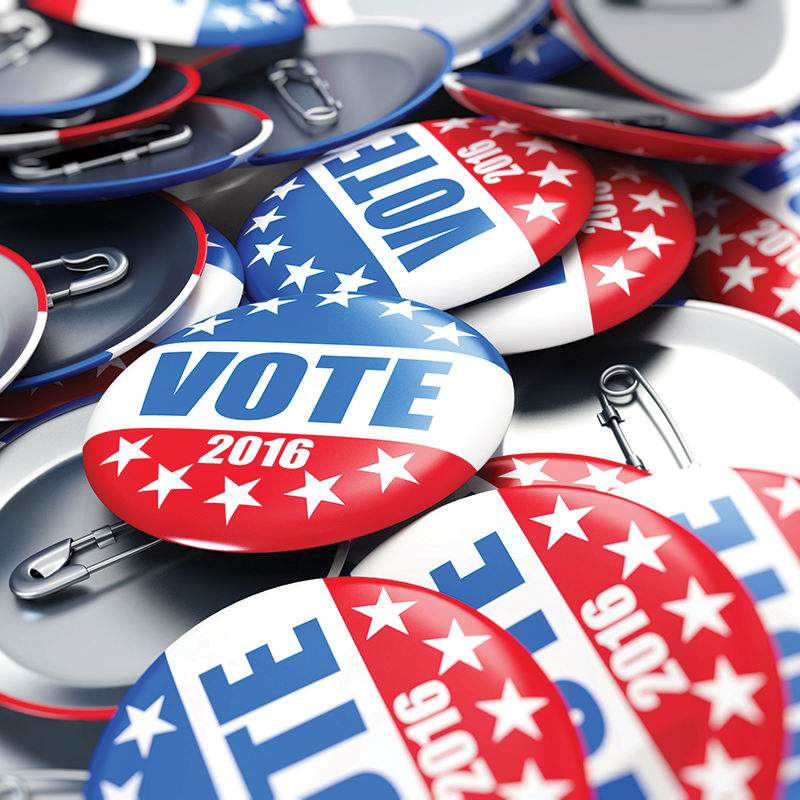 ---
It's Tuesday. Election day. You swing by your precinct before work (or at lunch, or right after work). To your surprise, you find that gauntlet of nice little old ladies — there was ALWAYS a line at the A-H's and, of course, your last name started with a D — who would flip open big books to find your upside-down name and have you sign, have been replaced. Now one, maybe two, little old ladies are on hand to swipe your Florida driver's license through what looks like a credit card skimmer, hand over a ballot and wave you to over to a privacy booth (Oh, please let it be one with a good magic marker!) to perform your Civic Duty.
President at the top; you vote for (insert name here) and move on to bubbling in the "down ballot" — U.S. Senator, Congressional District (Leon County took it on the chin in redistricting, you're either in the Jacksonville-based 5th or highly conservative 2nd), State Senate, State House, County Commission, lots of Constitutional officers for the first time in a long time, City Commission, Constitutional amendments (chances are you're voting for legalizing medical marijuana —
57 percent did when it was last on the ballot two years ago) and chances are, too, that you are confused about exactly what is behind this "consumer" solar initiative and Soil and Water Conservation District? (Admit it, you don't have a clue what it is or who's running.)
You take your ballot (discreetly tucked into a manila folder) to the scanning machine, feed it in and pridefully slap on your "I Voted" sticker.
In and out in 15 minutes.
If everything works out alright — and it usually does — voting in Leon County is seamless, fast, flawless, over and done. You don't give it a second thought.
But there's a Supervisor of Elections machine behind your vote, with planning that started more than a year before you ever stepped into the voting booth.
Join us as we draw back the curtain to reveal what it takes to assure you're able to exercise your constitutionally guaranteed right to cast a ballot, and make sure it's counted …
---
For starters, the goal of pretty much all of the 18 people on the payroll in the elections office is to make sure voting is easy peasy. And, although a pleasant experience for voters is important, it's really only the second thing on the mind of Supervisor of Elections Ion Sancho.
Priority One is something Sancho, who will be retiring in January after 28 years in office, takes very seriously.
"Your vote is not simply a piece of paper. It's not a 'glitch' if you don't get to record your vote, that is a loss of your Constitutional right," he said.
In the run-up to an election, planning is key, and the process goes on for about 18 months, officials said.
"There are probably over 3,000 different tasks that have to be identified, assigned and followed up on to ensure that they're complete," said Sancho. "You have to plan so you can request the right amount of money, material and personnel. It's kind of like hitting a moving target from a year away."
Sancho said the job entails figuring out how many seats will be open and which will actually become races. Well before candidate qualifying, the staff must estimate the anticipated number of voters — general elections draw bigger turnouts than primaries — then order cardstock to print ballots as well as making sure printed materials reflect changes made by the Legislature.
Chris Moore, assistant supervisor of elections, picks up with more of the myriad tasks performed in the election's office.
"What do we do the rest of the time (after election day)? We get that a lot. We do a lot of voter registration. We do maintenance on our equipment. We do maintenance on our voter rolls because we are responsible for managing the voter registration roll," he said.
This year's statewide redistricting of congressional seats meant remapping, because new lines were drawn, splitting Leon County between Congressional District 2 and the reconfigured Congressional District 5, that now runs from Gadsden County to Jacksonville. About 115,000 voters got new registration cards mailed to them in May, most reflecting a change brought about by this redistricting.
In 2016, "I think we have more local candidates than we can remember ever having," said Moore. The supervisor's office is responsible for qualifying candidates — they either pay a fee or present petitions, with signatures that have to be verified individually — and then collect and monitor financial reports throughout the election season.
In the Aug. 30 primary election, ballots had to be designed for each political party — Republican, Democrat or No Party Affiliation — as well as the specific congressional, city, county, school board and special districts included in each precinct. In all, that meant about 450 different ballot styles were created for the vote. (November's general election will require only a third that number of ballots because party affiliation doesn't matter — everybody can vote in all races.)
One new piece of technology introduced in 2016 is the electronic poll "book" — that little card skimmer that replaces the six or seven cumbersome paper books used at each precinct in years past. A simple swipe of a Florida driver's license or ID card is all it takes to check in. There are about 10 other forms of identification that can suffice to get a ballot, the trick is to find a combination of IDs that include a photo and signature. Interestingly, while a voter ID card is good for finding out where the precinct is and what districts you live in, it cannot be used as identification.
While the book speeds up the voting process and cuts down on the manpower needed to staff the polls, it has other advantages. If you have moved within the county, you can change your address instantaneously at the poll (although staff asks that you please, please, please consider calling into the office before going to the polls to vote).
The electronic poll book can be connected to a database that includes all registered voters in the state of Florida. So, an address change for, say, a college student registered to vote in Miami and living in a dorm in Tallahassee is also possible on election day. It takes a little more time, paperwork and a phone call to the home office, but polls in student-heavy areas assign additional staff to handle the load.
Again, a phone call ahead of time would make it much easier. "If you call us on the Monday before the Tuesday election and give us the address update, we'll tell you where you need to go. By the time you show up there, it'll be in these electronic poll books and you're good to go," said Moore.
While the entire supervisor's staff pitches in for the Big Day, Elections Coordinator Diana Mitchell-Fulford is the one who has her eyes on the election day prize.
One part of her job is recruiting and training 1,000 poll workers. Election Day requires about 875 workers to staff 88 voting locations throughout the county. Even though about 75 to 80 percent of poll workers have done it before, all are required to attend at least three hours of training to be brought up to speed on new technologies, laws and administrative tasks. And Mitchell-Fulford considers it her mission to make the 30 to 35 training sessions fun and entertaining (she admits "election procedure is dry") while also offering labs and online training to ensure the recruits are comfortable with the process. Poll workers are paid minimum wage for training and about $8.75 an hour for 14 to 15 hours of work on election day.
Now retired, Paul Burris started as a poll worker in 1992. "When I started, I thought it was volunteer," he recalled. "I said 'sure, I owe the community this much time," and boy it was kind of neat when I found out I'm going to get a check, too." He has moved up the polling place hierarchy and is now a clerk, the manager at the two precincts that vote at Fellowship Presbyterian Church in Killearn. Most of the dozen or so folks on his precinct team have worked together for several years and now plan treats for the voters — coffee for the adults, orange juice for the kids and doughnuts for all — as well as elaborate potlucks to sustain the workers through a long day of voting.
Some of his more amusing election day stories include a protestor who laid down across the sidewalk refusing to budge, and a woman who told the poll worker she had recently moved — to Georgia. "And the clerk said 'Ma'am, you can't vote here,'" Burris shared. The woman complained she had been voting at that precinct for 25 years. "They sent her over to me and she was just irate. I was amazed at how sincere she was about the fact that she should be able to vote."
Mitchell-Fulford and voting systems technician Will Stewart are also tasked with making sure the 88 polling places throughout the county have everything — and that means everything — needed for a successful election day. Supplies are warehoused and assembled in a huge operations center, located near the intersection of Capital Circle and Apalachee Parkway. For each precinct, there is a heavy metal rolling cage stocked with about 300 items, from the obvious, like ballots, electronic poll books and paperwork; to the minutiae — sandbags to hold signs upright, pens, extension cords, highlighters … even the "I Voted" stickers.
While polling places are usually churches with plenty of parking, kitchens and bathrooms, others are less well equipped, so Mitchell-Fulford will toss toilet paper, paper towels and hand soap into their cage. Some need handicapped parking signs, or even desk lamps to lighten up a dark space.
Delivered separately will be the privacy booths where the actual voting takes place, as well as the voting machines, actually a four-piece set-up that includes the actual voting tabulator and a bin for collecting the paper ballots. "We sometimes call them expensive garbage cans," quipped Stewart.
Needless to say, there are layers upon layers of security and testing to assure the tabulation of votes is done properly. Results are sent to the operations center via modem. "It's very old school, but it's secure. Everything is isolated from the internet so there's no way to access this without coming in here," said Stewart. He will sit at a desk behind a glass window on election night, working with the computer "brains" of the operation, posting the results on a screen in the lobby while simultaneously sending the results to the state.
Simultaneously, the precinct clerks are wheeling up to a back door to drop off the ballots and other essential materials that will be processed the next morning.
"That's the thing about elections; so many people, they just think it appears out of the fog on election morning and then it kind of dissipates," Mitchell-Fulford said. "Once you get a chance to see all the actual organization and coordinating and hard work that goes into it … imagine trying to plan 88 separate weddings to go off on the same day at the same time and everybody leaves happy. That's what we're trying to accomplish here."
With voter registration and outreach Sancho and his staff are expecting an 85 percent turnout in Leon County — giving it the status of a "super-voting" community. A smooth process is possible because about half of those voters will already have cast ballots before the polls open Nov. 8. Sancho said about 30 percent voters go to one of the county's seven Early Voting sites during a week-long period before election day while the remainder turn in absentee ballots.
"We expect the general to be historic," said Mitchell-Fulford. "We thought in 2008, 'Wow this is our high-water mark; this is what we can judge everything by.' But this is going to top it (because) we have more voters. We've come a long way in registered voters."
When the general election is over, the downtown Supervisor of Elections office will move and consolidate into the remodeled warehouse at Capital Circle, which will be expanded to 45,000 square feet. It will continue to house all the elections equipment and be remodeled to include offices and a dedicated training area. In addition to nice people greeting you as you walk in the front door, the entry also includes historical items, among them display cases filled with memorabilia and an old-fashioned lever-style curtained voting booth.