The Right Adjustments Can Mean Safer, More Comfortable Driving for Seniors
Introducing CarFit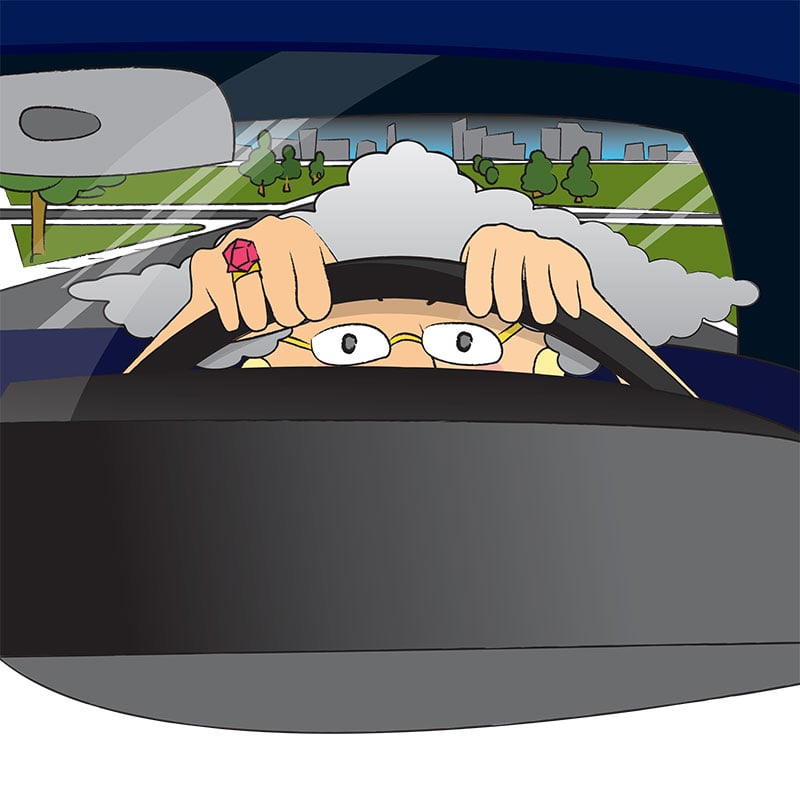 You would want to sit comfortably and safely in the easy chair in your living room, right? The same goes for the seats in your car.
illustration by bonnie haldane lewis
A properly adjusted seat in one's car can greatly increase not only the driver's safety but also the safety of others. A program developed to ensure senior citizens are sitting to their safest and most comfortable potential while driving is called CarFit.
Older drivers often are the safest drivers because they are more likely to wear seat belts and less likely to speed or drink and drive. However, older drivers are more likely to be killed or seriously injured when a crash does occur because of the greater fragility of their aging bodies. Most driver safety programs improve adult driver safety by addressing cognitive abilities and skills.
CarFit was developed via a collaboration among the American Society on Aging, AARP, the American Occupational Therapy Association and AAA. The national program is designed specifically with the aging driver in mind but can be useful for drivers of any age.
The program provides a 20-minute quick and comprehensive check to determine how well the driver "fits" into the car, looking for things such as how close a person is sitting to the steering wheel, or whether he or she is having difficulty seeing over the dashboard or pushing the gas and brake pedals. Trained specialists assist with the fitting and make changes when necessary.
Such changes can include adjusting mirrors to compensate for increased visual impairment and properly adjusting headrests and seats to ensure easier mobility while getting in and out of the car. The specialists also may suggest "adaptive devices" such as steering wheel covers to improve grip on the steering wheel.
Tallahassee Memorial Hospital's CarFit chapter started in May 2008 and has traveled around town to senior centers and the Area Agency on Aging, where participants had their driving habits and mobility checked by certified specialists and occupational therapists.
"The response from the participants was pretty good overall," said Judy Shipman, clinic coordinator for the Tallahassee Memorial Hospital Memory Disorder Clinic. "Some notice a change in comfort or can see better behind the wheel after they get checked. Others were doing fine to begin with, but it was confirmed after the process, so at least they know that they are maximizing their security and comfort.
"I myself learned that my mirrors needed adjustments," Shipman said. "The program is a really easy way to maximize safety."
---
The CarFit check is a free service. For information regarding the certification process or upcoming classes locally, visit tmh.org or call Shipman at (850) 431-5002.