The Red Hills Horse Trials Brings Top-Caliber Horses and Riders to Tallahassee for a 'Triathlon' of Events
Best of the Booted and Hooved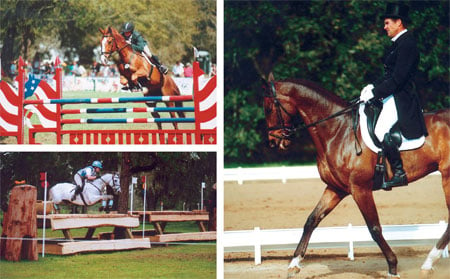 Heard on the street: "My daughter wants to go see the kids at the Red Hills Pony Show," referring to the annual Red Hills Horse Trials, which gallops into town every March. It's a misconception that runs rampant in our otherwise erudite town.
"Kids" and "pony show" couldn't be further from the reality of the Red Hills Horse Trials. The riders and horses that make the yearly migration to Tallahassee are expert competitors at the top of their game. Most of my 400-plus fellow volunteers, who transform the countryside into the canvas for this world-class equine event, rack up countless hours of training, planning and labor. The payoff? The pleasure of a mere glimpse at the Olympians (both hooved and booted) that converge on Elinor Klapp-Phipps Park for three days, March 14-16. To put it in perspective, it's equivalent to attending a NASCAR qualifier race in Tallahassee and getting to walk the pit and discuss the finer points of the craft with, say, Jeff Gordon.
The Inside Track
To help set the stage for this year's upcoming event, here is a basic primer on the international sport of eventing.
Tallahassee's Red Hills is a world-class, international-level competition that started in 1997, and it garners more prestige with each passing year. More than 220 competitors from 11 countries converge for the event, which offers a total of $54,000 in prize monies, hosts more than 45,000 spectators and kicks off the United States Eventing Association (USEA) Annual Gold Cup Series – the race for the top rider to become the "keeper of the cup."
Riders and horses collect points independently by winning or placing at Red Hills and other events throughout the world. Riders earn points for the chance to represent their countries at international competitions, such as the Olympics, Pan Am Games and World Equestrian Games, and horses move up through the ranks of difficulty when they reach certain point thresholds. Red Hills is the first real challenge of the year for both horse and rider, and the cross-country course (designed by Capt. Mark Phillips of England) is renowned for its rolling hills, twisting course and formidable obstacles.
Eventing sometimes is called the horse triathlon. The three-day format includes dressage (rhymes with "mirage"), cross-country and stadium jumping on consecutive days. Independently, these tests draw on different skills in both the horse and rider. Combined, the three-day event demands stamina, dexterity and determination. Much like the human triathlon, each horse and rider pair must complete all three phases of the competition (barring any injuries to either party) to vie for top honors. It is this high-stakes, do-or-die atmosphere that makes eventing so thrilling.
Dressage, often explained as "ballet for horses," is a set of complex movements executed in an enclosed arena. Riders move through a predetermined, memorized "test" in which precision and smoothness show off the horse's gymnastic movements. Ideally, it should appear that the horse is doing the routine entirely on its own, carrying the rider in complete harmony. Much like figure skating, each individual movement (with such sophisticated names as "collected canter," "salute," "shoulder-in" and "half pass") is scored. To the unseasoned spectator, the finer points of dressage can pass by unnoticed. But if you concentrate on the subtlety of movement – and the fact that you can't exactly see how the rider is communicating with the horse – you will quickly appreciate the art.
Day Two of the trials is set aside for cross-country, which often is the favorite phase for spectators and riders alike. Think "off-roading" – without doors or seatbelts – and you get the picture. This steeplechase is held in fields and through woodlands (in the case of Red Hills, it's Colin Phipps' arboretum) and is an endurance test for both horse and rider. Riders, outfitted with an armored vest (the better to protect you from those flying hooves if you fall!), a giant stopwatch and a brightly colored jockey's helmet, seem as if they're along for the ride as the horse charges over obstacles nearly 5 feet high and 12 feet wide. The course is more than 2 miles long, with as many as 40 obstacles. Riders guide the galloping horses over elements they have never before seen, which means a trusting horse and precision riding are crucial not only to winning the phase but even finishing in the saddle.
Horses compete on the third and final day amid the pageantry and splendor of the stadium-jumping phase. If cross-country is motocross, stadium is a Mercedes slalom course. Horse and rider – both groomed to perfection – negotiate an enclosed obstacle course with tight turns, a serpentine route and large (and wide) obstacles, which not only test the horse's skill but demand an
exacting ride from the top down. Even one rail falling from any of the 10 to 13 fences can spell disaster for hard-won standings. Ratings change instantly, and the horses and riders with the lowest cumulative three-day score in each division are presented with ribbons (and, in the upper levels, gleaming trophies) and give a valiant victory gallop.
More Than Meets the Eye
Red Hills is a true gem of Tallahassee's cultural richness. While horse sport usually is enjoyed by only the very rich or very lucky, Red Hills lets all of us get a glimpse into the international equestrian scene, practically in our own backyard.
These incredible equestrians make what they do look effortless, a wonderful picture of the secret partnership that can exist between horse and rider. What's going on underneath that picture is really amazing – arms, hands, legs, feet in concert to lengthen or shorten the horse's stride, helping the horse balance over a jump or guiding an unsure animal through an intimidating obstacle. You just have to see it to believe – and appreciate – the art.
Some Red Hills volunteers work tirelessly year-round while others take a week of vacation just to revel in the beauty and excitement of the trials. Whether we're shoveling wood shavings, leading docent tours or distributing water to competitors, we're just waiting for that glimpse into the majestic world of equestrian sport – and we're waiting for an Olympian such as Darren Chiacchia or Karen O'Connor to give us a wave. That makes it all worth it.