The Pursuit of Trivia
Test Your Knowledge for Fun and Prizes — But Mostly Fun — at Trivia Nights Around Town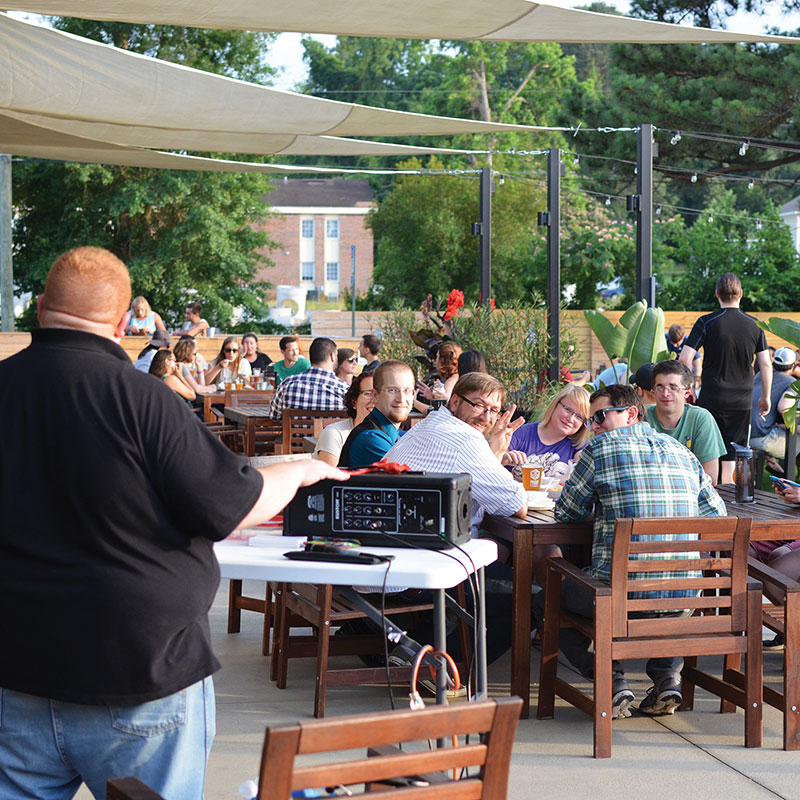 Do leprechauns have occupations? How many cows does it take to make one full season of NFL footballs? What were the two original purposes for the tall mast on the top of the Empire State Building?
The questions come from everywhere: television reruns, trips to the grocery store, overheard snippets of conversation. And when innate curiosity combines with the joys of friendly competition — and perhaps some libations — the answers can be found in local restaurants' and bars' trivia competitions.
The area's highly educated population — of adults 25 and older here, 74 percent have at least some college on their résumé, versus the U.S. average of 57 percent — could explain the popularity of trivia nights. In Tallahassee, those with a taste for the arcane can compete six nights a week at more than 20 venues.
Five years ago, Hank Saints played trivia games each week with a team of friends, enjoying a meal and drinks. When he was laid off from the Florida Department of Children and Family Services in 2011, a night out with friends became an unaffordable luxury. But when a local biker bar offered him free beer in exchange for running its trivia night, he decided to give it a shot — and Trivia with Hank was born.
Hank Saints
Emma Kaplan
Today, Hank is a trivia professional, running trivia nights at five different spots four nights a week, plus private parties. His format is five rounds of 10 questions each; photo identification, audio clips and current events comprise three of the rounds.
"I wake up, write five rounds of trivia and use the questions that night," he said. "One question evolves into a category, and I build from there. I also try to tailor to the crowd."
On a recent Wednesday night at Proof Brewing Company in Railroad Square, that meant a round of 10 questions about dog breeds — as good weather allows a larger, outside crowd to play along, often with dogs in tow.
On Sunday nights at Sidecar Gastrobar on Timberlane Road, he adds a sixth round, but other locations include an unusual crowd-pleaser, the Hoarder's Delight giveaway. A team drawn at random is awarded an item from the host's personal stash. Two yards of fake fur, half a bottle of flavored vodka and a machete have all found new homes with drawing winners. Other ways to win include Best Team Name (as selected by the bar or restaurant's staff) and first, second and third place overall at the end of all rounds of trivia.
On Monday nights, the 21-plus crowd at Midtown Speakeasy makes any topic fair game. A photo round about liquor had the bartenders stashing bottles under the bar to preclude any temptation to cheat. Fewer teams play at the Speakeasy than at Hank's other trivia nights, increasing the odds of taking a prize.
It's a preferred night out for Amber Vongs and her team We're Not That Drunk, two couples who have played Trivia with Hank every week for four years at the Speakeasy. Amber and her husband, Ron, have also hired Hank three times for private parties.
"He worked with us to customize the categories, which made it especially fun," she said. "At Christmas, there were rounds on Holiday TV Specials and Other December Holidays. For birthdays, he worked with Birth Year Trivia and Favorite Music."
For private parties, Hank says the trivia becomes a warmup, an opportunity for guests to start talking — and drinking.
"Shots for the winning team after each round," combined with a sing-along-inspiring audio round, has even the shyest guests in the mix for the rest of the evening.
Professor Jim — actually husband and wife Jim and Rose Ledbetter — hosts trivia for occasional private parties as well.
"We were once a stop for a party bus of bachelorette-party attendees," Jim Ledbetter said. "We won't be doing that again." Their only weekly night is Mondays at the 4th Quarter Bar & Grill, where they've been hosting trivia night since 2007.
"It's a labor of love," said Rose Ledbetter. With more than a dozen teams showing up regularly, as well as new players, the popular event occasionally swells to 25 teams in play.
Professor Jim's format is much like Hank's: five rounds of 10 questions each, including photo identification, audio clips and current events; the remaining rounds are general knowledge and a themed round. Jim and Rose share the task of developing questions. Jim starts with the answers, while Rose will have an idea; if she can come up with five questions off the cuff, she knows she can research five more and have a theme.
Rose is responsible for the audio round — anything from sax solos or bass lines to movie dialogue. Jim can't work the audio equipment, so if Rose isn't there he improvises, once reading rap lyrics in the style of Shakespeare.
Professor Jim allows a maximum of four people to a competing team. Sometimes one couple will show up week after week with a different pair in tow, "trying out" other couples to create a perfect blend of camaraderie and knowledge.
"On most teams, one person is the current events buff, another knows all about music and another knows sports and television," said Jim.
They used to have two regular teams that were very competitive. One week, half of each team didn't show up, so they joined forces and became Team Monkey Hat. Today, two of those formerly opposing teammates are married and have two children, ages 6 and 3. The proposal was the last question of round 4: "Will you marry me, Mallory?" (All teams received a point when Mallory said yes.)
Professor Jim began his trivia career, and his relationship with Rose, 12 years ago. A bartender at a local tavern, when the usual trivia host didn't show up, the manager — Rose — asked Jim if he'd fill in. A Scholar's Bowl competitor in high school and a regular "Jeopardy!" viewer, Jim agreed … and the rest is history. One of Rose's first gifts to Jim was a plug-in scoring device that allowed him to keep his own score while watching the television show.
Prizes at the 4th Quarter include tabs for first, second and third place, plus a round of shots for first. Best team name is chosen by audience vote, and they get a round of shots plus the booby prize — something silly like sidewalk chalk, bouncy balls or pirate-themed, candy-filled Easter eggs.
The real prize at stake is bragging rights, and with trivia nights all over Tallahassee, there's certain to be a perfect match for anyone. Grab a few friends and give trivia night a try. As Hank reminds us, "You know more than you think!"
And in case you were wondering, leprechauns are cobblers, 600 cows make the ultimate sacrifice for us to watch NFL football and the Empire State Building's spike was designed to make it the tallest building in the world at that time and for airship docking.
---
Meet Your Trivia Hosts
Hank Saints
Schedule Sundays at Sidecar Gastrobar at 7 p.m., Mondays at Midtown Speakeasy at 8:30 p.m., Wednesday at Proof in Railroad Square at 7:30 p.m. and at Fire Betty's in Midtown at 10 p.m., Thursdays at Gaines Street Pies at 9 p.m.
Best way to keep up with you The Bar Trivia With Hank page on Facebook (facebook.com/bartriviawithhank) is always up to date, and there's one hint posted per day about that night's rounds.
Current favorite team name Kanye West Only When Kanye Sweepy.
Best tip ever received from patron A regular player gave me a bottle of his home-brewed beer, and it was excellent.
Best perk provided by restaurant/bar For me or for the crowd? I get a free plate of delicious sushi from Sidecar and Kitcho every Sunday, so that's mine. But for the crowd, Midtown Speakeasy's tab for winners has the best buying power, because their prices are so low. And everyone wants to win at Gaines Street Pies, because you can win an 18-inch pizza of your choice. At Sidecar, they also give a round of shots to the team with the funniest name.
Jim and Rose Ledbetter, aka Professor Jim
Schedule Tuesdays at the 4th Quarter, 8–10 p.m.
Best way to keep up with you Professor Jim's Trivia on Facebook and @TriviaProfessor on Twitter
Current favorite team's name We have a team named Quincy Scholars. They've been coming for as long as we've been having trivia. They're this fantastic group of older folks, as you might guess, from Quincy. They have remarkable, over-the-top "Southern money" accents, and they're quite the characters. They never win and often come in dead last. Nevertheless, the young teams love them, and whenever we call their names they repeat it and pound out a rhythm on the table like it's a sports match and they're cheering for their team.
Most controversial question you've asked Our most controversial issue has been team names. When someone famous dies (especially of drug or alcohol issues), the team names can range from obnoxious to downright cruel.
Best perk provided by restaurant/bar For Rose and me, it's a labor of love.
Greg Tish
Schedule Wednesdays at 7 p.m. at Hurricane Grill, Thursdays at 7 p.m. at Brooklyn Water Bagels & Pizza in CollegeTown
Best way to keep up with you facebook.com/GTTeamTrivia
Most controversial question you've asked I try to engage controversy, get a debate going. Recently I asked a question about what side of the new Capitol is considered the front. It turned into a heated discussion that continued on social media over the following days.
How do you handle cheaters? Cheat if you want to! We encourage it. Because when you're caught cheating, you have to pay the tab for the team that catches you.