The Power of Pets
For the furry, a day on the pedestal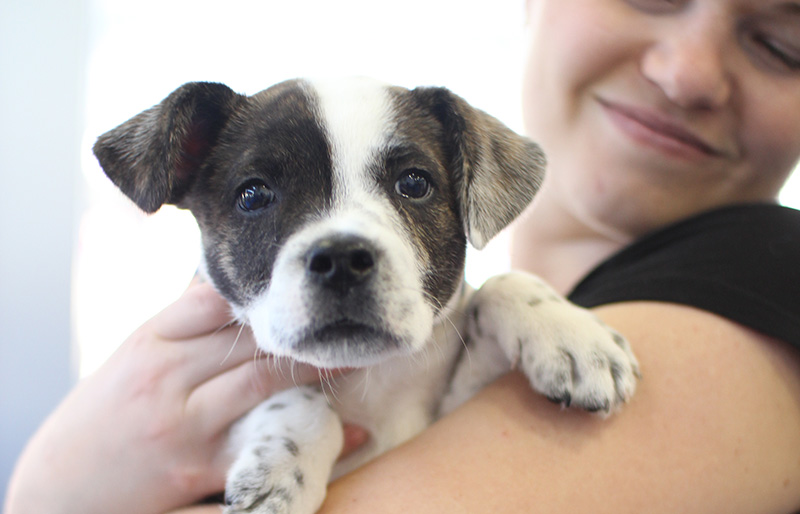 Imagine your perfect day. It might include the sun shining, the smell of barbeque riding a light breeze and live music.
But it gets even better if you have a mimosa in hand and are surrounded by dogs, cats and even miniature horses and baby goats. Tallahassee Magazine's 13th annual Pets & Their People event, presented and hosted by Proctor Subaru, made for an ideal meet-up of quadrupeds and humans.
For early risers and yoga enthusiasts, the event began with a yoga class taught by Sweat Therapy fitness instructors. But this wasn't just any yoga class. The Leon County Humane Society released puppies into the room and, while they weren't the most attentive participants, except maybe at Downward Dog, the puppies sniffed, nuzzled and even wrestled with the human participants.
These puppies along with grown dogs, were available throughout the day for adoption. In total, 12 dogs found loving homes by the close of the event, with pending additional adoptions projected to be finalized this week.
Newly adopted pets and longtime members of the family were all invited to have their photos taken for a chance to be featured in the pages of Tallahassee Magazine and for a downloadable keepsake.
Pet-friendly vendors lined the venue with booths that provided information, samples and freebies. Veterinary clinics and pet providers who took part were Tallahassee Memorial Healthcare–Animal Therapy; Capital Veterinary Specialists; Mahan Animal Clinic; North Florida Animal Hospital; Pet Paradise; Petagon International; Be The Solution and Bucklake Animal Hospital, who provided an adorable and photo-worthy Smooch Your Pooch booth.
For people for whom walking the dog isn't quite enough exercise, Pure Barre was on site with information about their classes, and the owner's pup gladly accepted chin scratches. Tallahassee Nurseries had plants for sale and offered insight on plants and pet safety. Southern Compass Outfitters provided style tips for those with and without fur.
Pattie Maney produced an interactive piece of art, which incorporated the paws of pets in attendance. The canvas, covered with paws of all shapes and sizes, will be auctioned off by Tallahassee Magazine.
With yoga and shopping complete, stomachs began to growl in anticipation of the hearty brunch provided by Sonny's BBQ. Fifth & Thomas served up Bloody Mary's and mimosas. Many sampled a Pong's Boba Tea for the first time and Tasty Pastry provided a decadent array of free desserts compliments of Proctor Subaru. Nuberri Frozen Yogurt supplied pup cups, which went to dogs that eagerly devoured them.
Over the barks, neighs and bleats, tunes sung and strummed by Zan Frett and steady beats percussed by Mitch Register were heard. The duo had the audience singing along and, at times, gathered around to dance.
Throughout the day, "Live In Tallahassee" and "AM Break with Ann and Audra" captured video and interviewed attendees for on-air coverage. They had a wealth of adorable shots to work with. To watch the segment, tune into FOX 49 Thursday, March, 23.
The best parts of the day, though, involved interaction between pets and their person: a pup licking barbecue sauce from its owner's sticky fingers, a little girl cradling a baby goat as it chewed on her pigtail, tangled leashes that led to new friendships and a family making the life-changing decision to adopt their first dog together.
If you have a pet, you understand the unbreakable bond that links us to an irreplaceable bundle of fluff or fur that brings immense joy to our lives. Pets & Their People provided a day to celebrate that bond, create new such bonds and remind all just how transformative caring for a pet can be.