The 'Polio Team' of 1954
Panic, Dread and Fear Nearly Ruined the Season For Leon High Football Players When Tallahassee Experienced an Epidemic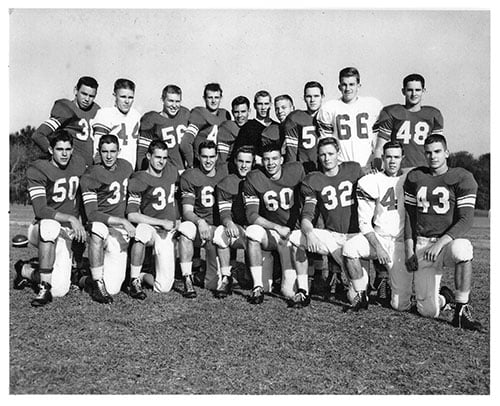 It was the fall of 1954, and Roger Englert faced a daunting challenge that would have made a seasoned veteran quake in his cleats.
In his first head-coaching job leading the Leon High School football team, the 20-something Englert had inherited a team of inexperienced players with only five returning lettermen. There were high expectations and a tough season ahead. The players were looking forward to defending their conference championship. Practices were hard, hot and grueling. Competitive juices were flowing, ready for action.
Then something happened that stopped them in their tracks.
Just two games into the season, polio — a debilitating scourge now all but unheard of in the United States — struck Tallahassee and other Big Bend counties. Infection rates in Florida reached epidemic status; nearly 1,800 cases were reported statewide that year, and of that number, Leon County had 448.
The Leon High School football players themselves were unaffected by the illness, but big plans and expectations went by the wayside as opponents in towns untouched by polio canceled their games with Leon to prevent possible contagion.
"There was no preparing for the effects of the polio epidemic that plagued Tallahassee from September 14 to October 30 on the athletic schedule," wrote John Ross, M.D., a retired pathologist who played at fullback that year.
Ross and teammates Blair Culpepper and Ferrell Elliott compiled their experiences about that 1954 season in "The Fall of '54: The Polio Epidemic and Memories of a Leon High School Football Team." It's an important chronicle of the season, mixed with comments from team members and Ross' medical insights.
Ross begins the memoir with a tribute to Coach Englert, who rose to the challenge.
"Eight weeks and five canceled games into the season, the schedule was in shambles and team spirit was shattered," Ross said. "Faced with a challenge that is probably unparalleled in scholastic football history, with unusual resourcefulness and force of character and with outstanding leadership, Coach Englert forged a team that literally rose from the ashes of the season to become the dominant force in the Northeast Conference."
A Random, Unpredictable and Unusual Attack
"The five summers of 1950 through 1954, during which most of us were LHS students, were the peak of the polio epidemic in the United States," Ross recalled. "The March of Dimes was in full swing. Solemn children in leg braces gazed at movie viewers from the screen, their eyes beseeching dimes."
Poliomyelitis is a highly infectious disease caused by a virus. It attacks the nerves that control muscle movement. It mostly affects children under the age of 3, although it can strike at any age. As fearsome as it is, polio causes paralysis in only 1 percent of those infected.
Ross said that Tallahassee's polio epidemic came "at random, without apparent cause."
What made the Tallahassee outbreak so unusual was that 70 percent of the Leon County cases were not kids — they were at least 20 years old, and two-thirds of the cases were female. Ross said that the "so-called Tallahassee strain" was different from the regional and national trends in two ways.
"The annual Southeastern polio peak was historically mid-August, and the Florida state peak was typically slightly later in August-October," he wrote. "The Tallahassee epidemic began somewhat late in the historical cycle on September 14, peaked on October 1, and ended October 30. Second, the disease affected primarily white females, persons 20–45 years old, and was mild. Statewide, only 14 cases of paralytic polio occurred in white males from 15 to 17 years old."
The unusual nature of this local outbreak has led to some controversy over exactly what kind of illness struck Tallahassee. Ross recounted that the U.S. Public Health Service lab in Montgomery, Ala., was unable to isolate poliovirus from the Tallahassee specimens. Experts from Baylor University confirmed the odd Tallahassee outbreak, and reports from the Florida State Board of Health noted that the illness was "somewhat atypical."
The state health officer and the Leon County health officer "consistently referred to the Tallahassee epidemic as an unusual form of polio," Ross said. The 1954 annual report of Florida Morbidity Statistics states that "some doubt exists as to whether the causative agent was actually the virus of poliomyelitis or some other organism. In most cases, there was no residual paralysis."
That one aspect makes the Tallahassee strain stand out, according to Dr. Mark Pallansch, chief of the Polio and Picornavirus Laboratory Branch of the National Center for Immunization and Respiratory Diseases' Division of Viral Diseases.
"The demographic affecting young adults has been reported elsewhere, but the sex difference is not typical," said Pallansch, who joined the U.S. Centers for Disease Control in 1984 and has been on the front lines of the global polio eradication effort since 1985.
Whatever it was, it certainly wasn't welcome. Those hospitalized with it felt severely ill, and many resented their case being described as "mild." Some needed an "iron lung" medical ventilator to survive, and others had no recollection of the first few days of getting sick.
Looking back, Ross said "Tallahassee Strain Poliomyelitis" is perhaps the best name to describe the illness.
"Though perhaps controversial, the title is not refuted in peer-reviewed medical literature to this day," he said.
A Terrible Time
In relatively few cases, polio infections lead to paralysis. Breathing muscles can be affected, too, and scores of patients were confined to iron lungs, massive airtight steel tanks designed to force lungs to operate through the means of regulated air pressure. Tallahassee Memorial Hospital had a wing of these contraptions, according to Mark Ravenscraft, a wheelchair-bound polio survivor and founder of the Capital Polio Association.
"It was a terrible time. There were hundreds of cases," said Ravenscraft, who was stricken with polio in 1948. Although not in Tallahassee during the 1954 outbreak, Ravenscraft, 62, has become an advocate for polio sufferers and has studied the Tallahassee epidemic. One of the stories he heard involves the police department. In the event of a power outage, he said, officers were under orders to drop what they were doing and rush to the hospital to help keep the iron lungs working.
"They had to man the pumps to keep those people alive," he said.
The combined notion of catching the disease — and winding up in one of those "hideous" contraptions — scared the daylights out of people, said semi-retired Tallahassee attorney Murray Wadsworth, 73, who was on the 1954 Leon football team.
"You think about the way some people have acted with this swine-flu thing this flu season, and it is absolutely nothing compared to polio," he said. "The polio scare put the absolute panic, dread and fear in people because it struck only children, and everybody was terrified of what might happen to their child."
So little was actually known about the disease that many parents invented their own means of prevention. Wadsworth said his mother in particular had a peculiar, methodical approach. When the family went on vacation, she found out which towns along the way had polio outbreaks and plotted them on a map. They would either drive out of their way to avoid those towns or drive through them with the windows up.
"This was before the days of air conditioning in cars, and we drove through that town (with the windows up) in fear that somehow there were these polio germs floating around in the air, that we might be infected," he said. "And I remember one place she made my father drive all the way around, about 50 miles out of the way, to go around this particular town. That was the kind of terror people had of it."
Ross said polio was a "grim terror" that seemed more menacing than death, "not simply because of its devastating lifelong consequences upon young lives, but also because of its random, unpredictable nature."
"People were frightened that any symptoms were polio," said Alice Englert, Coach Englert's widow. (He died in 2007.) "Anything out of the ordinary frightened people. I think the fact this was such a dangerous disease for us then and could be debilitating scared everyone."
"There was a lot of fear that anything could transmit the disease," Ravenscraft said.
Canceled Games and Flagging Spirits
Wadsworth remembers how confounding it was to practice hard every day and yet wind up staying home because the opposing school canceled the game that week. At one point, the team even voted to disband — but quickly rescinded their decision later when the season resumed.
"We went through 50 days without a game during the season, after we had already played two games," he said. "It was frustrating, because we'd practice all week and then learn at the end of the week that the game was either postponed or canceled. (It was frustrating) not knowing if we'd be able to get a season in. Our goal was to defend our conference championship, and it became apparent we weren't going to be able because we weren't going to be able to get the games, regardless of how well we played."
Games were canceled because health officials in "away team" towns were worried about exposing their population to a polio-infected Tallahassee resident. One time, the Lions were on their way to play in Ocala when their bus was stopped by a Florida Highway Patrol officer who had orders to turn them around.
"The trooper explained to the coach that the Marion County public health officer had instructed the principal of the school they should cancel the game. There was a risk of being infected," Wadsworth said.
"We had lunch at the Suwannee Gables restaurant and limped home, totally disconsolate," recalled halfback Blair Culpepper. "And we were totally bummed out."
Wadsworth said that despite his own frustrations, he could see the point of the cancellations. Polio enters the body through the mouth, and with so many people from different towns coming to watch the game, the risk would have been too great.
"I could put myself in their place and would've said the same thing," he said. "They weren't concerned for the players; it wasn't so much player-to-player as it was the little kids in the stands, mingling with the kids from Ocala."
Fighting the Disease
The U.S. polio epidemic peaked in 1952 with 58,000 cases nationwide, followed by 34,000 cases in 1953 and 37,000 in 1954, according to Ross' book.
By contrast, Florida had only about 400 cases in 1952 and 725 in 1953. A dramatic increase happened in 1954, when 1,798 cases were reported, "the most ever recorded in Florida before or since," Ross said.
Forty-three percent of Leon County's cases resulted in paralysis, compared to 46 percent statewide. The statewide death rate was 3.2 percent, but nobody in Tallahassee died from polio.
Before there was an effective vaccine, physicians used gamma globulin, a type of blood protein used to fight infections, to fight polio.
"It was apparently used as a method for halting or slowing down paralysis in polio patients, but its success seemed to have been minimal," said Mauricio Minotta, a spokesman for the Salk Institute for Biological Studies in La Jolla, Calif.
Ross said that millions of dollars were spent on gamma globulin, "even though scientists knew it was useless, so great was the need to do something, anything."
Leon High alumna and third-generation teacher Linda Lee Teague said in her book, "The Lions' Pride: A Pictorial and Anecdotal History of Leon High School," that students hated the "huge G.G." shots they received.
"One alumna said, 'I remember to this day having to go into the library and lie down on one of the library tables while they shot my behind with a needle that looked 10 feet long!'" Teague wrote.
Parents, meanwhile, continued to use superstition to fight the epidemic; for example, it was thought that getting hot and cool in rapid succession caused the paralysis associated with polio.
"Parents required children to cool down before swimming on a hot day — seemingly clear evidence that adult logic was flawed," Ross said. "In fact, not much had changed since (the polio epidemic of) 1916, when people burned the bedding, scrubbed toilets and even killed the family cat, all to no avail."
Even today, there's no clear understanding of how the virus is transmitted, said the CDC's Pallansch.
"We are still addressing the issue of how it works in places like India, so the question remains," he said.
While kids were being warned to stay away from pools and springs, true advances in vaccine were happening in other parts of the country. The Salk vaccine — pioneered by Dr. Jonas Salk — paved the way for polio eradication in the United States and the world when it was declared safe and effective in 1955, Minotta said.
While Salk's vaccine was the first, it wasn't the only one used to fight polio. Dr. Albert Sabin developed an oral polio vaccine (administered via sugar cubes) in 1958. It was easier to use than Salk's injections, and the Sabin vaccine replaced Salk's in 1962.
However, it is Salk's name that is remembered the most.
"Salk gained immediate fame as 'the man who saved the children,' 'the miracle man,' and was one of the most venerated men of the 20th century," Ross wrote.
Sabin's vaccine may have replaced Salk's, but both are considered responsible for defeating the disease. By 1965, there were only 61 cases of polio in the United States. It was completely eradicated in this country in 1979, and in the Western Hemisphere in 1999.
That doesn't mean polio stopped being a threat. Afghanistan, India, Nigeria and Pakistan are all still struggling with the disease. Minotta said that Rotary International is leading eradication efforts in those countries. But with porous borders and a global economy, the disease could rear its ugly head again. It all depends on the level of immunization.
"It's doubtful the disease will make a comeback in the U.S. as long as parents continue to immunize their children," Minotta said. "Immunization is key to prevent another comeback in the United States."
"We must be constantly vigilant. You have to immunize enough people," Ravenscraft said. "If immunization drops below 70 percent, it can erupt again. We have to keep fighting it; we can't give up the ghost now."
The CDC's Pallansch said the good news is that, even with open borders, Mexico eliminated polio in 1989.
"The risk went away, even though the borders have gotten more porous," he said. However, "if the general population reduced its immunization and the virus was still in places like Nigeria, we'd still have the risk of outbreaks from imported virus. Here in Atlanta, there is a direct flight from Nigeria to Atlanta every day. So it's one plane flight away to these areas that still have polio."
As for the 1954 Leon High School football team, they were finally able to play other teams again that November. But they played a "hurry-up" schedule: four games in 10 days, without much time to prepare. The team ended the season with a 6-1-1 record.
Of those four games, "they won two, lost one, and tied one. Still, that was very good to do that in 10 days," Alice Englert said. "(The players) have stated that (dealing with that adversity) had a great deal to do with how they have lived the rest of their lives. So they're very special."
Wadsworth agreed that the adversity faced by team members brought out the best in them.
"I can tell you this. It made us a better football team, I believe," he said. "It gave us a sense of camaraderie and commitment, of determination, that probably we would not have had without it."
But that also holds true for the doctors and nurses who risked their lives to treat polio patients. Ross said that two doctors, their wives and families, as well as several nurses, the TMH administrator and its business manager, all contracted polio.
"Although we may give face and name to an experience possibly unique in the history of any small community, many citizens, doctors, nurses, hospital staff, therapists and health officials made real sacrifices," he said.