The People Behind the Masks
Southeastern Plastic Surgery and Tallahassee Community College make protective masks for community businesses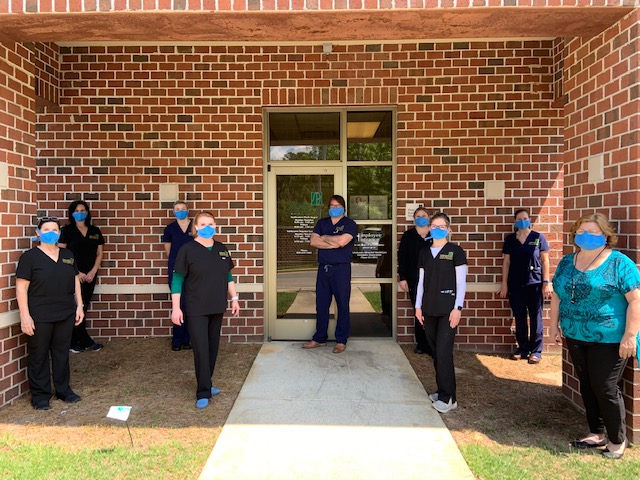 The sounds of forks clinking and Tupperware containers being opened in Southeastern Plastic Surgery's break room have been replaced by the comforting click of Singer sewing machines. The staff of this practice has traded their surgical needles for sewing needles to make n95 protective masks, a mandatory tool for those working in close proximity to COVID-19.
The inability to protect yourself or others was an unacceptable option for the team at Southeastern Plastic Surgery. With the health of their practice, other practices and the community in mind, they set out to sew away and give away masks.
While there are many DIY instructions circulating right now, Southeastern Plastic Surgery is following the guidelines confirmed by the University of Florida's Health's Department of Anesthesiology. They are utilizing existing surgical material they have in their outpatient surgical center that is used to cover the surgical trays during sterilization.
These masks can be sterilized by autoclave, ultraviolet light sterilizer, or microwave (once wire is removed) for 2-to-3 minutes. The masks are not for sale — they're a gift to the community during these unprecedented times.
So far, they have fulfilled requests from Tallahassee Memorial Cancer Center, TMH Nuclear Medicine, Advanced Urology Institute, and Southern Medical Group, just to name a few.
Tallahassee Community College's computer technology department also felt the need to create and contribute in order to protect first responders. Computer technology manager Mike Vickers said he saw the call to action nationwide for surgical facemasks and other medical equipment to fight the COVID-19 crisis and wanted to help.
So far, the department has made 25 masks for the TCC Police Department and seven masks for local dentist offices. The most impressive part is that they used a 3D printer.
TCC has four 3D printers and can produce up to 14 masks per day. They followed the design files from the Montana Science Center to fashion the masks. This design consists of a highly effective filtration mask that can be sanitized and reused.
Both Southeastern Plastic Surgery and TCC plan to continue production of masks and donations of their services throughout the Big Bend Area.
If you have an interest in helping with mask making efforts, DivvyUp, a local sock company, is looking to enlist volunteers to create masks to be distributed to city workers and then to the public.
DivvyUp is switching from sock sewing to mask making with the help of a budget of $63,970 from the City Commissioners office. The budget will be used for materials, logistics and paying the mask makers. Community members will be paid a dollar per mask.
Volunteers can pick up pre-packaged mask kits at DivvyUp's location without getting out of their car. You need to have access to a sewing machine and be able to return the completed masks to DivvyUp where they will sanitize them before distribution.
The goal is for each volunteer to create approximately 250 masks in hopes of reaching the 25,000 mask goal in the next two weeks.
All photos courtesy of Southeastern Plastic Surgery.