The Peace Paper Project Weaves Veterans Into the Community Fabric
Art as Therapy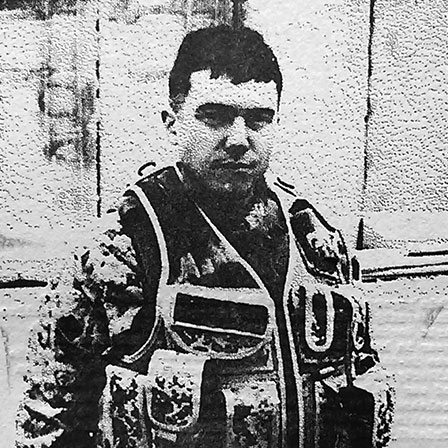 Returning to civilian life can be a delicate matter for the soldier, sailor, airman or marine who has gone to war and "seen the elephant." It's all about reassembling threads of the past and moving on to the future. The Florida State University Student Veterans Center is literally helping these former warriors do exactly that. Thanks to the inspiration provided by the Veteran Paper Workshop, an offshoot of the Peace Paper Project, the veterans' center is providing a new way for returning warriors to open up and talk about their experiences.
The process involves taking an old uniform out of the closet and, using an ancient form of making paper by hand, pulping the cloth into paper fiber that can then be used for artistic expression. A silkscreen process is used to embed whatever image the uniform's owner finds most meaningful.
"As a nation, we have a responsibility to weave the threads of individuals in our society back into the fabric of America," said William Francis, director of the FSU Student Veteran Center. "Our responsibility to veterans is to see to it that they become an integrated part of our nation's fabric. So it's about initiating, creating and sustaining relationships. This program is unique in that it literally does that and it takes threads and reconstitutes them into an expression of the individual that helps them reintegrate."
But it goes beyond the veterans, themselves. Families grieve for military servants who never came home. They, too, need an outlet for expressing their feelings. That's something Meredith McMackin, a doctoral student in art education with a focus on art therapy, knows all too well. McMackin, an academic advisor in the College of Human Sciences, lost her son, U.S. Marine Cpl. Julian McMackin Woodall, to an improvised explosive device (IED) during his second Iraq deployment in 2007.
"That really changed my life," she said. "And I sort of floundered for a while trying to figure out what to do, because I wanted to do something. My goal really was to help bring peace to this planet. Because I just experienced how painful war can be."
A year later, McMackin found herself working with student veterans as an advisor in the Collegiate Veterans Association, an adjunct service of the Student Veterans Center. This work inspired her to consider a role in art therapy.
"I really had one of those light bulb moments," she said. "I didn't want to leave all my years of art behind, and I never considered art therapy, but it seemed a perfect thing to do."
Eventually, McMackin became the driving force that brought the Peace Paper Project to FSU. The Peace Paper Project's mission is to introduce care providers to the art of making paper by hand with an idea toward using this creative process to help heal emotional trauma. The Veteran Paper Workshop visits college campuses and gives veterans a chance to express themselves and connect with the campus community. The FSU veteran center is so committed to this project that it bought its own pulping and papermaking machine to conduct its own workshops, Francis said.
"They bring veterans together in a room and it bonds them through common experience," he said. "They have an idea of what the others have been through, and each of them has an idea of what the uniform means to the person sitting next to them and they go through the process of reconstituting that uniform. And in that reconstitution they are putting something on that uniform that has significance for them and becomes valuable in terms of a post-service sense of purpose."
Today, FSU hosts an annual papermaking workshop, "Julian's Creative Art Workshop," in honor of McMackin's son. But the workshops aren't technically "art therapy."
"It's art as therapy," McMackin said. "We don't do counseling or group processing or anything like that unless something comes up where it's needed. At the first workshop, they brought along an art therapist just to be there as a support if needed. But, again, we don't call it 'therapy.' I feel like veterans might get a little turned off by that. Really, it's just a creative arts workshop and it's really therapeutic, but it's not therapy in the strict sense."
Regardless, it's proving to be a popular activity, she said. Some student veterans attending the first workshop were a little leery of it at first but wound up having a great time.
"I talked to one of the fellows who was in it who is now working for Wounded Warriors in North Florida, and he said, honestly, out of my three years at FSU that was the most meaningful thing I did," McMackin said. "So it really affects them a lot of times on a real deep level."
She herself participated in the healing, artistic process by transforming her mourning dress into a permanent memorial for Julian.
"I don't have any of my son's uniforms. I have a couple of hats but couldn't part with them, so I decided to pulp the dress that I bought to wear to his memorial service because I wasn't going to wear it again," she said. "So, I got to experience what it was like to take something that holds a lot of memories and to make that into something new. I printed images of my son and of his memorial service and it's really, really personal and meaningful."
More than anything, though, the paper project isn't so much about looking back as it is building enduring relationships and looking ahead, Francis said.
"The whole point is not to live in the past, but as we get to know each other, we get invested in each other and then encourage and inspire each other to (pursue) our future dreams and goals. It helps them bond and inspires them to look to the future," he said.
---
Contact wfrancis@fsu.edu for more information.