The Other FSU Football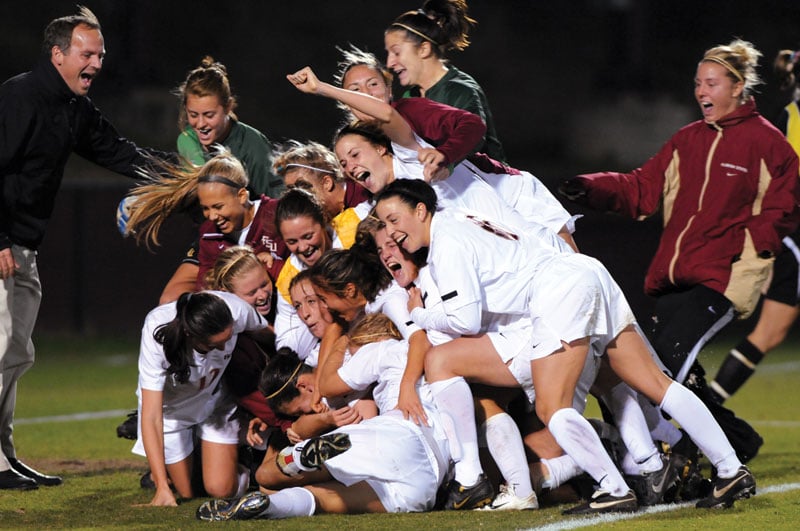 FSU Women's Soccer is feeding nation's fervor for other type of footballThe Other FSU FootballWomen's Soccer Players Get Their Kicks in Pursuit of a National Championship 
By Bernard Moran
After a No. 2 finish last year, Florida State University is in the hunt to win a national championship in football in 2008.
Wait. Wait. Have we been transported by the wayback machine to the glorious year of 1999?
Sorry for the confusion. It's not that football, but the other one. This football also uses 11 players on a field 100 yards long with goal posts. This football is played all over the world with the most passionate fans. It's called football just about everywhere else – but here in the United States we call it soccer.
The heyday of women's soccer at FSU began with the arrival of Coach Mark Krikorian. Starting his fourth season here, Krikorian has taken the team to the College Cup, the soccer version of the Final Four, all three years. Last year his team lost 2-0 in the finals to the University of Southern California and, although the team has lost key players from that squad, Krikorian is optimistic about his team's chances to contend for the No. 1 spot this season.
Soccer is now the most popular team sport in America, and there are many teams and leagues in Tallahassee – from tiny kids through adults. The most notable one is the FSU women's team. (FSU doesn't field a men's intercollegiate team – only a club team.) Like that other football team, the women play from September to January, but instead of using Doak Campbell Stadium – which seats 82,300 fans and where a single-game ticket can cost upwards of $49 (not including the mandatory homage to the Seminole Boosters for season tickets) – the women play at the Seminole Soccer Complex. At capacity, it fits 500 spectators and admission is free. Those attending FSU's games are seeing top-drawer soccer – the women's team plays at a level just slightly below the highly lauded U.S. national team.
In July 1999, 100,000 fans jammed the Rose Bowl to watch our national team win the World Cup. (You know, the game where, after the victory, an exuberant Brandi Chastain whipped off her shirt and let the world see her sports bra.) Our women also won the World Cup in '99 and the Olympics in 1996 and 2004. The new U.S. team coach, Pia Sundhage, served as an assistant to Krikorian when he coached the Philadelphia Charge in the Women's Professional League.
Meeting Krikorian in the Seminole Soccer Complex, he seems relaxed but focused. It's obvious he is a family man. Behind his desk is a large photograph of his wife, Linda, and two children, Alexandra, 7, and Mike, 5. On a bulletin board are drawings and finger paintings done by his children, and he faces an even larger photograph of his children. There are photos of some of his teams but, tellingly, the large runner-up trophy the team won last year is in the outer office reception area. It's not his trophy – it's the team's, he explains.
When Krikorian speaks, it is slowly with a slight New England accent. His words are measured and succinct. His demeanor is straightforward, sincere, and decidedly low-key.
This would seem to be a sensible approach to a team filled with excellent players.
"Everyone who comes to our team was a star before they came here," Krikorian says. So how does he decide who plays and who sits? "It's all about performance. You earn your spot or you don't. If you don't, you put your head down and you work harder." But jealousies and rivalries are avoided, he says, because players "have to trust that we're going to do what's in the best interest of the team and that playing time will be earned."
Marissa Kazbour, a junior midfielder from Valrico, agrees.
"Coach is going to put the best 11 on the field," she says. "He's always pressuring you to become better. He knows what he's talking about. He's the best in the country."
Krikorian claims to be a numbers person like his dad, who worked for the Internal Revenue Service, but he's good with words, too. His vocabulary is large and his syntax is flawless.
He met Linda, another numbers person, when he was coaching at the University of Hartford in Connecticut, where she had been a student 10 years previously. However, she is no soccer mom. She works for the large accounting firm FMC, and has recently taken business trips to Spain, Brazil and Ireland.
Not surprisingly, Mark Krikorian believes "that very open communication is the key to success," and "being forthright with each other and holding each other accountable."
Whatever he's doing, it seems to work. He has had tremendous success both as a player and a coach.
Growing up in Derry, N.H., he was attracted to soccer because he thought he was too small to play football. Krikorian graduated from St. Anselm College in Manchester, N.H., in 1983, captained the team twice and won the team's most valuable player award. Graduating with a history degree, he earned his master's degree in education from Keene (N.H.) State College.
Krikorian has been a head soccer coach since 1990, winning more than 77 percent of all his games. Until he came to FSU three years ago, he spent most of his life in New England. At Franklin Pierce College in New Hampshire, he won two national championships and won more than 80 percent of his games. Between 1996 and 2000, he coached at the University of Hartford, where he won more than 70 percent of his games.
The transition from New England to Tallahassee has been an easy one, Krikorian says.
"My wife and my two kids really like it here. The community has been fantastic in terms of embracing the team and also my family … The people are sincere, they are wholesome, they care – that's both within the university and outside the university setting. We've all made some good friends who we are very comfortable with."
Does that mean Krikorian will be here 34 years like that other FSU football coach?
"As long as I have the belief that my commitment and the university's are in the same place, then it's a great match," he says. "The atmosphere here is as professional as I have ever seen. There is a commitment to excellence in both the academic and athletic world. Everything here is about excellence."
But what about winning a national championship?
"The goal will remain the same," Krikorian says. "The goal is to compete for the national championship every year."
This season could prove to be a challenge. Last year's star, Mami Yamaguchi, who led all collegiate scorers in points with 66 and was second in goals with 24 and assists with eight, decided to skip her senior year and play professional soccer in Sweden.
But Krikorian feels he has a lot of new players coming in who can fill the gap and help out immediately. Five of the newcomers are from the Under 7 National Team,
and two of those are from Florida: Toni Pressley from West Shore High in Melbourne and Ella Stephan from Satellite High in Satellite Beach.
They had better be ready to step up, because the Under 20 World Cup starts in late November and runs through early December. FSU standouts Erin McNulty, Amanda DaCosta and Becky Edwards will be playing in it and will be unavailable for intercollegiate play. However, all the elite college teams will face the same problem of not having some of their best players available.
To manage this, "It's going to fall upon our staff to find out how to get the younger players important minutes early in the year, knowing we're going to have to rely on them later in the year," Krikorian says. He doesn't believe in substituting just to give players minutes. Last year, his typical pattern was to substitute two players halfway through the first period and put the same two players back in the game for the second half of the second period. A lot of subs aren't necessary because of FSU's style of play, which emphasizes patience and ball control. The team usually starts slowly, with the midfielders passing the ball between themselves. This tires the defenders and gives the FSU back line a chance to go forward. Finding an opening in one of the defensive seams, the players make a quick pass and – hopefully – a goal.
The future, both near and long term, looks bright for FSU soccer. Krikorian is a proven winner and, because his style of play is similar to that of the national team, it will help him recruit players who eventually want to play for the national team. In the summer he runs the Seminole Soccer Camp, which teaches players from ages 15 to 18 the finer points of the game. Four camp graduates have gone on to play for FSU, and it's likely that more camp graduates will be wearing the garnet and gold in the future.
Florida State Soccer 2008 ScheduleAug. 22    7 p.m.    UCF
Aug. 29    TBA    at Penn State
Sept. 5    7 p.m.    Florida Intl.
Sept. 7    1 p.m.    Florida
Sept. 12    TBA    at So. Carolina
Sept. 21    1 p.m.    Florida Gulf Coast
Sept. 25    7 p.m.    Virginia
Sept. 28    1 p.m.    Virginia Tech
Oct. 2    7 p.m.    at Maryland
Oct. 5    7 p.m.    at Boston College
Oct. 12    TBA    at Miami
Oct. 16    7 p.m.    Wake Forest
Oct. 19    1 p.m.    Duke
Oct. 23    7 p.m.    Clemson
Oct. 30    TBA    at UNC
Nov. 2    TBA    at NC State
Nov. 5-9    TBA    ACC Tournament
Nov. 13-16    TBA    NCAA First/Second Round – Host School
Nov. 21-23    TBA    NCAA Third Round – Host School
Nov. 28-30     TBA    NCCA Quarter Finals – Host School
Dec. 5-7    TBA    NCCA Championship – Cary, North Carolina