The Other Bobby Bowden
Master gardener has deep roots in Tallahassee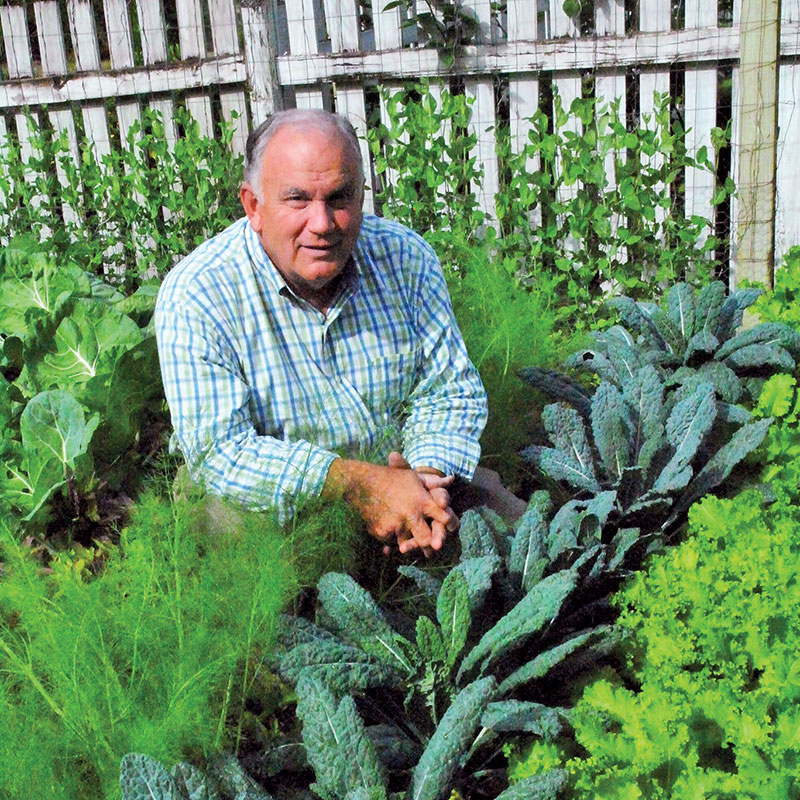 He has jokingly referred to himself as "the other Bobby Bowden."
Although he does have a strong Tallahassee connection, it has nothing to do with Florida State University football or motivational speaking. Unless, that is, he's motivating people to get down and dirty in their gardens: "The secret to a green thumb is brown knees."
This Bowden is Robert Bowden, executive director of Orlando's Leu Gardens for the past 23 years and one of the leading voices in southern gardening. His vast knowledge and engaging, hands-on style come through in his articles and books on gardening, frequent guest-speaker gigs and lectures at Valencia State College, where he is an adjunct professor. The Ohio native's experience extends beyond the Southeast, too, with former jobs at Applewood, the Mott family's Michigan estate; Old Westbury Gardens, the John S. Phipps estate on Long Island, New York; the Missouri Botanical Garden in St. Louis, the oldest botanical garden in the nation in continuous operation; and the Atlanta Botanical Garden.
Before he set shovel to soil in any of those gardens, though, he left his mark on Tallahassee.
Bowden was a park ranger at Bahia Honda State Park in the Florida Keys and wanted to finish college, so he transferred to Maclay Gardens State Park. He went to school in the mornings, earning an associate degree at Tallahassee Community College and a bachelor's degree in horticulture and landscape design at Florida A&M University. Later, he added a master's degree in public administration from the University of Michigan.
"I was 19 years old when I first came to Tallahassee, and we spent the first 10 years of our 43-year marriage there," Bowden said. "I feel like I grew up in Tallahassee. I learned a lot of my craft there. I learned a lot of the art of gardening from the old gardeners who were still at Maclay."
When Bowden and his wife, Gailann, arrived in 1973, Maclay was still a relatively new addition to the state park system. The gardens had been developed by New York financier Alfred B. Maclay and his wife, Louise Fleischman Maclay, who bought the property in 1923 as their winter home. According to state park websites, the property was originally called "Killearn," after the Scottish village that was home to Maclay's great-grandfather. Two years after Maclay's 1944 death, his widow opened the gardens to the public. In 1953, she and their children donated the gardens to the state. Killearn Gardens State Park was renamed Alfred B. Maclay Gardens State Park in 1965.
"There were no labels, no signs, and no one knew what anything was. It was still a lovely estate. Dr. Fred Meyer, from the National Arboretum in Washington, D.C., and I walked the gardens, labeling plants," Bowden recalled. "I'm proud to say that 30-plus years later, some of them are still there."
In addition to working with Meyer, whose 2006 obituary in the Washington Post called him one of the nation's best taxonomists at identifying cultivated plants, Bowden is credited with transforming Maclay during his 10 years there. He created the volunteer program, built the greenhouse and started offering classes in the cottage. His take on his time and contributions there? "It was fun," he said.
He is responsible for two gardens these days, the city-owned Leu Gardens and the two acres of gardens he and Gailann share. He tests many new plants at home; if they work out, he takes them to work and plants them. Even though he plans to stay in Orlando after he retires, Florida's capital city remains close to his heart.
"I always get a little homesick when I come to Tallahassee," he said, "and I tear up when I have to leave."
---
SYMPOSIUM WELCOMES PROF. BOWDEN
Robert Bowden will be one of two featured speakers at Goodwood Museum & Gardens' annual Garden Symposium on Sunday, Feb. 26. The executive director of Orlando's Leu Gardens and an adjunct professor of horticulture at Valencia State College, Bowden is the author of several books on gardening, including "Florida Fruit and Vegetable Gardening: Plant, Grow, and Harvest the Best Edibles." Also on the program is Margot Shaw, founder and editor-in-chief of Flower magazine. A student of art history and interior design, Shaw brings together the worlds of flowers and design. Books will be available for purchase and autographing. Tickets are $35 for Goodwood members, $45 for non-members, and the price includes lunch. They can be purchased online at goodwoodmuseum.org.