The Original Florida Seminoles
Truly Native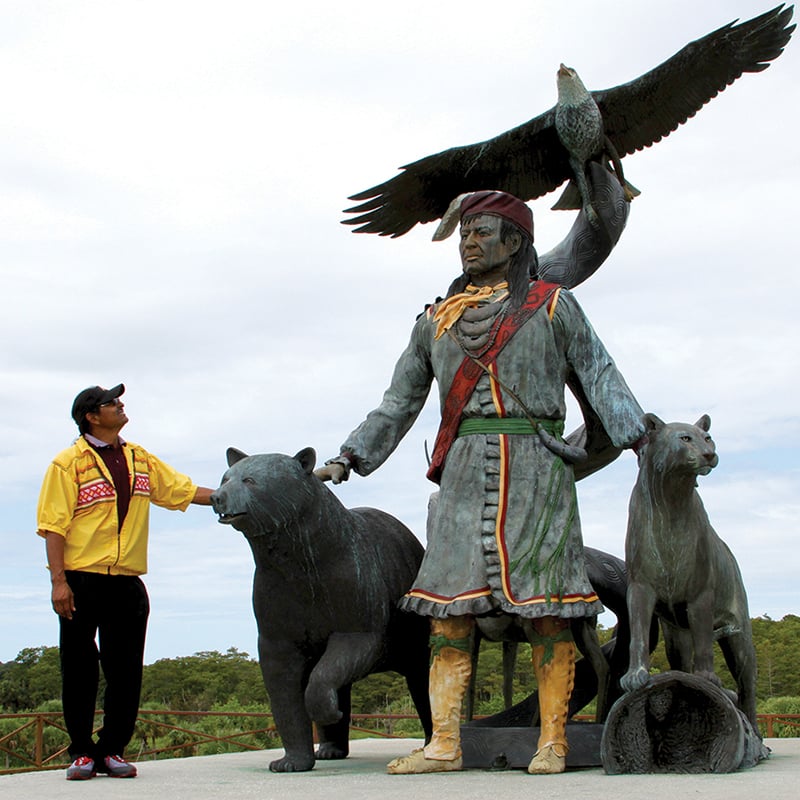 In the spring of 1513, Spanish explorer and conquistador Juan Ponce de León set foot on the southeastern coast of a "New World." He claimed the land for Spain and named it Pascua Florida in tribute to Spain's springtime Feast of Flowers. Not only was the land lush with flora, it was also populated by over 100 indigenous tribes, all members of the Maskókî linguistic family. These individuals, whose ancestors had occupied the land for the previous 12,000 years, numbered roughly 200,000, with some estimates reaching 350,000.
Each tribe that de León encountered possessed a form of government and a strong social system that shaped every aspect of tribe members' daily lives, but that didn't stop de León, Hernando de Soto, and other European explorers who would travel to La Florida from pressuring the native people — frequently at the point of a musket — to give up their "heathen" world views and religions.
For the Apalachee, Calusa and other indigenous Woodland-period tribes, conforming to European ideals of civilization meant almost complete annihilation. The Europeans brought foreign diseases with them to which the native people had no immunity. They brought alien weaponry and armor that made them nearly invincible in battle. But perhaps the most dangerous of the European explorers' accoutrements was the conviction that the land belonged to them. God had placed their monarchs on the throne; and as explorers who had been commissioned by royalty to claim new lands, theirs was a divine right to kill, enslave or displace any person, be he native or otherwise, who prevented European colonization.
Over the next few centuries, the Spanish, the French and the English laid claim to La Florida at different times. But no matter which European group was in power, the results were disastrous for the native people. As a result, some escaped to the swamps of the southern Florida peninsula to band with other tribes who had settled there, including tribes who claimed the region as their ancestral home. Freed and escaped African slaves sometimes made their way to the swampland, too.
The Spanish lumped these remnant people into one group and called them Cimarrones — "Runaways." But perhaps the Spanish had gotten it wrong. Perhaps the Cimarrones — a name that would later be anglicized to Seminoles — had not run away. Perhaps they had run toward. Toward each other. Toward a new beginning. Toward a future in which they, the Seminoles, would never be conquered.
Seminoles of Today
"I grew up hearing the history of my people," says D'Anna Osceola, executive assistant for the Florida Governor's Council on Indian Affairs (FGCIA). "Our stories, our traditions, our way of speaking — these things explain our identity, as a people. With a culture that rich, no one else can say, 'This is who you are.' We have defined ourselves, and we continue to do so."
Osceola, who is a member of the Bird clan, grew up on the Brighton Reservation. She graduated from FSU and has lived in Tallahassee for the past 10 years. For part of that time, she represented the Seminole Tribe as Miss Florida Seminole — an opportunity that allowed her to travel across the country to meet other young women who were representatives of Native tribes.
"We were from different places, but we had so much in common," Osceola says. "We were all … trying to negotiate living in two worlds. My family is traditional, but it's 2016, and I come to work in a place like this." She gestures around her office. "I have a different life than so many people, because I'm part of two worlds. But those other girls I met felt that way, too. I'm still in contact with some of them. We are all trying to help our tribes in any way we can."
Osceola has numerous opportunities to support the Seminole Tribe in her work with the FGCIA. The council's mission — "Promoting economic self-sufficiency and self-determination for American Indians since 1974" — currently translates into a focus on Native youth and on supplying them with the training, support and education they need to succeed in life.
Osceola was fortunate to grow up in a home where education was emphasized, especially in regard to Seminole history and culture. Her grandmother, who was the head of the culture department for Brighton Reservation, taught her the traditional Seminole legends when she was young, either when they were fishing together or at bedtime. But Osceola also learned a lot about her culture during the Green Corn Celebration.
"It's when I feel the most Seminole," she says. "For four days, we stay in chickees (traditional houses made from cypress logs and palm fronds) in camps that are completely isolated. … The whole thing keeps me from getting lost in the regular world. I'm grateful it happens every year."
Although it takes place in early summer, the Green Corn Celebration actually marks the beginning of a new year for traditional Seminoles. Fasting is a major part of the event, but, as is the case for most people who celebrate a new year, so is feasting. Corn is cooked on the cob, is ground into meal for bread, and is made into a hot drink, called sofkee.
For the individual who is not of Seminole descent, Osceola recommends learning about the tribe by visiting the many tourist sites that are located throughout Florida, such as the Ah-Tah-Thi-Ki Museum, located on the Big Cypress Reservation. Special events, such as the Seminole Tribal Fair and Pow Wow and the Brighton Reservation Field Day Festival and Rodeo, are great for learning about Seminole culture and history. Another must-attend event is the Mission San Luis de Apalachee Winter Solstice Celebration, held in Tallahassee. Unfortunately, other "Seminole" gatherings in Florida's capital city are hard to come by — and Florida State University's sporting events don't count.
To most Tallahasseans, the word Seminoles conjures up images of college-aged youth, clad in crimson-and-gold athletic uniforms. "That's great," Osceola says. "But it's the Seminole people who are unconquered, not FSU's sports teams. We never signed a treaty with the U.S. government, and we're the only federally recognized tribe that can say that. The university works with us — creating authentic patchwork for their athletes' uniforms, and things like that — but we, the Seminole people, are not the sports teams. Our culture is beautiful and rich and worth learning about."
While the FSU sports teams do not represent the Seminole Tribe, one member of the football team can claim Seminole heritage. Meet Justin Motlow, the first member of the Seminole Tribe to play football for FSU. Motlow, who hails from Tampa, walked on to the football team as a wide receiver his freshman year. He will begin his junior year this fall. His sister, Jessica, recently graduated from FSU and will attend graduate school there, too.
"My dad was raised on the Immokalee Reservation," Motlow says, "but that wasn't my experience. I wasn't raised traditionally." He goes on to explain that his family has always attended special Seminole Tribe events and celebrations, but his realization of what it meant to be Seminole didn't come until around middle school, when he traveled to Spain on a school trip and took a ferry to Morocco.
"That trip enlightened me," he says. "It made me see how fortunate I was, and it made me think about my own people."
When he was a freshman in high school, Motlow was chosen to represent his people at the Indigenous Games in Milwaukee, where he ran the 200- and 400-meter sprints. In spite of this experience representing the Seminole Tribe in athletics, Motlow explains that when he became a part of the FSU football team, it didn't really register with him that he was the first Seminole to do so. But he has come to feel the significance of his situation.
"I love being a part of this great football team," he says. "And being a member of the Seminole Tribe means the world to me. My heritage is so unique. (We) have a lot of good, strong cultural traditions."
When asked to talk about his favorite Seminole tradition, Motlow says, "I like to see the older guys wrestle alligators. But I also love just visiting my grandma's reservation and seeing how different life is, there, from what I'm used to. A lot of families stick to their historical culture. Some kids grow up and choose to stay on the reservations and work with the tribe, and that's good. It's good to branch out, too."
Motlow is unsure of what the future holds for him, but he knows that the Seminoles of his generation can contribute to the tribe's success, "like the older members of the tribe did when they acquired the Hard Rock" cafes, hotels and casinos.
Destiny Nunez, who is another member of the Seminole Tribe, expresses a similar belief: "I have always felt that younger generations need to see leaders in the tribe working to keep our culture alive. That way, they will want to continue that preservation. Elders can always teach us, but when they are gone, who will take that position? We need to maintain who we are, and it is important for Seminoles to learn our culture in order to do that."
Nunez's mature understanding of how a culture thrives is one reason she was chosen as Miss Florida Seminole, 2015-2016. This past April, she traveled to Albuquerque, New Mexico, where she, like D'Anna Osceola, participated in the Miss Indian World competition. "I enjoyed learning more about other tribes in North America," Nunez says. "We all have our own history and culture, but we created a sisterhood. It never felt like a competition, despite our differences. … All of the girls are strong leaders in their tribes and each will go on to positively impact her community."
Tallahassee may be almost 400 miles from Nunez's home community — the Brighton Reservation — but she has made an impact here, too. She recalls appearing in FSU's homecoming activities last year, dressed in authentic Seminole regalia. "Some people told me that my 'costume' was beautiful," she says, "and I had to tell them that it was not a costume. … Situations like this make me realize that people see us for what they hear or the popular things they see with the word Seminole on them. … But we fought hard to get where we are today."
Nunez illustrates her point by sharing the story of a prominent ancestor, Abiaki (Sam Jones). "He was a very influential Creek leader during the Seminole wars. His battle strategies played a major role in helping the Seminoles." She then references another ancestor, Polly Parker, from whom D'Anna Osceola is also descended. "(Polly Parker) was captured and placed on a boat to be taken out of Florida, but she refused to go," Nunez says. "She jumped out of the boat and trekked through Florida back to the Everglades. Many people say that without her courage, the Seminoles would not have lasted."
To be a Seminole woman, in general, is a source of pride for Nunez. "My tribe has always been a matriarchal society," she says. "If it had not been for the women who were left in the camps while the men were away hunting or fighting (in the Seminole Wars of the 19th century), there would probably not be anyone left to carry on."
Not only did the Seminoles carry on, they made history, again and again. Perhaps their most significant moment in recent history came when, shortly after World War II, the Bureau of Indian Affairs (BIA) fell under pressure from the U.S. government to cut some of its programs. The Seminole Tribe was not a federally recognized tribe, at that point, so the BIA's eye fell on them. Seminole leaders heard of the news and quickly got to work.
On Aug. 21, 1957, the Seminole Tribe of Florida was formally recognized by the U.S. government, and its constitution and bylaws were ratified. This did not mean that the Seminoles weren't a "real" tribe until 1957; it meant that members of the tribe had, like their ancestors before them and the generations that would follow them, become skilled at negotiating two worlds.
"The future of the Seminole people is bright," says Nunez. "We have our own government. They have provided us with a health care system, funding to go to school and more. … We are growing stronger with every generation. … We are not just surviving; we are thriving in this world, and I know we will continue to do so."
This kind of faith, combined with perseverance, pride and courage, is what constitutes the unconquerable spirit of the Seminoles — a spirit that sustained the Seminole people of the past and that burns bright in the hearts of Seminoles today.