The Oasis Center for Women & Girls
Celebration and Support Through Conversation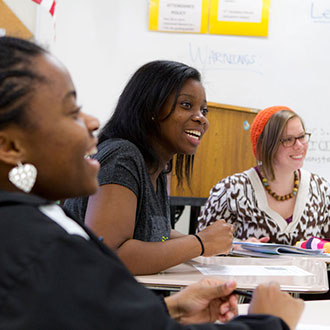 One of the foundational theories of communication is that men and women communicate differently: Men communicate to report, and women communicate to build rapport. To see that theory in action, look no farther than The Oasis Center for Women & Girls Inc., which was built on a series of conversations.
It started as a nugget of an idea in Kelly Otte's mind. She moved to Tallahassee in 1994 and spent 11 years as executive director of Refuge House, which serves people affected by domestic violence and sexual assault in the eight-county Big Bend region. But Otte had been a founding board member of the Jacksonville Women's Center, which provides a myriad of other services to women in addition to supporting sexual assault and domestic violence victims. She wanted Tallahassee to have such a place, one that could fill gaps in service to women and girls while making referrals to the agencies and organizations already in place. After she left Refuge House in 2005, she got busy having conversations. And while she's acknowledged as Oasis's founder, she shares the credit.
"I did a lot of talking to people, but all I had was the idea and the willingness to work," Otte recalled. "I think Oasis was started by those 20 women who came to that first meeting at the Amtrack station and shared their ideas of what Oasis should be."
Collectively, they came up with the mission statement that can be found on the Oasis website (theoasiscenter.net): "We are a nonprofit organization in Tallahassee whose mission is to 'improve the lives of women and girls through celebration and support.'" The celebration aspect includes the Trailblazer Luncheon during Women's History Month in March, where local women who broke through a "glass ceiling" are honored; and the September "Celebration of Women and Girls," a variety show featuring female performers, young and adult alike. For the past several years, the Celebration event has been held in conjunction with the Pace Center for Girls, where Otte is now executive director.
The support aspect of Oasis's work focuses on a variety of concerns facing girls and women, particularly personal, professional and economic challenges. "We are committed to addressing these issues individually through the provision of direct services and collectively through community dialogue and awareness," the mission statement concludes.
Bottom line: Offering expanded opportunities for women and girls helps the entire community.
Those first 20 supporters were carefully chosen women who Otte thought had the skills, drive and resources to build a women's center in Tallahassee. She approached each one personally, shared her dream with them and asked whether they could and would be a part of its creation. Then they went out and had a few more conversations, inviting women to more meetings. 
Haley Cutler, who became Oasis's first full-time executive director in March 2012, was at that first meeting. One of Otte's former students at Florida State University's College of Social Work, Cutler said Otte started out as her teacher and became her mentor.
"As with many other founding members, Kelly approached me and asked if I believed in the vision of a general community center for women and girls locally, and I obviously did," Cutler said. 
An FSU senior at the time, Cutler arranged an internship for summer 2007 through the Women's Studies program and worked with Otte on the articles of incorporation, bylaws, community interest meetings and the 501(c)(3) application for tax-exempt, nonprofit status. After she graduated, she worked for a domestic violence/rape crisis center in South Florida for several years, returning to Tallahassee and Oasis two years ago. 
"What we're dealing with is a really complex system of gender socialization. The versions of leadership we are taught to value are the versions we teach to men and boys," she said. "We need to have conversations about women's contributions and what diverse leadership is. A leader is not always the person who speaks the loudest or takes up the most space in the room."
Oasis operated on a shoestring its first few years. The founding members, who contributed from $1,000 to $5,000 each, kept the lights on and the doors open. Board members served as volunteer staff, held more meetings and had more conversations, generating more founding members and more support. The list of founding members reads like a "Who's Who" of Tallahassee women and represents diverse professions, ages and races.
In the six years since it was incorporated, The Oasis Center has served hundreds of women and girls through numerous outreach programs, including the Girls Can Do Anything! summer camps, which include visits to successful women at work in a variety of professions. Girls Circles work with girls to develop self-esteem and resiliency, teaching them to bond with other girls and draw support from one another. A research-based curriculum, Girls Circles have served more than 1,000 girls in Tallahassee, beginning with Capital City Youth Services, expanding to the Boys and Girls Clubs and public schools. A grant from the Department of Juvenile Justice helped extend the program's reach.
Scott Holstein
Makayla Bryant writes on a worksheet that she will share with other group members.
"Middle school is such a challenging age," said Sarah Sturges, Oasis's director of clinical and social services and another of the founders. "There's something about puberty that creates a great divide with other girls, and the drama increases. Girls Circles helps with a greater understanding of each other."
For women, strengths-based counseling is available, and fees are sliding scale, based on income. A single-mothers support group includes babysitting and supper for kids and moms alike. Oasis has partnered with other nonprofits, including Leadership Tallahassee and the League of Women Voters, to hold Women Can Run workshops for women interested in running for political office. 
"Whenever we can collaborate, it's for the best for all women. It's a win-win situation," said Kathy Bye, president of the Oasis board and the organization's volunteer bookkeeper.
And for both women and girls, there are Mother-Daughter Circles, which promote a healthy and sustaining relationship as girls make the transition to young womanhood because "no relationship seems to compare to the mother-daughter connection in its significance to a girl's sense of value, identity and assurance," according to the program description. The first Mother-Daughter Circle was conducted at the Pace Center for Girls, and Sturges said "it has been way more powerful than I thought it would be." 
Another powerful pairing has been Oasis's work with the Leon County Commission on the Status of Women, which was created "to promote awareness of issues pertaining to women and girls in Tallahassee and Leon County, and to serve in an advisory role, providing input to the city and county commissioners." Oasis is the staffing agency for the commission, handling all the administrative functions under contract with the city and county and helping the commission prepare its first report on the status of area women. Not surprisingly, the report showed a gender gap across various criteria.
"The Commission on the Status of Women was something Kelly said we needed, and a lot of people didn't see the need until it did this report," Bye said. "It was kind of a 'wow!' moment. I'd like to see more of that." 
---
Audrey Post, a freelance writer and garden columnist for Tallahassee Magazine, was one of the initial 20 and a founding board member of The Oasis Center. She, too, remembers that first conversation with Kelly Otte about the need for a local center for women and girls.