The Not-So-Great Divide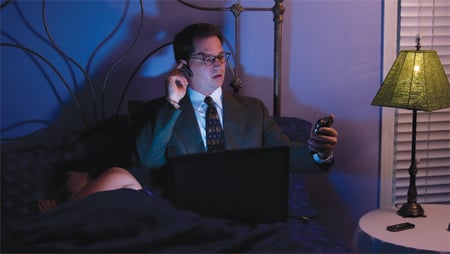 Technology is Making it Harder to Define When We're 'At Work'
The (Invisible) Line Between Work and Personal Life The Disappearing Boundary Between Work and Home Means New Rules for Bosses and Employees
By Jason Dehart
It seems innocent enough – a husband drafts an invitation for a fundraising event for his candidate wife on his computer.
But the invitation blew up into a brouhaha last spring because the husband, Bob Lotane, was spokesman for the state Office of Insurance Regulation; his wife, Robin, was running for judge; and the computer he used belonged to the state.
In the end, Bob Lotane resigned; his wife dropped out of the race and was fired from her job as chief assistant state attorney; and his boss, Insurance Commissioner Kevin McCarty, got a sharp rebuke from Florida Chief Financial Officer Alex Sink.
It's extreme, but it serves as an example of the kind of trouble you can get into in this high-tech age of instant connectivity. As computers and other electronic devices blur the lines between work and home, it's important for employers and their employees to establish some boundaries.
"I'm not even sure it's a blur," said Wayne Hochwarter, a professor of management with the Florida State University College of Business. "If people can hook up with you, there is no boundary. It's an interesting phenomenon."
The technology available today seems to be growing exponentially in power and capability. Cell phones function as cameras and text messaging devices, wireless personal digital assistants (PDAs) keep up with our appointments, assignments and when to take the kids to soccer or dance, and BlackBerry devices – PDAs that allow us to send e-mail and browse the Web over a cellular network – offer almost unlimited capabilities. Wireless laptops also enable us to do a lot of work on the road, from home or while we're eating lunch. The latest gadget is Apple's new iPhone, a software-driven cell phone with all the power and wireless connectivity of a Mac computer.
Business in particular has been enamored of these gadgets. In the old days, if a boss needed to reach an employee after hours or while he or she was on the road, the boss usually was out of luck. Then came the pager, at the time the ultimate in accessibility. Nowadays, employees carry enough portable computing power on their person that the boss's decision becomes "Do I call, text-message or send an e-mail?"
Mike Pate knows a thing or two about working in a wireless world. The former publisher of the Tallahassee Democrat and current Tallahassee program director for the John S. and James L. Knight Foundation of Miami, Pate makes his living communicating with the home office as well as a host of colleagues here in Tallahassee.
"Has technology liberated us, or made us slaves? Yes," he said. "It does both. It really is wonderful when I think about it. When I drive down the street with my BlackBerry, I still get e-mails and I can check on it while I'm waiting on an interview. I can be productive, but at the same time it leaves you a slave to the technology because you're always involved with it, and you can't escape from it. The hard part is knowing how to turn it off and put it down."
And that's where the work-home boundaries have disappeared. Many people today don't feel as though they can simply "turn it off." A recent Associated Press/Ipsos poll released in June found that one in five people take laptop computers with them on vacations. Eighty percent said they bring along their cell phones so they're not out of the loop back home. Men were more likely to check messages or do work while on vacation, and high-wage types were more likely to work on office-related stuff instead of their tan. Older people tended to keep track of work while on vacation, while younger vacationers tended to check more on personal e-mail and other messages.
All of which is a bad idea, according to Stephen T. Ball, a labor and employment attorney for the Holland & Knight law firm.
"Vacation should be used for vacation purposes," Ball said. "We're all guilty of that – we're all guilty of checking in. When I go on vacation, my wife takes me where there's absolutely no cell phone services, no access to computers and no ability for anyone to get ahold of me.
"You shouldn't be checking in," he said. "If you don't have that down time, you're going to burn yourself out." To bosses, he warns: "You might gain productivity from the employee in the short run, but ultimately, in the long run, you're going to lose productivity from your employees if they don't have some down time."
The Connectivity Factor Works

With powerful technology comes powerful temptation. But used properly, this power can be used for good. Just ask Jason Johnston, senior network engineer at Technology Services Group Inc., a networking, information technology (IT) support, Web services and graphic design company.
Johnston said he doesn't mind handling business calls after hours, or even while on vacation. He said this in an e-mail interview conducted while he was waiting in line for the Jungle Cruise at Walt Disney World.
"I allow the lines to blur quite a bit," he said. "But I see it as an advantage for me and my clients. I will take a call after hours and on weekends when I can. My line is drawn when I have made time to spend with my loved ones. But that does not mean I will not take a call – it just means that I will give the call only five minutes of my time, and then defer it to another time."
Leon County Commissioner John Dailey is another example of the connected culture. However, his situation is a bit different. As an elected official, he is supposed to be on call 24 hours a day, seven days a week. His PDA keeps him in touch with county operations – especially in times of weather-related emergencies.
"You look at technology with wireless access and laptop computers, and I think about what the good people of Leon County are able to do now," he said. "For example, a public works employee can be on site collecting data and use a wireless remote to beam information back to the office. They don't have to drive all the way back in. It saves time and money to be able to have that instantaneous communication."
Of course, there are many other professionals whose work requires them to be on call, such as doctors, paramedics, police and nursing home workers.
"There are some organizations where people are expected to be available after work hours for whatever reasons," said William Anthony, the DeSantis Professor of Business Administration at FSU. "It really depends on the organization and to what extent people have to be available after hours. If the organization is of the type, well yes, they have to check their e-mail and be on call for certain periods in order to respond. A lot of companies respond to this issue by rotating that assignment among individuals; for example, certain people for certain weekends."
Ball said employers can help draw the line by setting up agreements telling the employee what kind of work hours to expect.
"But there has to be some type of mutual agreement between the employer and employee in terms of their work schedule and what is expected of them," Ball said. "You need to have some uninterrupted personal time for employees, to ultimately be the best they can be."
Meanwhile, Pate, of the Knight Foundation, said that drawing the line depends on how far the employee is willing to go to advance his or her job.
"The line in many cases is a product of how the employee handles it," he said. "In a lot of cases, there are some who turn it off at 5 p.m. and there are others who, because they are particularly dedicated or climbing the ladder, in some cases feel like they can't disconnect. And those are more at risk because they do lose control of their personal lives."
"Generally speaking, I can do a good job of balancing (work and home life), and it's important to shut the machine off at times," said Commissioner Dailey. "Everybody needs time away from the office, to dedicate time to family and hobbies. By proper time management, you're able to accomplish those things."
Then there are those people such as FSU's Hochwarter who really know how to draw the line.
"I'm the last of a dying breed," he said. "I don't have a cell phone, and that's by design. At times I don't want to be 'gotten.' I don't need to be at anybody's beck and call, and I won't give in to being manipulated, controlled, or utilized . . . It's a last attempt at having some semblance of my own life.
"But you should see my students," he said. "In the old days, they'd chat on the way out the door. Today, everybody grabs for their cell phone as they leave the classroom. Even as they leave, they're dialing. I think that for a lot of these college kids, it's like a third arm."
Adults can be addicted, too.

"A BlackBerry can become a 'CrackBerry' if you allow it," said Pate, who stays connected with the Knight Foundation via BlackBerry, cell phone and laptop, which go with him everywhere. "Employees need to evaluate it in terms of 'What am I able to give up to do my job?' and measure that against what the employer expectations are and go forward."
On the Other Hand …

Bosses have to be careful when they grant an employee the ability to use PDAs, laptops, phones and the Internet. It's a great temptation for employees to use company-provided Internet for personal shopping, online banking, bill paying, making hotel reservations and so forth. As convenient and practical as this may be, it can pose a problem for employers if an employee crosses the line.
"That's a very difficult issue because it crosses a couple different boundaries," said labor attorney Ball. "No. 1, a lot of employers . . . have Internet and computer policies in their employee handbooks at work that say, 'Your computer and your access to the Internet are being provided to you here at work for work-related purposes only. You're not supposed to be using your computer to shoot e-mail to your wife or buddies across the country, or using your Internet access to go surfing during work time. We are paying you to work from 8 to 5, not to come to the office and surf the Internet, or shoot e-mail back and forth. We want you to do company-related business.'
"And we generally would tell employers, when you have a computer and Internet policy, to caution the employees, let them know it up front, that anything they put on that computer belongs to the company," Ball said. "And the company has the right to review it. So don't put anything on your computer that you don't want to be seen by someone else."
When your employer is the state (as it was in the Lotane situation), the restrictions – and the consequences – can be severe. Most agencies have fairly strict personal-use limitations and an outright ban on using work computers for political activity.
The biggest problems for employer and employee alike are the clearly inappropriate use of company computers for downloading images prohibited by office policy – in short, doing things they're really not supposed to be doing.
"I see two very real problems that crop up when employees are using company-related computer equipment for personal use," Ball said. "First, is they're either surfing the Internet, you know, for porn Web sites or sending inappropriate types of pictures, or sexual jokes, those types of things, in and around the office. Then you run the risk of a potential discrimination-type situation if someone who is not intended to get the e-mail gets the e-mail within the office. Or the secretary comes to your door and you have your back to her and have nude pictures on your computer screen. That's the first issue that generally comes up with employees.
"The second issue, which doesn't come up nearly as much, is when employees start using their work-related computers for their own personal gain, such as running a business on the side," he said. "They're trying to start a competing business with their employer."
In those cases, the best thing an employer can do is to have a policy in place to handle those kinds of incidents.
"First, the organization needs to have a policy on personal use of phones, e-mail, etc.," Anthony said. "It depends on the job and the organization. That's why you need policies on the use of these communication devices at work for personal use. Some companies provide cars and are pretty strict about personal errands. They're just for business use. The company needs to have a policy and communicate it with everybody so they know what the rules are."
"The protection for the employer is, No. 1, to have a policy," Ball said. "Not only a computer and Internet policy, but obviously also have a sexual harassment discrimination policy in place within the company. And No. 2, to enforce those policies when they have been violated."
How an employer deals with this issue depends on what type of employee he or she is dealing with. Under the Fair Labor Standards Act, employees can be classified either as "exempt" or "non-exempt." If you are a "non-exempt" worker, you are an hourly employee, and you are covered under the overtime provisions of the law. A salaried employee, on the other hand, would be "exempt" from getting overtime pay.
"If I found an employee who was hourly and who was doing their personal banking or playing Solitaire, I would have a concern with that," Pate said. "But if I have a manager on a salary basis, I have less of an issue because their responsibility is to get the job done regardless of what the schedule is. But if an hourly earner is fooling around and goes into overtime, I'm in essence paying them to play games and do personal business. That's something an employer has the right to manage more closely."
Another issue that comes up is the threat of theft. Ball said that companies should be more worried about employee negligence in handling company computers and the sensitive documents they contain.
"Obviously, you need to have firewall protection on all your computer equipment," he said. "But the biggest risk for theft of information isn't so much going to come from hackers as it is from the employee who has his laptop, say, in the middle of a hotel lobby, doing Wi-Fi, and they walk off and the leave the computer on, to go to the bathroom, where someone else could gain access to it for a few minutes."
Another scenario: An employee may be working from home via remote connection to the office network. But how does an employer know that it's the employee accessing the network?
"Is it the employee, or someone else?" Ball said. "Is the employee leaving the computer on, tied to the network, or someone else who comes into the house and gains access to company-related materials because we left it on? So it's not so much a hacking issue as it is more of using common sense. Employees should make sure that when they're not logged in, they log off so that someone else isn't going to be able to come in and gain access to your materials."
It's About Control

Maintaining control over office equipment takes a boss ready to assert his or her authority over employees.
"As an employer, you certainly have control over your equipment, your documents, your computer system, and the right to gain access to that system," Ball said. "And I have always taken the position that anything that is done on the company's computer belongs to the company. That's why I think it's important to have that computer Internet policy up front that tells employees . . . if you are working on our computers, it should be work-related only, and you don't have an expectation of privacy. Don't be bringing things in or doing things on this computer of a personal nature, because they are our computers. They belong to the company."
Johnston said several tools are available for monitoring or blocking the use of company computers for personal surfing.
"There are key loggers installed on each computer," he said. "There are firewalls that monitor time on a Web site. And there are ways to block the Internet for specific users, even activities like instant messaging."
Guidelines for computer use will vary by industry, he said.
"The professional services industries (doctors, lawyers, CPAs) generally give wide latitude to their employees because they have such diverse responsibilities and are quickly discovered if they are not getting their tasks done," Johnston said. "Other industries change their restrictions based on your role or level in the company."
Speaking of different roles, FSU's Anthony said that personal use restrictions should apply to executives as well, although that is not what happens in reality.
"Company execs tend to use devices for personal use all the time, even though there are prohibitions against it," he said. "The prohibition falls on the lower-level people more so than the corporate executive, and they'll justify it as being part of work. As you get up in the ranks, it's hard to separate work from non-work because a lot of work is done on golf courses and hunting trips, where they're mixing with clients. Because of that, they'll often justify using the cell phone or PC or whatever, for activities many consider personal, but in fact have work elements.
"I guess there are a lot of perks that come with being an upper-level executive, and that's one of them," Anthony said.

Tallahassee Ranks Among Nation's Best Places for Business
By Jason Dehart

From the pages of Expansion Management to God's ears: The magazine recently put Tallahassee on its ninth annual list of "America's 50 Hottest Cities" for companies to relocate. Out of 362 metro areas in America, Tallahassee was among five in Florida to make the list. The others were Jacksonville, Miami-Fort Lauderdale, Orlando and Tampa Bay.
For the past five years, the Capital City has aggressively tried to improve the local climate for business development and recruitment and attract new business, with mixed success.
"We have made significant strides to make Tallahassee a top business destination," said Michael Parker, the city's economic development director. "We've developed relationships and instituted changes to make the business environment easier and more beneficial for companies to successfully operate here."
The city now actively markets itself through trade shows and has close collaborations with site-selection consultants and with Enterprise Florida. The city also is changing the way it issues building permits, reducing the time it takes to receive development permits and setting up an expedited permit review process – saving time and money for developers.
Tallahassee's Growth Management Department also is tracking the efficiency of the permitting system so it can make needed adjustments.
Efforts to attract big business in the recent past have resulted in triumph – and disappointment. In January 2006, Tallahassee scored a big victory by attracting Danfoss Turbocor, a manufacturer of high-tech industrial compressors. Later in the year, however, the city failed to attract biomedical research giant Torrey Pines of La Jolla, Calif. Despite an enormous effort by city leaders, economic development partners and high-tech research universities, Tallahassee came in a close second place to South Florida's Port St. Lucie – which simply offered the company more money.
And in June of this year, Vero Beach-based Piper Aircraft Inc. rejected Tallahassee as a potential location for its new "very light jets" operation.
City officials are hopeful the days of being the partnerless wallflower at the prom will come to an end soon, thanks to all the city has to offer.
"We have a highly educated work force, sound infrastructure, young population and great resources within the community, such as top-notch research facilities," Parker said. "Couple all that with an outstanding quality of life and Tallahassee becomes an extremely attractive place for relocating businesses."
Born of Necessity, New Business Hauls Away Junk
By Crawford Atkins III
If you have junk in your trunk, or garage . . . or anywhere else for that matter, you can call the company whose name is the same as its phone number – 1-800-GOT-JUNK (800-468-5865).
Matt Parker and Jordan Matheson already owned the local PODS storage business and were having a junk problem when customers were not paying their bills. After cleaning  out customers' units, they were stuck with junk nobody wanted.
Internet research led them to a young company with franchises all over the country, but none in Tallahassee. So the pair decided to open up one of their own about a year ago.
1-800-GOT-JUNK's removal service sends a truck to take away things you don't want. All you have to do is show them what items you want gone and they will load them up and haul them away. The company will collect just about anything as long as it's not hazardous material, such as fluorescent light bulbs. (One load included $15,000 worth of General Electric stock – which was returned to the owner.)
The most common thing the company collects is construction debris. After it is hauled off, items collected are donated, recycled, sold to used furniture stores or thrown away.
What customers pay is based on how much the truck is filled up. Fees start at $88 and go up to $458 for a full truck.
Stewart Proctor, who owns Proctor and Long Commercial Real Estate, is a customer who has used 1-800-GOT-JUNK three times.
"We like their services and would recommend anyone to use them," Proctor said.
City Offers a New Method to Solve Landlord-Tenant Disputes
By Anitra Ellison

In an effort to resolve differences between property managers and renters – and hopefully saving time, money and aggravation – the city of Tallahassee has launched a year-long pilot Landlord-Tenant Mediation Program.
More than 20 certified mediators have volunteered to participate in the program, which began in June and is being administered by the city attorney's office.
The program gives disputing parties a neutral forum to discuss issues, clear up misunderstandings, determine underlying causes and reach an agreement that helps both parties feel satisfied.
Participation in the Landlord-Tenant Mediation Program is completely voluntary for both tenants and property managers, and either party can request mediation services. All information discussed during mediation is confidential.
"Renters will have free access to professional help that they may not otherwise be able to afford, and property managers will be able to enhance their relationships with their customers and within the community," said City Commissioner Andrew Gillum, who asked for the program, along with Commissioner Debbie Lightsey.
Brochures introducing the program will be available at various locations, including the Renaissance Center in Frenchtown; the Florida A&M University, Florida State University and Tallahassee Community College housing departments; Apartment Seekers, located at the corner of High Road and West Tennessee Street; the Greater Tallahassee Chamber of Commerce; and City Hall. Call (850) 891-8995, or send an e-mail to CAOmediate@talgov.com or visit Talgov.com.