The Next Generation
Introducing young up-and-comers that will represent the future of their profession.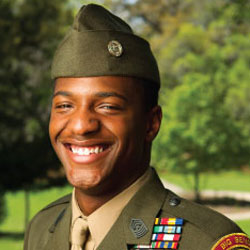 Successful local professionals at the top of their game introduce you to the new up-and-comersThe Next GenerationBy Rosanne Dunkelberger Photos by Scott HolsteinMany of us work to improve our skills and find success in our life's work. If we're lucky, after we get a little age on and some years of experience under the belt, we realize we've arrived. At the pinnacle, we look around and down and see the new, younger generation of teachers or lawyers or artists and, if we're generous, try to be a mentor and share wisdom. Perhaps they are following in our footsteps, carrying on a grand tradition. More likely, these Young Turks are finding ways to get business done faster, smarter, more creatively and — dare we say — better than ever before. In this story, men and women who are at the top of their game take a look a little farther down the organizational chart and introduce our readers to young up-and-comers they think will represent the future of their profession or vocation.
Scott Holstein
Kaytron Coker
Kaytron Coker, High School Student
Kaytron is proof that what was has no bearing on what can be. By Dale Brill
They call it blind ambition because you end up turning the spotlights of life's theatre on yourself until you can't see anything else. At that precise moment in my life, an 11-year-old named Kaytron Coker entered stage right.
Brill is president of the Florida Chamber Foundation, the research and policy development arm of the Florida Chamber of Commerce. Previously, he served as the director of the Governor's Office of Tourism, Trade and Economic Development and as chief marketing officer for VISIT FLORIDA, and he has experience in both startup environments and as a global business leader for General Motors.
We met seven years ago through a mentoring program developed by the Children's Home Society. At the first dinner, it was hard to tell if Kaytron was shy or just adjusting to his unlikely pairing with a middle-aged-white guy wearing a Cubs hat. Now 18 and home from his second intercontinental trip as an award-winning leader of the Young Marines program, Kaytron walks like he owns the world. His cadence is driven by unspoiled hunger to prove he can do anything.
You can't help but get lost in the reflection of such promise and not recall yourself with the same conviction set to conquer the world. It's not hard to find joy in living vicariously through a young man whose life trajectory is approaching its exponential tipping point as yours hovers at what you pray isn't yet its zenith.
If he goes into politics, he'll be a senator. There are too many representatives, he says. If he goes into business, he's going to own a transportation company. He'll start his empire by buying Mike's Limos. If he goes into military service, he'd be honored to be at the Naval Academy and then on to serving as a Marine officer. And every time Kaytron starts a sentence with "if," I lean closer to hear for fear of missing what dream has captivated his mind for that moment.
He's a teacher too. Kaytron is proof that what was has no bearing on what can be. When he unknowingly shares that kind of wisdom with me each week, it's easier to shed the regret of missed opportunities and look ahead to what a 47-year-old has left to do.
Scott Holstein
Louis Garcia
Louis Garcia, Executive Director Big Brothers Big Sisters of the Big Bend
I'm always struck by his commitment to young people and his outgoing and innovative approaches. By Randy Nicklaus
One day early last year someone drove up next to me on a motorcycle at a stoplight and waved. I couldn't see his face or recognize who it was because of the helmet, but I waved back and pretended I recognized him. Perplexed, I drove off and kept trying to figure out who I knew that rode a bike. It finally struck me that it was Louis, because I remembered seeing him carrying his helmet and getting on his cycle after one of our meetings. The next time I saw him we laughed, because he could tell I didn't recognize him that day.
Nicklaus has served as president of 2-1-1 Big Bend for 26 years. During his tenure, the nonprofit telephone counseling and referral service has grown from a $200,000 annual budget to more than $1.2 million, providing hotline programs that serve Florida as well as the Big Bend region.
I met Louis Garcia about three years ago through our mutual colleagues. He was the new executive director for Big Brothers Big Sisters and was enthusiastically recommended as a prospective board member of United Partners for Human Services (UPHS). I was the UPHS board president and heard from several people that Louis was a dynamic new ED and that he would make a good board member. Sure enough, Louis joined the UPHS board soon after and immediately became an active board member and leader in our association.
During the past few years I've worked with Louis on boards and committees and also met his wife. He and Courtenay have two young boys, who keep them busy on the home front in addition to their mutual work in the human service field (she works at the United Way of the Big Bend). I'm always struck by his commitment to young people and his outgoing and innovative approaches.
Louis is regularly involved in community events, especially where there are young professionals who he likes to recruit as his Big Brothers and Big Sisters. He is creative and always percolating ideas about how to raise funds, increase mentors and utilize technology. Louis knows that when you work with youth, you better know how to text and relate to them through Facebook and other social media. I believe Louis will continue to bring his organization to greater heights and improve the lives of many young people in our community.
Office of the Governor
Chris Finkbeiner
Chris Finkbeiner, Office of the Governor
I can't tell you how many times and on how many different occasions Chris has taken over, led and directed conversations with my inner circle, Cabinet members, legislators and policy wonks. By Gov. Rick Scott
Before I first met Chris, my chief of staff told me he was the "smartest person you've never met." I think about that a lot now, and in the Executive Office of the Governor, that's how we introduce him sometimes.
A political newcomer, Scott became Florida's 45th governor in 2011 after running on a platform based on creating jobs and turning around the state economy. He served in the U.S. Navy, has degrees in business administration and the law, and co-founded Columbia Hospital Corporation, which would later merge with Hospital Corporation of America and become the largest for-profit health care company in the U.S.
First some background on this 27-year-old Wunderkind and his meteoric rise. Chris graduated from the University of Florida in 2006 and began service to the State of Florida as the legislative aide to Rep. Bryan Nelson. He went on to serve as deputy chief of staff for Senate President Mike Haridopolos and currently serves as both my deputy chief of staff and chief policy advisor. In his current position, Chris is responsible for advising me on all policy issues, coordinating the Governor's legislative affairs activities, overseeing the Governor's Office of Policy & Budget, the Communications office and the Washington, D.C. office.
On a personal level, Chris is quiet and self-effacing. He is not only wise beyond his years but he is organized, hardworking and articulate. I can't tell you how many times and on how many different occasions Chris has taken over, led and directed conversations with my inner circle, Cabinet members, legislators and policy wonks. He catches people off guard because he is older than he looks, but even at 27, he is better read and more experienced than one would think.
It has been my good fortune to work with literally hundreds of people in the private sector and now in the public sector. As a CEO of a company or the governor of the state, it is critical to be able to identify good people, understand their talents and strengths and make sure those abilities are applied in the right way to help advance one's overall mission. Every once in a while, I've come across an exceptional individual who has helped me succeed and who goes on to be a success themselves. Chris Finkbeiner is such a person. There is no doubt in my mind that he will go on to achieve great things and I'll be happy that I had the chance to serve the State of Florida with Chris by my side.
Scott Holstein
Sarah Mac
Sarah Mac, Musician
She knows the true power of music to lift the human condition. By Del Suggs
It's easy to rave about Sarah Mac and her remarkable talent. She has the vocal power and delivery that is frequently compared to Janis Joplin or Joan Osbourne, while her writing style may be closer to Joni Mitchell with its blues and jazz undertones. Her band is solid and accomplished. You won't find many guitarists who can approach the caliber of Charlie Vanture, or a bass player with the solid chops of Claire Swindell. There is nobody around playing the soulful rock sound that makes the Sarah Mac Band so unique and fresh.
So why do I love Sarah? Sarah Mac gets it.
An award-winning singer/songwriter and guitarist, Suggs is a voting member of the Recording Academy (The Grammy Awards), a three-time nominee for the "Harry Chapin Award for Contributions to Humanity" and a member of the National Campus Entertainment Hall of Fame. He also presents leadership development programs at colleges and universities. His latest book is "Truly Leading: Lessons in Leadership."
Tallahassee has a long-standing tradition of benefit concerts. It goes back way before "We Are The World" and LiveAid back in 1985. It is — unfortunately — the way we support many of our community organizations, including human services, the arts, social justice, environmental action and more. Without local musicians willing to donate their art, an awful lot of good causes would be unfunded in Tallahassee.
Sarah Mac gets it.
In the early 1980s, Steve Meisburg set the example with his wonderful concerts to fund 211 Big Bend (then called Telephone Counseling and Referral Service). After Steve was elected to the Tallahassee City Commission, I picked up the baton. I've been involved in hundreds of local events, which raised thousands of dollars for the Red Cross, Big Bend Hospice, the Tallahassee Museum, John Paul II High School, Save the Manatee, Habitat for Humanity and more. These are all important causes that deserve funding.
Sarah Mac gets it.
Over the last several years, Sarah Mac and I have done some of these events together. More importantly, she has lately done far more local fundraisers than me, as my touring has kept me away. She knows how important it is to help provide for the less fortunate in our community, to take care of the elderly and the children, to protect the environment and preserve this place that we love and call home. She makes it happen. She gives back joyfully. She helps out with grace. She knows the true power of music to lift the human condition.
Sarah Mac gets it.
Ones to Watch: A quick introduction to even more young people predicted to make a mark in their profession or vocation.
Art
Tommy Cooper, 20, artist ➤ Introduced by Ron Yrabedra, artist and Florida A&M University professor of Art Education
"I first saw Tommy Cooper's work when I was the judge of the Mahaska Whitley Senior Art Exhibition at LeMoyne Center for the Visual Arts several years ago. His art stood out above all the rest. He drew in ink, using stippling and delicate lines on paper and on a pair of canvas tennis shoes as well as maps of the coast and a number of portraits. It's a rare thing that I look at a young person's work and think, 'I wish I had drawn that.' "
Entrepreneur
Michael Robinson, 36, wealth management advisor and Certified Financial Planner with Merrill Lynch ➤ Introduced by John R. Lewis, former Florida State University professor, entrepreneur, investor
"Tested in the fire of extremely volatile markets over the last decade, Mike has proven to be more than up to the challenge. He is a student of the art of investing and unusually astute in the worlds of investments and wealth management, while remaining personable, accommodating and balanced beyond his years."
Journalism
Lilly Rockwell, 28, associate editor of Florida Trend magazine ➤ Introduced by Linda Kleindienst, editor of 850 Business Magazine
"Lilly cut her reporting teeth on the Florida Legislature, a tough assignment for a veteran — much less a college intern. Since then she has proved herself to be one of the best in her field, a good writer who has a good nose for news and knows how to go after it. With her focus on telling both sides of each story, she always keeps her reader foremost in mind — a skill many in the news business have lost."
Lobbying
Heather Turnbull, 37, vice president and government consultant, The Rubin Group ➤ Introduced by Brian Ballard, president of Ballard Partners
"Heather is outstanding, probably the hardest-working person in the Capitol. We share a lot of clients. In this business, if you have more than a handful of clients, you have to be a quick study on a diverse range of subject matters. It could be electric rates, health care or pari-mutuels, all of which we have worked together on. I'm impressed with her ability to get up to speed in an hour on a subject — and her access to members (of the Legislature) is incredible. She's as good as it gets."
Public Relations
Erica Villanueva, 29, account manager, Ron Sachs Communications ➤ Introduced by Rick Oppenheim, CEO RB Oppenheim Associates
"Erica is one of Tallahassee's brightest PR stars, with skills and savvy that transcend her years. She is a sharp strategist who played an instrumental role in managing a political-issue campaign recognized as the best PR program in the state in 2009. Her leadership in our local PR community will be rewarded this August when she becomes one of the youngest presidents in the past 74 years of the Capital Chapter of the Florida Public Relations Association. Her energy, intellect, instincts and talents give us great hope for the future of our profession."
Law
Brandice Dickson, 40, shareholder, Pennington Moore Wilkinson Bell & Dunbar ➤ Introduced by Cynthia Tunnicliff, shareholder, Pennington Moore Wilkinson Bell & Dunbar
"Brandi graduated from FSU's law school magna cum laude and, while well-schooled in the law, she addresses problems with good walking-around sense. She is articulate, writes well and is a good editor for others. Brandi is respected by her peers and has taken a real leadership role in the firm."
Philanthropy
Tyler Huston, 27, financial advisor/college unit director, Northwestern Mutual Financial Network ➤ Introduced by Paula Fortunas, president and CEO of The TMH Foundation
"Tallahassee Memorial's NeuroScience Center will benefit in both the short term and the ultimate long term from Tyler's abiding devotion to his parents. That loving sentiment is underscored by his sense of concern for the greater good. Tyler's father fell into a coma because of a traumatic brain injury at the age of 26, when Tyler was only two years old. Tyler established the Ralph T. and Donna M. Huston Family Endowment with the TMH Foundation to positively influence the research and education focus on brain and spinal cord injuries."
Writing
Catherine Cortese, 32, graduate student ➤ Introduced by Julianna Baggott, author and associate professor in creative writing at Florida State University
"Katie Cortese is an ambitious novelist. She's just acquired an agent for a young adult novel, and she's finishing a draft of a 600-page literary drama about a family of Italian immigrants in Boston during the early part of the 1900s. Currently the editor of The Southeast Review and a Ph.D. candidate in Creative Writing at Florida State University, Katie's career is one to watch."
Real Estate
Christie Orros, 33, sales associate, Coldwell Banker Hartung & Noblin ➤ Introduced by Virginia Glass, Realtor, Coldwell Banker Hartung & Noblin
"Since the beginning of my career 47 years ago, I have tried to maintain a personalized 'high touch' with clients while keeping pace with changes that, with the advent of the Internet in the last decade, have come at lightning speed. My image of the 'next-generation Realtor' is one who is very tech savvy like my colleague, Christie Orros, who in just seven years has become a member of the Top 1 Percent Club in Production of the Tallahassee Board of Realtors. She takes advantage of all the social media available, is engaged in our community and still manages to grow her business in challenging times."
Sports
Hudson Swafford, 24, pro golfer ➤ Introduced by Becky Sauers, LPGA golf professional and director of the Classical School of Golf
"Hudson played golf at Maclay and went on to the University of Georgia, where he was All American and considered one of the top college players in the country. He missed qualifying for the U.S. Open in 2010 by only one shot. He is now on the Nationwide tour, and I think he will be the first junior golfer from Tallahassee to make it on the PGA tour. He's a fantastic young man. He is highly respected, and I think he'll go far. He's a very accomplished golfer."
Education
JaSun Burdick, 32, physics teacher, SAIL High School ➤ Introduced by Rosanne Wood, SAIL High School principal 1978–2010 and currently an education consultant for Reform Works, Inc.
"Burdick's Robotics team just built a 111-pound robot that threw a basketball more than 40 feet. They proudly placed seventh out of 63 teams at the FIRST Orlando Regional competition, but, more importantly, they are totally hooked on physics and engineering for life. JaSun understands the deepest learning takes place when students are challenged and actively engaged in solving real-life problems."