Food Trucks Are the Fastest Growing Business in Florida
Mobile Food Dispensing Vehicles — AKA Food Trucks — Are the Fastest Growing Business in Florida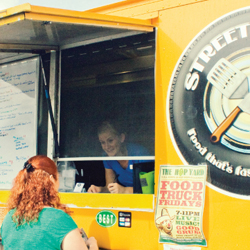 Jenny Foltz
One of many on the go vendors, Street Chefs.
It's a Thursday night in Tallahassee and Rebecca Kelly is making a lot of grilled cheese.
The 38-year old is assembling the classic sandwich using four kinds of cheese, fresh basil, tomato and sourdough bread — plus bacon if you want some meat on it.
"It is cheesy goodness in your hand," she said.
Kelly is one of a growing number of entrepreneurs who are starting new eateries across the state. Except, there is one thing that sets Kelly's roadside café apart from other dining hot spots in the region.
Her restaurant is on wheels.
It's a food truck she bought in 2011. She calls it "Stella."
"It was every penny I had," she said of her purchase.
And Kelly's business, Street Chefs, is not unique to Tallahassee.
According to the state Department of Business and Professional Regulation, food trucks were the fastest growing business in the state in 2011, outpacing their brick and mortar brethren. From November 2010 to November 2011 there was a 10.5 percent growth in the number of food trucks, or as the state calls them, mobile food dispensing vehicles.
But the trucks are hardly the little hot dog stands you might see on the beach or on a city street corner. They're full-scale kitchens on the move.
In Tallahassee alone, there are grilled cheese specialists, Asian fusion/barbecue culinary whizzes and cupcake experts. Local foodies can find wood-fired pizza, a Cuban sandwich or a pulled pork wrap topped with mac 'n' cheese.
Kelly, who unveiled her truck in May 2011 after nine months of planning and quitting her job as a manager at Bruegger's Bagels, focuses on comfort food.
Mac 'n' cheese, and a shepherd's pie wrap with garlic mashed potatoes are on the menu. Sometimes she cooks her grandma's pirogues. Prices are typically in the $6 range.
"There's a lot of creativity that goes into these things," said Steve von Bodungen, deputy bureau chief of inspections for the Department of Business and Professional Regulation, which has worked to promote the burgeoning businesses.
And it's a business that has flourished in a down economy where would-be entrepreneurs can't get funding to open a traditional restaurant.
The 18-county region covering the Panhandle from Escambia to Madison County saw the number of food trucks grow from 173 to 205, an 18.5 percent growth from November 2010 to November 2011, said DBPR. In comparison, traditional restaurants only saw a 2.1 percent growth in that area.
"As the economy has struggled, people are looking for more inventive ways and different ways to start a business," said von Bodungen. "And this is probably the purest form of that."
And they have blossomed in Tallahassee over the past year. Every Thursday night, you will find several parked in a lot on Tharpe Street across from the Lake Ella Publix. A few also gather there at lunch on Tuesdays, serving up meals to those who stop by. And the All Saints Hop Yard, off of All Saints Street, invites trucks to set up in their lot every Friday night.
The state is trying to promote them too. DBPR has held two food truck fairs in their Tallahassee office parking lot, inviting the region's food truck operators to showcase their cuisine in the state's capital city and promote the new type of business. Many of the trucks have a niche, whether it's focusing on a particular type of food, local ingredients or only offering organic food.
Some of the new entrepreneurs crisscrossing the region with their movable diners want to own full-scale restaurants one day. Some simply were looking for the best way to start a business and make money in a down economy. Others were intrigued by the idea and spurred on by the success of food trucks in other cities across the country and the popularity of the show "The Great Food Truck Race" on the Food Network.
One of the newest entrepreneurs trying to make a go of it is 27-year-old James Cullen. A South Florida native, he moved to Tallahassee to attend Florida State and never left. But after graduating in 2010 with a criminal justice degree, he said he only found "part-time, dead-end jobs."
"I decided if I didn't find work, I'd make work," he said.
For about a year, Cullen stewed over the idea of starting a food truck business, and finally decided to take the plunge. He decided to focus on making several different types of grilled cheese.
"I've always enjoyed cooking," he said.
One sandwich, the DanI, has goat cheese, gouda, sautéed onions, fresh basil and tomatoes. Another, Momma Lambdin, has artichoke hearts, sun-dried tomatoes, fresh basil, pepper jack and mozzarella. You can add on items such as prosciutto or grilled onions.
He also has dessert grilled cheeses that feature fruit and Nutella.
Sandwiches are all less than $10.
"Grilled cheese is almost an endless possibility," he said. "Everyone remembers grilled cheese from when they were little, their mom making it."
The hardest part for Cullen was getting the financing, he said. Banks wouldn't even look at him. "I never envisioned it was that difficult to start a business from that standpoint," he said. "It's a cold system."
In addition to putting some of his own money toward it, Cullen hooked up with a Las Vegas group called Seed Capital that focuses on helping start-ups get cash. The group helped him get the business credit lines to pay for his bright yellow and orange truck.
From there, he said, he hit the ground running, setting up a website and social media networks to promote himself, even months before its March debut.
"As my dad would term it, it's getting the real life MBA," he said.
He's now trying to get into a regular pattern, showing up at events around the city as much as possible to showcase his food. After his first few weeks, he announced he would be outside Lucy and Leo's, a midtown cupcakery, every Friday and Saturday night to take advantage of the late-night crowd frequenting the bars in the area.
"I want my food to be accessible to everybody," he said.
He sets up at about 10 p.m. and tries to attract bar hopping 20-somethings as they wrap up their nights at Waterworks, Midtown Filling Station and other area watering holes.
Social media has been a crucial part to both Cullen's operation so far and to the food truck movement across the country in general.
Kelly and several other food truck operators were the force behind Food Truck Thursday. There's a pizza truck, which has outfitted its vehicle with a full brick oven, plus another that serves Filipino cuisine. The popular Cravings Truck serves up plates of chicken and waffles, its specialty.
They dish out meals while customers sit at picnic tables or mill about from truck to truck, listening to whatever music group is playing there that night.
And they rely on social media and word-of-mouth to help spread the word about other food truck events. Most of the trucks have both Twitter and Facebook accounts where fans can track their movements.
Kelly's account over the past month has alerted hungry customers that she'd be at Food Truck Thursday, Railroad Square, the corner of College Avenue and Adams Street and Boulevard Park.
"Social media is the food truck's best friend," Kelly said.
Luckily for the new businessmen and women, the state and the Florida Restaurant and Lodging Association are trying to secure their future too.
The Department of Business and Professional Regulation has had its two events, which Von Bondungen said not only lets people sample the food but also lets them know that the trucks are just as safe as restaurants. They must undergo inspection just like a restaurant, and the trucks must really have a full-scale kitchen. They are required to have a three-compartment sink, fresh water, plus storage for wastewater as well as proper refrigeration and a power hookup.
The Florida Restaurant and Lodging Association is trying to help them, too.
Carol Dover, president of the association, said her organization's membership staff is working on bringing in food truck chefs as members of the group. The group isn't worried about food trucks taking away business from traditional restaurants, she said.
"Some of them are amazing," she said. "We showcased them at our food show this year. It was just unbelievable."
But their future success is still somewhat in doubt. It's still not easy to start a business, cautioned Kelly.
Many are still in the stages of paying off their loans and hoping that their entrepreneurial gamble will be huge successes. "It's not gone as spectacularly as we'd hoped, but it's not gone as terribly as we'd feared," she said.
Kelly said she and other food truckers are constantly seeing new faces at their gatherings, but they are also starting to get regulars. At first it was mostly a younger crowd she said, a lot of college students and hipsters. Now, as the trucks have become a regular presence at lunchtime in downtown Tallahassee, they're starting to see more families at events like Food Truck Thursday and First Friday as well.
In 2009, 148 miles from Tallahassee in Seaside, Jenny and James Murphy were one of the first food truck operators in Florida to break the mold of the traditional hot dog or ice cream truck. They now get asked regularly for advice on how to start up a food truck.
James had been toying with the idea of opening a restaurant, but saw a picture on Google of a man who had converted an 18-wheeler into a barbecue joint. Jenny said she doubted the ritzy coastal town would go for that, but suggested an Airstream trailer as an alternative.
A $250,000 loan, one Airstream trailer and DBPR approval later, they were in business, setting up Barefoot BBQ on 30A in an area that would later be frequented by additional food trucks and trailers.
At the height of the tourism season, they employ 17 people.
And the couple has been thrilled to see the growth in Seaside and across the region in the food trucks. "The great thing is many other businesses have gotten on the bandwagon," she said.
Murphy said she thinks that though other cities have embraced the food truck trend as well — Orlando, Tampa and South Florida also have large food truck gatherings — it's a natural fit for this region.
"It fits so well in the Panhandle because there's such a sense of nostalgia here, so the food trucks and the Airstreams are so well received," she said.
In Tallahassee, the trend shows no signs of slowing down. Status Liquors on Tennessee Street has also started hosting weekly food truck block parties Tuesday nights. And other local bars, businesses and even the city's kickball league have begun inviting some of the trucks out to their events.
Kelly, who is certified through the American Culinary Federation and has worked in the food industry more than a decade, isn't sure how long the trend will last or if her relatively new business will simply be a stepping stone to something else.
"Owning your own business is like having a tattoo," she said. "Once you have one, you start thinking about the next one."
Regular Food Truck Events
Food Truck Block Party: Tuesdays, 5 to 11 p.m., Status Liquors, 2415 W. Tennessee St.
Food Truck Thursday: Thursday, 6 to 10 p.m., 330 W. Tharpe St.
Food Truck Friday at the Hop Yard: Friday, 7 to 11 p.m., All Saints Hop Yard
Follow your favorite trucks on Twitter to find out where they'll be:
Food Truck Hub @foodtruckhub
Street Chef @streetchefs
Sir Cheezy @Sir_Cheezy
Tacos Gringos @TacosGringos
Big Easy Snowballs @SnowballsTally
MoBi @MobiStreetFood
Fired Up Pizza @FiredUpTally
Lucy and Leo's @lucyleo
Tallahassee Food Truck Association @TallyFTA
The Cravings Truck @CravingsTruck
Great American Sandwich Station @G_A_S_Station