The New Shape of Fitness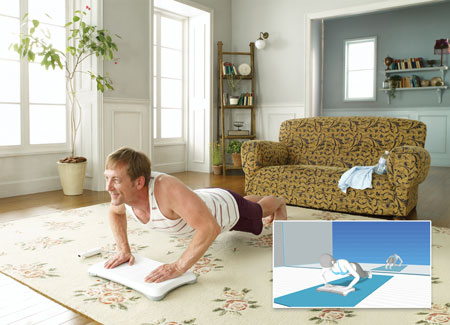 Fight your "battle of the bulge" by following exciting new trends in exercise
Photos courtesy Nintendo of America
The New Shape of FitnessMake Your Workout Routine Anything But with Exercise Trends from the Dance Stage to the Drill Field 
By Beth Nabi
Swimsuit season is upon us, and I have no hope of being bikini-ready. At this point, I'll settle for flip-flop-ready.
Normally, now is the time of year I start dragging my feet through the sand, bored and uninspired by my usual fitness routines. This year, however, I'm out of excuses. Tallahassee has more fun fitness options than ever to get me – and you – back in motion.
The Pole Position
If you're tired of trudging along on the treadmill, try taking a stroll down the catwalk.
With a list of window-fogging titles such as "Strip Cardio," "Club Vixxen," "Bombshell's Cabaret" and "Chair Workout," Art of the Catwalk on North Monroe Street is looking to turn the heat up a notch. The goal of this nontraditional fitness studio is "to get women looking hot and feeling even hotter."
While the studio boasts a packed schedule of contemporary and sexy dance and aerobics classes, the star of the show is its pole-dancing class. As the only studio in town to offer the workout, Art of the Catwalk gives women a one-of-a-kind exercise option. By putting a fitness spin on an activity formerly reserved for adult entertainment establishments, Art of the Catwalk is giving sweet Southern ladies the chance to lose their inhibitions, boost their confidence and get a great workout.
"We have had a really positive response because what we do here is more about acrobatics and movement than being a stripper," says owner Marion Shaffer, who started the studio in March 2007. "We have a very eclectic and upscale clientele, and we enjoy giving them an outlet to have fun, get fit and empower themselves."
But the catwalk is no cakewalk.
"It is much more difficult than what you would expect," Shaffer says. "Personal trainers have taken classes and called me the next day to tell me how sore they are and how much they love it. There is no better core exercise than the pole to carve abs and tone arms quickly."
The class descriptions sound both enticingly exotic and physically challenging: Floor work, pole spins, inverts and suspensions are sure to break your muscles out of their normal circuit routine. Art of the Catwalk's Web site offers helpful tips before taking your first pole-dancing class. Bare legs (lotion-free!) will ensure that you can grip the pole, so short shorts are recommended. And comfortable heels (if there is such a thing) are suggested for dancing, although flat shoes are OK, too. Women of every age, shape, size and skill level are encouraged to give it a twirl.
Visit artofthecatwalk.com for more information on class descriptions and times.
Turn On the TV
Video games have gone through some serious tunnel warps since my Nintendo-cartridge-blowing days. Twenty years ago, playing "Duck Hunt" was as aerobic as it got. Since then, gaming companies – in an attempt to ward off a correlation between the growing popularity of video games and the increasing number of overweight children – steadily have been making their products more interactive.
"Dance Dance Revolution" showed up in arcades a decade ago, and the home version, complete with dance pad, has had gamers on their feet since the early Aughts. Some schools have started to incorporate the game into their physical education programs.
Then, in 2006, Nintendo turbocharged the "exergaming" market with the Wii. Employing motion-sensing technology in its Wii Remote and Nunchuk, the Wii lets players work up an anything-but-virtual sweat with a slew of sports-centric games, including boxing, tennis, bowling, baseball and skateboarding.
And Nintendo is just a hop, skip and a jump away from another revolutionary fusion of game time and gym time. In May, the company releases another "active-play phenomenon": WiiFit. The game, which you play on your Wii console, incorporates a new peripheral device: the pressure-sensitive Balance Board. About the size and shape of a bathroom scale, it guides players through dynamic, full-body workouts that are enhanced by slow, controlled, core-building movements. WiiFit will feature more than 40 exercises in three categories – Aerobic Exercise, Muscle Conditioning, and Yoga and Balance Games – including ski jumping, Pilates, soccer, hula hooping, stretching and tightrope walking.
Since the Balance Board can measure your weight and center of gravity, as well as calculate your body mass index, you'll be able to track your results and progress. However, WiiFit's creators are marketing the game not as a weight-loss product but as a tool to help individuals become more aware of their bodies.
In an interview posted on the company Web site us.wii.com, Satoru Iwata, president of Nintendo Co. Ltd., explains his own experience with WiiFit: "I think it'd be great if people could talk about their balance and weight with their family and others as well – and before they realize it, they'll have become more conscious of their fitness, and that could lead to a healthier lifestyle," he says.
Salsa, Hold the Chips
My first run-in with Zumba came during a late-night TV infomercial. Transfixed by the sweaty, sexy Latin dance moves of creator Alberto "Beto" Perez, I was convinced that even I – a rhythmless white girl whose best dance moves came from a bottle of Malibu rum – could do it.
I never ordered the DVD, but I was thrilled when Sue Tucker, local group exercise instructor extraordinaire, decided to see if Tallahassee was ready to "feel the music." She conducted an open Zumba class that drew 117 people, and the fitness-dance phenomenon has been en fuego ever since.
The spate of reality TV dance shows has certainly helped fuel the phenomenon. Zumba blends high-energy music with Latin-inspired dance combinations, creating more of a party atmosphere than an aerobics class. The philosophy behind it is that if it's fun and easy to do, you'll stick to it and reach your fitness goals. It offers an intense, low-impact cardio workout that also incorporates body-sculpting, muscle-toning movements.
"When you come to Zumba, every class is different," Tucker says. "It's very energetic, and anyone can do it. When you get done, you're dripping in sweat and cannot believe an hour went by."
While more and more venues in Tallahassee are offering Zumba classes, Tucker, who was named Best Dance Instructor at the 2008 Tallahassee Fitness Festival, and her husband, Howell, were the first certified Zumba instructors in the city. They now teach classes all over town, including at Premier Health and Fitness Center, Forest Meadows Park, Women's World and Gold's Gym Northside.
"About a year ago, a woman came up to me after class and told me how great she felt for the first time in years," Tucker says. "She had just won the battle against two different cancers and was about 100 pounds overweight. She said that for the first time in a long time she felt good about herself. That woman – Randy Baez – has lost 90 pounds now, is cancer-free and teaches with me."
Zumba attracts an incredible variety of participants – with men and women of every age showing up to cha-cha-cha their way to better health. Even Tallahassee's first lady, Jane Marks, is both a Zumba fan and instructor.
Visit zumbajunkie.com for a full schedule and list of prices.
Hup Two, Size 4
If your workout style is a little less "shake what your mama gave ya" and a little more "your mother wears combat boots," then it's time to enlist in boot camp. Military-style fitness programs promise an intense, efficient full-body workout – and usually before the sun peeks over the horizon. Participants are put through the grueling paces with calisthenics such as sit-ups, pushups, pull-ups, jumping jacks and the very appropriately named suicide drills – all with little rest in between. The idea is to push your body to the limit.
Boot camp workouts offer a one-two punch of motivation: You get the benefit of one-on-one personal training and the camaraderie of a group of people as dedicated (though your coworkers will call it "crazy") as you are.
Boot Camps To Go, named Best Overall Fitness Program at the 2008 Tallahassee Fitness Festival, has been whipping Tallahasseeans into shape since August 2005. A personal trainer frustrated with the tedium of gym life, founder Laurel Blackburn looked at fitness trends happening in the big cities and thought, "Why can't I do that here?"
She teamed up with her brother, Michael Alvarez, to start Boot Camps To Go. Three years later, their classes have as many as 125 participants, who comprise a diverse platoon of people.
"We see med school students mixed with moms, middle school kids mixed with lawyers and doctors mixed with cheerleaders," Blackburn says. "And they all love it because it's different every single time they show up."
By offering a unique workout every time, Boot Camps To Go ensures that your body doesn't get used to a routine, which leads to faster results. While traditional workouts may produce results after six to eight weeks, Blackburn says most boot campers start noticing significant changes – dropped sizes and new belt notches – in their third week.
Whether you're climbing a rope, doing rows on gymnastic rings, flipping a tire or swinging kettlebells (sort of like a cannonball with a handle – Russians have been using them in military and athletic training since the 1700s), boot camp gives you a workout that is highly cardiovascular while building strength and endurance.
"You can't help but feel empowered when you leave," Blackburn says.
Visit bootcampstogo.com for pricing information and to learn how to sign up for a boot camp session.
So, grab your combat boots, stilettos, sneakers – or go barefoot – and just get moving. See you on the beach – I'll be the one in size 7 – flip-flops.