The 'Natural' Solution
More and More, African-American Women are Abandoning Relaxers and Enjoying the Hair They Were Born With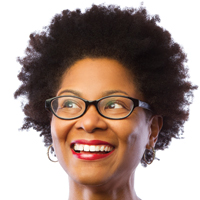 Getting my hair straightened, whether with sizzling-hot metal combs or potent chemical relaxers, was a routine part of my life for more than 30 years. Every six to eight weeks I spent hours in salons, sometimes braving a scorched ear or burning scalp, to turn my naturally thick, cottony hair into silky strands.
Four years ago, I decided I wanted out.
Like a lot of African American women who grew up having their tight coils and curls transformed by chemicals, I ditched the relaxer — better known as "the perm" — and gradually grew out the tresses that nature gave me. It was a largely practical decision.
Florida's rain and humidity regularly made a mockery of my sleek bob. If I started to sweat too much, got caught in the rain or got into a swimming pool, it meant two precious hours of complete hairdo reconstruction. "Relaxer" was the ultimate misnomer.
Going natural doesn't exactly represent a brand-new trend among black women, who have always worn their hair in a range of styles.
But something in the culture has shifted in recent years, making it a much more visible and popular option.
Stores like Target and Walgreens now stock products made especially for black and multiracial women with naturally textured hair. Models with natural hair are featured in ads for brands like Dove and Publix. Oprah revealed her unstraightened hair on the September 2012 cover of O magazine, and Oscar winner Viola Davis famously wore a short afro on the red carpet. Google "natural hair blog," and you'll come up with dozens of hits.
Evidence of natural hair's ascent was on full display locally at the first Capital City Natural Hair & Health Expo last September. Held at the Woman's Club of Tallahassee, the first-time event was a magnet for hundreds of women of all ages seeking information, inspiration and products made just for their hair. The expo went beyond hair to include overall health and wellness, but many attendees were drawn to the theme of embracing natural beauty. Nationally known brands like Miss Jessie's and Jane Carter Solution donated swag bags full of product samples, and stylists from New York to Miami were on hand for the expo's natural hair show.
Natural hair's movement into the mainstream is due in part to women's desire to make healthier lifestyle choices, said Charlene Balewa, who co-presented the expo through her event company, Tallawah Events and Promotions. Chemical relaxers, when applied improperly or too frequently, are notorious for ravaging hair and searing scalps. There's a much-discussed scene in comedian Chris Rock's provocative documentary "Good Hair" where a soda can is dunked into sodium hydroxide — the base for many hair relaxers — and it disintegrates after a few hours.
Valencia Jones, co-owner of Mandisa Ngozi Braiding & Art Gallery in Tallahassee, which also co-presented the expo, began braiding hair in 1996 when she came to Florida A&M University to study psychology. She began to notice how her clients' formerly relaxed hair flourished once their natural texture began to emerge from beneath the braids. Jones eventually stopped chemically straightening her own hair and experienced a similar transformation.
"It was just really healthy without the chemicals," said Jones, who now wears her hair in thick locs. "I just thought my hair had so much more character."
Of course, some black women simply prefer to wear their hair straightened as a style choice — nothing more. But there is no denying the deeply rooted prejudices that long drove the quest to achieve and maintain straight hair by any means necessary. In terms of hair, "beautiful" is often code for silky and straight or loosely waved — whiter, to be blunt. The historical bias against African-American hair textures as less desirable is real and sometimes difficult to overcome.
"I've heard that some women think they aren't going to get dates" if they go natural, Balewa said.
But the fact that more and more black women are comfortable with making the transition at all is a sign that things are changing. (As I write this, I'm looking at the cover of a new comic book, "Halloween Eve," whose protagonist is a black woman with thick, tight curls.)
"It really has to do with us as a people and pushing past those things from the past that said we're not beautiful and that we're not fitting into what's supposed to be the norm," Balewa said. "Who establishes that? How can you say that what I'm born with isn't good enough?"
After so many years of wearing a perky, news anchor-style bob, I wasn't sure what to expect when I revealed my textured afro for the first time. The response from friends and colleagues was overwhelmingly positive, and now that I have no fear about what rain, swimming pools or intense cardio will do to my hair, I can't imagine going back. But I've never forgotten the question a relative asked me after she learned I wasn't going to straighten my hair anymore.
"So what are you going to do with your hair?"
My answer: "Wear it."