The Moses Basket Project
A needed service from a surprising source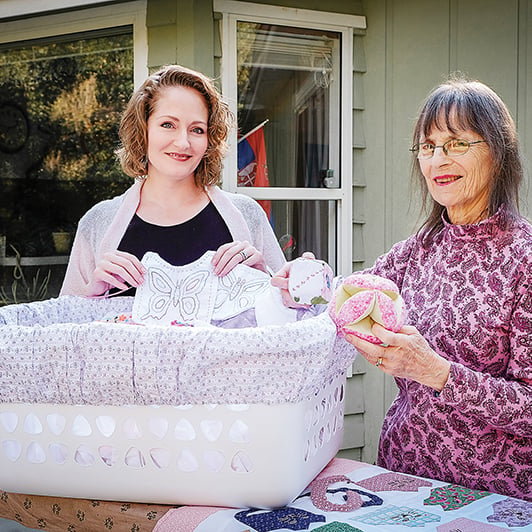 In 1937, 65 out of every 1,000 babies in Finland did not survive infancy, often because of co-sleeping with parents or siblings. In 1938, the Finnish government began sending each of the country's expectant mothers a 28-inch-long box containing baby supplies and a small mattress that fit into the base of the box. After the government started giving out these box-bassinets — thereby enabling families to maintain separate sleeping arrangements for their newborns — the mortality rate dropped to 3.4 per 1,000.
By 2006, the rate had dropped further, to 2.8; but 5,000 miles away, in Gadsden County, Florida, the infant mortality rate was a disturbing 10.6 per thousand.
When Tallahassee resident and former attorney Sheila Callahan learned about this alarming statistic, she and two friends decided to do something about it. At the time, Callahan's mother was involved in a program in Manatee County that was similar to the Finnish program in most ways, but different in others. While both programs supplied baby beds, the Manatee program volunteers called theirs "Moses baskets," after the Hebrew prophet who, as an infant, was placed in a basket and set adrift on the Nile. Also, while both the baskets and boxes came with mattresses, there was something unique about the Moses basket mattresses: They were made by inmates of Manatee County's prison.
Callahan had represented indigent criminal defendants as an appellate attorney for several years, and the idea of asking inmates to help with her own Moses Basket Project appealed to her. She and her friends asked officials at the Gadsden Correctional Facility (GCF) if the prison's female inmates could help to make the mattresses if the volunteers provided the materials and taught the women to sew by hand.
The officials agreed. The inmates, however, had other ideas.
"They didn't want to stop with making mattresses," Callahan says. They wanted to make it all: mattresses, fitted mattress pads and sheets, receiving blankets, fleece blankets, quilts and crocheted hats, all tucked into sturdy, plastic laundry baskets — the Moses Basket Project's version of Finland's cardboard boxes.
The inmates also used leftover scraps of fabric to create bibs, washcloths, toys and more.
Since the program's inception in 2006, inmates and volunteers have completed 535 Moses baskets and 820 additional "tummy-time" quilts, for a total of 1,355 baby quilts.
Today, Callahan and three other volunteers, Judie Chester, Joanie Dufek and Barbara Hudson, meet in GCF's recreation hall on Wednesdays and every other Saturday to support and assist the inmates in creating Moses baskets. Numerous other individuals and organizations have also contributed to the program over the years.
About 60 inmates at a time work on the baskets as part of a six-month class, and there is a wait-list to get into the program. Some of them knew how to sew before they got in, but at least half didn't.
At orientation, each participant receives written instructions that test her sewing and reading skills. This test has led Callahan to refer several to the prison's literacy program. She also slips in some basic math lessons when she can. It's something she learned from her grandmother, who taught her to sew.
Like her grandmother, "Miss Sheila," as most of the inmates call Callahan, has made a profound impact on the women she serves, as have all the volunteers.
"All my life, I never felt like I belonged anywhere," says Cindy, an inmate whose deteriorating vision forces her to sew mostly by feel. "These ladies help me feel like I belong. 'Moses' is a big thing to me. It takes me out of here for a while and gives me peace of mind."
Cindy has been incarcerated for five years and has 11 months to go. That's enough time, she says, to learn a few more sewing skills, which she plans to take with her into "the free world."
"Even if I don't get a job sewing, I'm going to get a group of ladies together, and we're going to sew and send what we make to Miss Sheila," she says.
According to the Florida Department of Corrections, around 25 percent of Florida's ex-offenders end up back in the system. Callahan is proud to say that several Moses Basket Project graduates who left GCF now have jobs with upholstery and alteration businesses, and, as far as she is aware, only two program graduates have returned to prison.
The Moses Basket Project volunteers are confident that the skills and principles the inmates learn in the program are going to be useful to them no matter where they go.
---
FAQ
Q: About how much does it cost to make a complete Moses basket?
A: The materials cost about $50. The cost for each baby quilt is around $15. In order to meet their goal of making 60 complete baskets and 80 additional quilts in 2018, the program will need $4,200.
Q: What can I do to help?
A: Monetary donations are welcome, as are sewing and baby supplies. If you don't know what to make or buy, consult the wish list on the "Moses Basket Project" Facebook page. If you'd like to volunteer but don't sew, knit or crochet, you can still work with the inmates, sort and cut fabric or make deliveries. Contact Sheila Callahan at (850) 508-0565 for more information.