The Mickee Faust Club
Rules-averse theater is governed by the spirit of inclusivity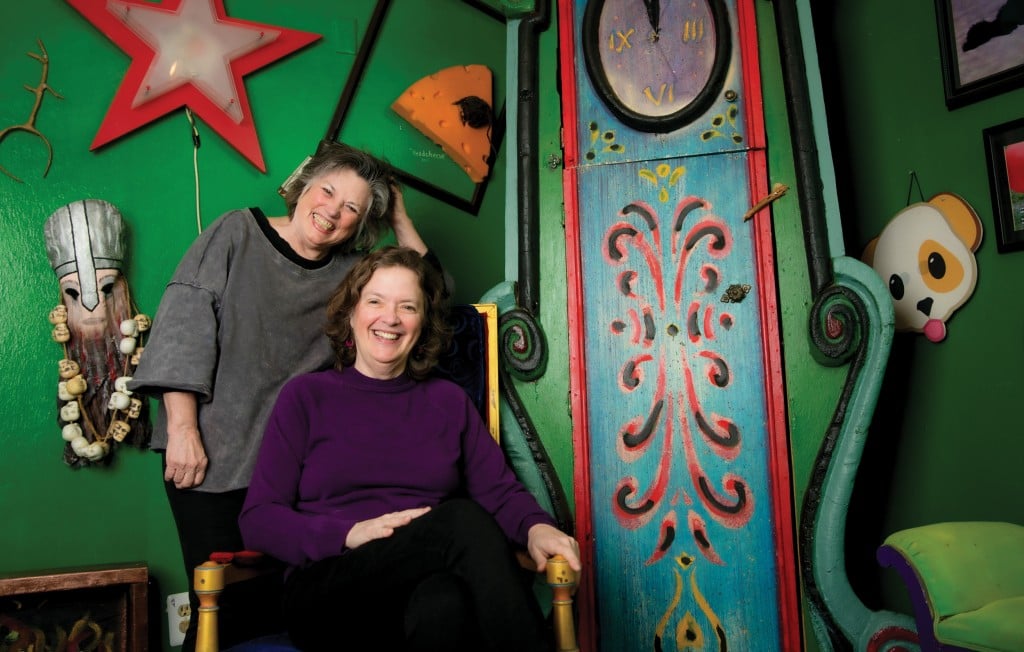 Thirty-four years ago, Terry Galloway and Donna Nudd, the creators of the theater, moved from Austin, Texas, to Tallahassee. Nudd accepted a position in the Department of Communication at Florida State University, and Galloway worked on slaking her longtime thirst for performance.
They brought with them plans for an alternative approach to theater arising from their connection with Esther's Follies in Texas. Both came from theatrical backgrounds. Galloway had a desire to reprise an anti-Mickey Mouse character she performed while in Texas. This came to fruition when she moved to Florida.
What better place than Florida to act out as the evil twin of Mickey Mouse? Thus, the Mickee Faust Club was born. Notice the revised spelling of Mickey? At the end of every performance, cast members mischievously sing, "Why EE? Because we don't want to be sued by Walt Disney. That's why."
The club's first productions were held in the back room of The Warehouse. The cast members consisted of mainly academicians. Throughout the years, the troupe has included plumbers, professors, students, veterinarians, a drag queen, a Mennonite, an award-winning public radio announcer, an Episcopal curate, a yoga instructor and many, many state workers. A very eccentric group, indeed.
The goal of the club is to present three shows a year. Two are cabarets comprising original material presented in a series of skits. The third is either a take on Shakespeare — examples included Moveable Midsummer's Night Dream and Murderous Moveable Macbeth or a full-length original production such as The House of Moles and The Mystery of the Violated Vagina: A Tragic-comic Musical.
In addition to stage performances, the club offers free workshops — something rare in Tallahassee. They also took the lead when Gay Pride month was not offered in Tallahassee by creating a "Queer as Faust" cabaret, which is celebrating its 15th year of production.
Faust is an all-inclusive group that includes people with disabilities, people from the LGBTQ community, and your average, all-American Killearn housewife. This mixed bag of folks works together to create madcap comedic skits for a format much like that of Saturday Night Live. The difference is that Faust skits are not subject to the strict censorship rules that apply to TV shows.
On performance nights, the atmosphere at the theatre, now located in Railroad Square, is one of frivolity on stage and in the audience. The productions are not only entertaining but are also rich in social commentary and satire. Although the scripts lean toward the comedic realm, some have been serious, addressing a personal family tragedy, victims of AIDS and those killed at the Pulse nightclub shooting.
Each script is revised during numerous writers' meetings until the final product is produced. The cast members write, direct and choreograph, as well as perform. They construct sets, paint walls, clean the "clubhouse" and create their own costumes. Most everything is done on a volunteer basis.
The cast and crew are not confined to only performing skits on stage. The company has produced award-winning video shorts and radio shows. Recently, due to the pandemic, they produced two virtual shows, a new challenge for Faust that they successfully met head-on.
Unlike other theatre groups in town, Faust accepts people with varying abilities. The club encourages all participants to try things they never thought they would do or were not permitted to do in the past. That inclination resulted in large part from how Terry Galloway was treated as a young deaf performer in college; she was not allowed to enroll in the drama department because of her disability.
Formally known as "The Mickee Faust Academy for the Really Dramatic Arts: Community Theatre for the Weird Community," the company is sustained by donations and grants which helped build its current home with a moveable backyard stage, an accessible restroom, a theatre that can hold as many as 100 audience members, plus a large changing room for the performers. This is a marked departure from the early days at The Warehouse.
If you have been a fan of Mickee Faust since its inception, you may remember the many musical parodies performed by the troupe such as Tallahassee, set to the tune of Anatevka from Fiddler on the Roof and a piece entitled Pooping at Work, a play on words from Disney's Little Mermaid song.
There was an irreverent political satire that targeted Supreme Court judges; a 10-foot monkey dancing to the tune Monkey Bungo; a black-light performance featuring original music; and a Benny Hill-type performance that brought to life the Mad Hatter from Lewis Carroll's Alice and Wonderland. Even when Mickee Faust borrows ideas from the likes of Shakespeare, Disney, Tennessee Williams, Stephen Sondheim or Robert Fosse, the players put their unique stamp on the material.
The pandemic gave Fausketeers an opportunity to complete maintenance chores on the interior and exterior of their clubhouse.
"With every stroke of my paintbrush, it was therapeutic to believe we would be back," Nudd said.
Troupe members are eager to again smell grease paint as they listen to the live preshow music from the backyard and wait for the lights to flicker to indicate the show is about to begin.
For loyal followers, it is time to anticipate an upcoming original, funny musical, The Cursed House of Ravensmadd, a feminist, funny, queer parody of Victorian Gothic novels.
As one veteran cast member explains to people who attend a Faust show for the first time, "Be prepared to encounter something unexpected."