The Message of the Gumbo
'Sauce Boss' Bill Wharton stirs things up … for the better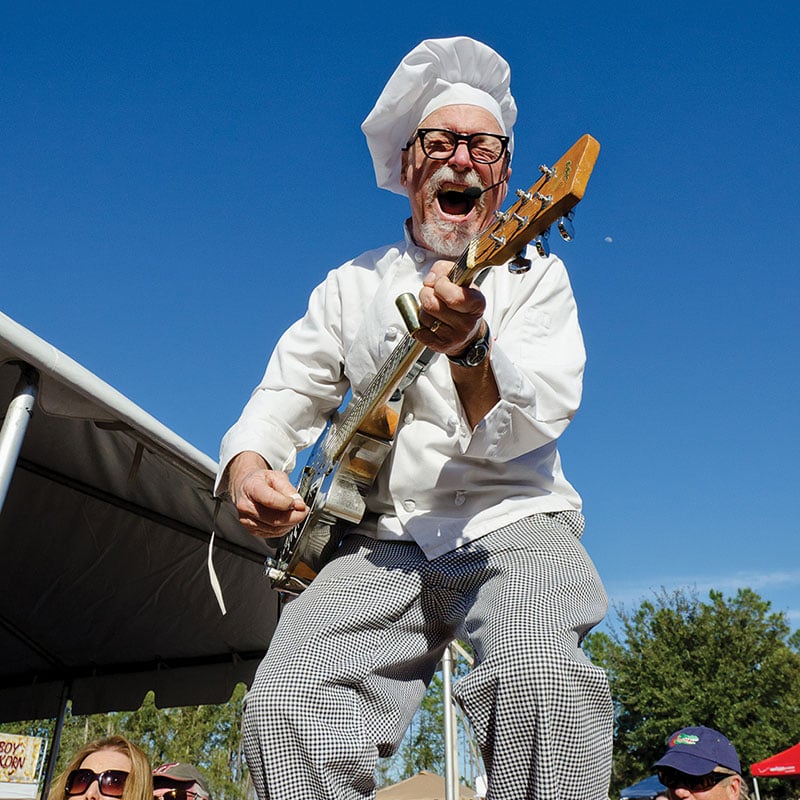 Bill "Sauce Boss" Wharton's Railroad Square practice studio is a throwback to a simpler time — much like his reliable 1948 Fender Pro-Amp ("It's played thousands of gigs") and 1953 double cutaway Telecaster. The studio is exactly the kind of inner sanctum you'd expect from an old-school, slide guitar blues-picker like Wharton: Simply furnished (there's an old couch, a fridge, some pickin' stools) with just enough space for himself, his gear and some friends. It's a completely laid-back, musical man cave.
Wharton is an easy-going, soft-spoken guy, but his alter ego is something completely different: The Sauce Boss is a high-energy rock 'n' roller who has revved up thousands of fans for years with his unique brand of "funky swamp blues" and his own type of hot sauce, Liquid Summer, which he features in a gumbo stew he's cooked up on stage since 1990. Since then, he's served up 210,000 bowls, all for free, in an effort to bring harmony to people all over.
For the Sauce Boss, it's all about breaking down barriers. To do that, his show involves a lot of audience participation. He almost always brings somebody up on stage to help him tend to the gumbo while he tells a story or lays down some cool, original blues.
"I want to take away the typical restraints. With me, this thing I do is not like a show where I'm on a stage. All the lines are blurred," he says. "I'm trying to have a community where we're all involved. When people stir the gumbo, it becomes laid back. When the moment happens, people really, really remember it. From the first note to the last note, from the first bite to the last drop, it's all original."
But it's not just a stage act. He deliberately tries to teach us something about ourselves — something that will last beyond the time spent at a concert.
"Whenever you walk down the street, we're all different. But instead of saying 'you're different,' and getting all bent out of shape about it, we should celebrate our differences and work together," he says. "That's the message of the gumbo. We are the gumbo."
---
Bill Wharton's Gumbo
Ingredients:
2 cups flour

1 ½ cups oil

1 chicken, cooked and de-boned

1 gallon chicken stock

2 large onions, chopped

2 large green peppers, chopped

1 bottle Liquid Summer hot sauce

1 pound smoked sausage, sliced

2 medium zucchini, sliced

1 pound okra, sliced

1 pound shrimp, shells and tails removed and de-veined

1 pint oysters, shells removed

1 pound crawdads, shells on
Directions:
Make a roux by heating 1 ½ cups oil in a large pot, then whisking in 2 cups flour. Cook on high, stirring constantly, until flour mixture is brown. Add the chicken, chicken stock, onions and green peppers. Bring to a boil, then reduce heat to a simmer. Add salt to taste and half of a bottle of Bill "Sauce Boss" Wharton's Liquid Summer hot sauce. Add smoked sausage, zucchini and okra. After the okra is done (about 10–15 minutes), turn up the heat and add shrimp, oysters and crawdads. Cook for 3 minutes, or until seafood is just barely cooked. Serve over rice and splash
with more Liquid Summer Hot Sauce.
Visit sauceboss.com to keep up with all of Wharton's adventures.
---