The Makings of a Mantel
Designers Surrender, You Can Put the TV Above the Fireplace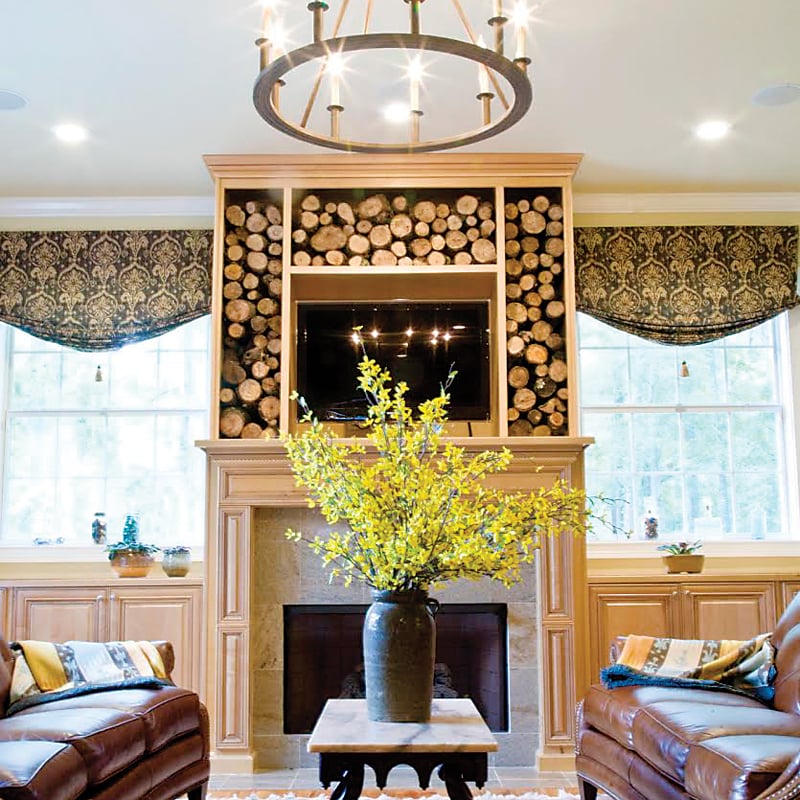 The battle between interior decorating professionals and average Joes everywhere has come to a bitter, bitter end. Decorators, utterly spent from fighting the good fight, have retracted their ban on televisions being gloriously mounted above a flickering fireplace.
Mika Fowler
This "farmhouse-style family room with a Santa Fe flair" surrounds the above-the-fireplace television set with real wooden logs. "At first we wanted aspen logs or white birch, but the cost was significant so we mimicked the same look with regular old Tallahassee firewood," said designer Laura Bryant. "We had them cut and stacked by Tony's Garden Patch."
The New World Order did not come without some serious contemplation — and perhaps a little heartbreak. In the end, their reasoning was pretty straightforward: Aesthetic principals mandate that whenever a fireplace is present (yes, even in Florida), it should be the focal point of the room. Reality requires the same of the television set.
Alas, it was a conundrum with only one clear solution. Now, it's all about making this new age look cohesive.
"I think, as a rule of thumb, it's usually easier to use a balanced, symmetrical composition when you have the television above," explained Laura Bryant, Tallahassee's Best of 2014 Interior Designer. "And then it's more fun to do something asymmetrical when you have a beautiful mirror or piece of art mounted above."
Some of Bryant's most trusted tricks for perfecting a mantel design involve blending unexpected textures in small groupings to create interest. A bit of sheen here, a rustic, blackened bronze or wrought iron trinket there, and the style is complete.
A word of caution, though: One thing design enthusiasts aren't ready to give up on just yet is their general disapproval for tiny, personal photographs cluttering up an otherwise impressive mantelpiece. Instead of placing framed photos above the fireplace, consider giving them their own special designated gallery wall or viewing table so they can be properly admired.