The Magic Behind This TV Show Host Power Couple
Married Show Hosts Support, Critique and Encourage Each Other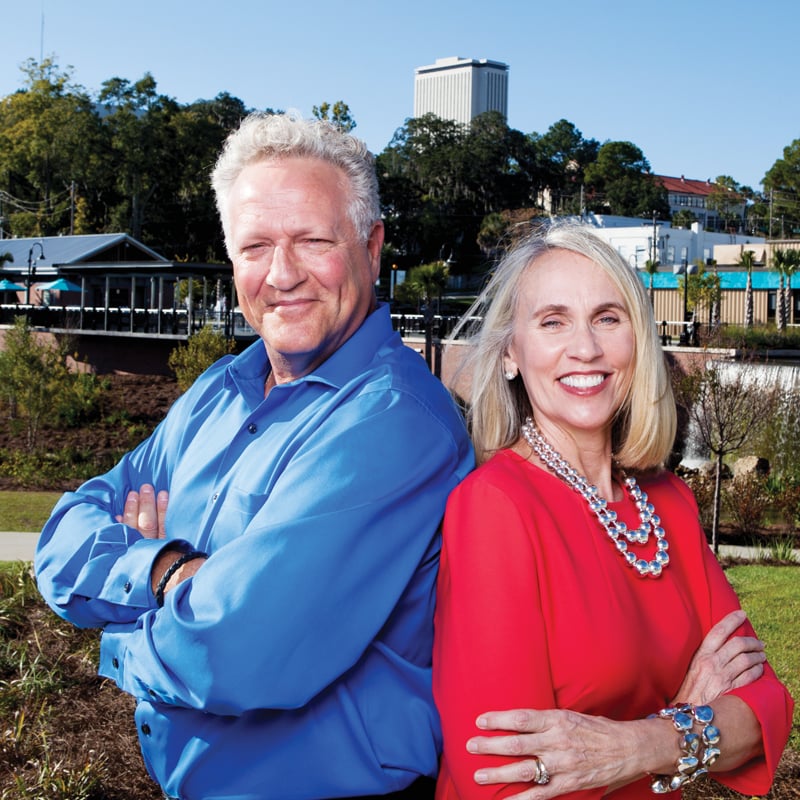 Gary Yordon and Berneice Cox aren't your typical Tallahassee power couple. Sure, both are successful movers and shakers in the political arena — she's a longtime lobbyist and he's a campaign consultant and former Leon County commissioner — but there's another dynamic at work here: Each has their own television show.
Hers is titled "Our Issues Tallahassee" and airs Saturdays at 5:30 a.m. and Sundays at 7:30 a.m. on the local NBC affiliate station, WTWC. His show, "The Usual Suspects," airs on the local CBS affiliate, WCTV, at 11 a.m. Saturday and Sunday on its sister stations. "Usual Suspects" has been a weekend staple for 14 years on CBS affiliates in 28 counties across North Florida and 10 counties in South Georgia and Alabama. Overall, Yordon has worked four decades in the television business; Cox, the newbie, is just wrapping up her first year as a TV host. The couple have been married for 25 years.
"I'm brand new to television, so it's been a bit of a learning curve for me," said Cox, who co-produces, writes for and hosts the NBC show. "It was totally outside my comfort zone. I'm a behind-the-scenes, off-the-radar kind of person for the most part. It's been extremely helpful that Gary has had 40 year's experience and that he's been able to lend his guidance and give me advice."
The two shows don't really compete against one another in a ratings sense because each has its own purpose and subject matter. The other thing that's different is how the pair do their jobs. Yordon likens their approach to how they go grocery shopping as a married couple.
"She's more thoughtful about checking out ingredients and thinking it through, when I'm running down the aisle grabbing stuff and throwing it in the basket," he said. "I think our shows take on our personalities."
Cox profiles local nonprofit organizations on her show, and most of her work is done on location after an intense process of research, fact-finding and planning. By contrast, her husband's show is a politically themed roundtable discussion with guest pundits filmed in the studio. His show's subject matter is taken from the day's headlines and requires very little "show prep."
"There's very little planning that goes into my show," Yordon said. "Hers is, she's got to do all kinds of research, she's got to track people down, and mine is, 'Let's show up and what do you want to talk about?' My show prep is just watching the news. It's symbolic of how we are in our lives. Berneice is thoughtful about things. She does a lot of homework, does her research and looks at all the layers. I'm the kind of guy trying to catch a balloon on the edge of a cliff. I would have trouble doing her show. It would be a chore for me. It would be actual work."
At home, the couple often rely on each other for supportive feedback.
"And it's always incredibly well received," Yordon said with a chuckle. "It's the same dynamic you would have in any relationship. I think the same way we kind of operate in our marriage (is how) we sort of operate in our mutual critiques of each other's product. And you know, that's kind of fun, really."
Cox said she tends to take it more personally when her husband is critiquing her than if it was coming from some other source with the same experience he has.
"I don't take it as personally whenever they're trying to critique me," she said. "Vice versa, when I critique him, a lot of it for me is from having been involved in state politics for 25-plus years."
And that's something he has learned to appreciate. Yordon said his wife's political experience comes in handy when he's lining up guests for his show. She helps him avoid "minefields," he said.
"More times than I can count, I've told her who my guest was coming up and she will warn me about something or guide me through," he said.