The Low-Down on Laminate
Durable flooring has surged in popularity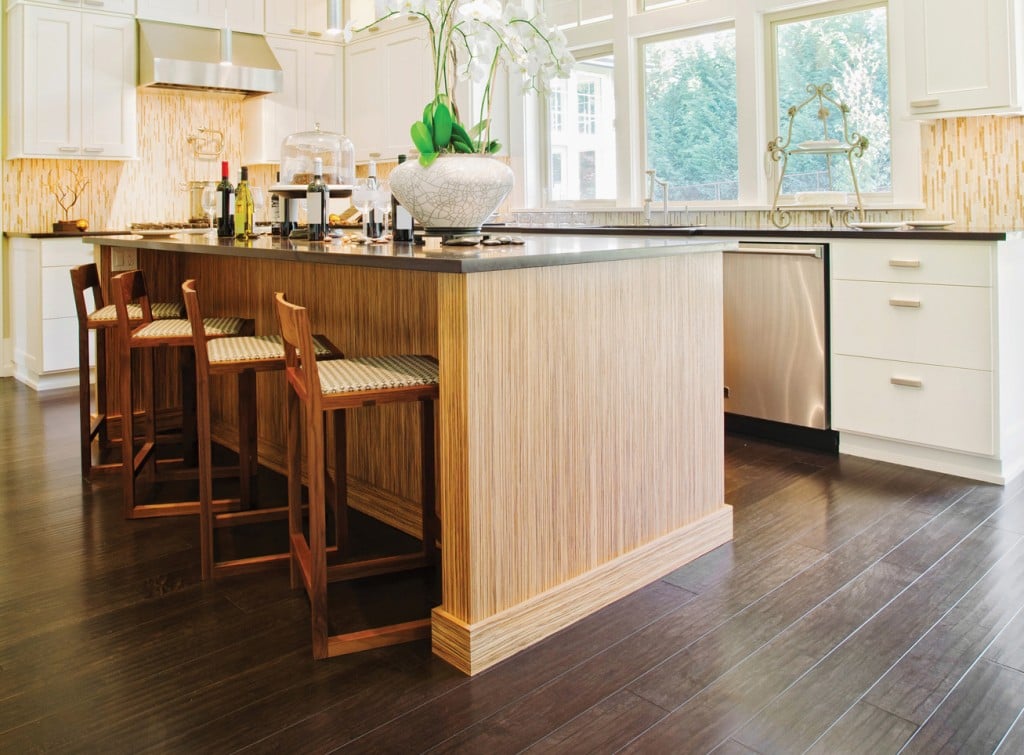 Art attracts attention, we may fixate on new fixtures and furniture fascinates, but flooring is foundational.
From carpet to hardwood to tile and more, flooring options abound. Among them, laminate, in particular, is generating a lot of new interest.
Laminate can be traced to Sweden in the 1920s but was not widely used in the United States until the 1980s. The early versions of laminate, while affordable, were limited as to styles, and quality was often less than desirable. All that has changed in the 2000s.
"Over the years, technological advances have given laminate a new life, so to speak," said Shawn Yoakam, president and owner of Southern Flooring and Design Inc. in Tallahassee and Crawfordville.
"High definition photograph imprinting and embossing make a laminate look amazingly realistic," he added. "From a more practical point of view, price point and durability top the list of reasons for choosing laminate."
Brian Barnard Jr. at Flooring America in Tallahassee said laminate quality suffered after the product was first marketed as manufacturers worked to keep up with the demand for flooring that was very suddenly popular.
In recent years, he said, the product has been made more water resistant through the addition of new materials to the core of the planking.
"It may even come with submersion warranties," Barnard added.
Today's embossed finishes add wood-like texture to the product and make it less reflective, he said.
The most notable advance in laminate technology is the introduction of Hydroseal, a hydrophobic coating that repels water and prevents swelling of planks.
In shopping for laminate, look for products with a strong moisture seal. The laminate should also be at least 8 millimeters thick. Most laminates at 7 millimeters or less are less likely to maintain their structural integrity. Especially in Florida, it is essential to maintain climate control. Failures to keep a home's air properly conditioned may leave the door open to swelling problems.
For people set on a wood look in all rooms, Michelle Roberts, owner of ABC Flooring, suggests waterproof luxury vinyl plank floors because they can be installed throughout the house without fear of water damage. Laminate is not recommended for bathrooms or laundry rooms, but for all other active rooms, laminate is a reliable option.
Active families and heavy-traffic rooms are ideal candidates for laminate because the flooring is coated with an aluminum-oxide finish that resists scratches and dents.
Yoakam advises people looking for a high-quality laminate to pay attention to the Abrasion Criteria Rating. The AC Rating is a way of determining the durability and recommended usage level. Ratings of AC3 and AC4 are the best options for heavy foot traffic and long-term use.
"Laminate is best suited for an active household," Yoakam said. "It's a flooring made to withstand a growing family, pets, sleepovers and get-togethers without worrying over drops, spills or scratches."
In recent years, laminate has upped its aesthetic appeal and comes in a variety of styles and finishes from weathered heart pine to wire-brushed European oak and exotic South American woods.
"Laminate styles with embossed and registered textures and beveled edges look more realistic than the older smooth laminates that were available 20 years ago," Roberts said. "These days, most guests wouldn't be able to tell whether you have wood or laminate flooring in your home."
Laminate gives homes an affordable look of luxury. The prices of laminate can range from 99 cents a square foot up to five bucks and change. Options of the recommended 8-millimeter (or more) thickness start at $3.
A certified flooring specialist can help homeowners find laminate flooring that is stylish, practical and practically priced.