The Life, Careers and Loves of Agustin and Elsa Corbella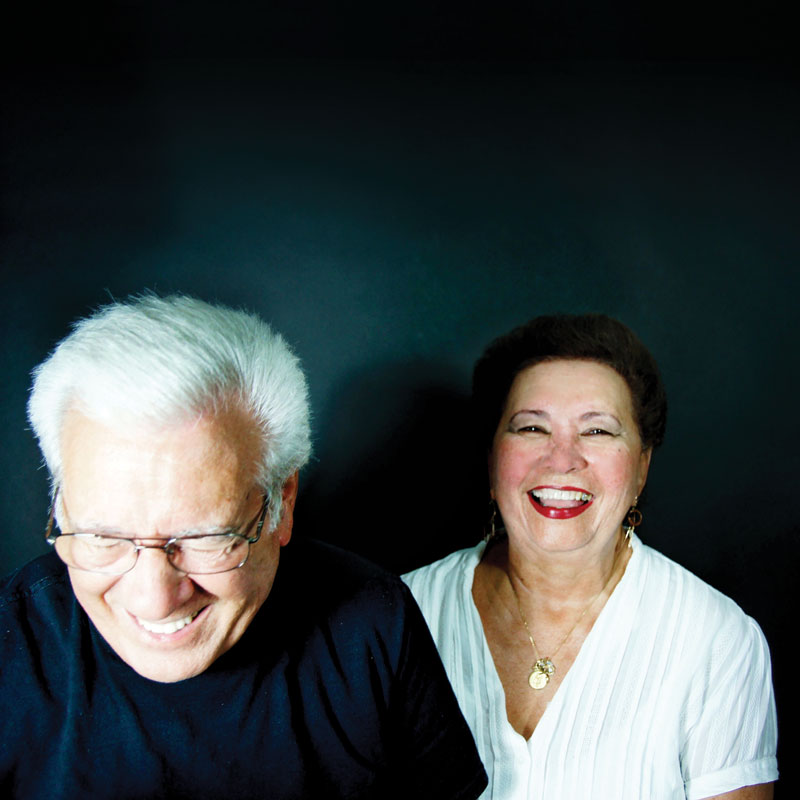 He is an artist and raconteur with soft features, silver hair and round, dark eyes that glimmer with genuine kindness. She is a sharp, logical, yet open-hearted woman whose wide smile and joyous laughter makes anyone she meets feel like family. They have faced challenges and enjoyed numerous triumphs. But their backgrounds are unique, their stories remarkable and their personalities inspiring.
Their life story has many chapters, but here's how it all began:
Agustin Corbella was born in 1932, a few years before the Spanish Civil War began. He grew up in Barcelona, politically one of the most extreme left provinces in Spain. At the age of 4, Corbella feared for his life as the chaos of war consumed the entire city.
"We were in the fourth floor, and we'd see it in the street; it was a mess," including dead bodies littering the streets, he recalled of the destruction wrought by both factions.
His family left Barcelona's city center a year later, moving into a smaller neighborhood called Horta. But eventually, Horta faced the same terror; his family then moved to a little town in the mountains, where they stayed until 1939. Even in remote places, people were not safe from the raids and violence, Corbella remembered.
"I was scared to death," he said. "All these soldiers, they put fire in the church. They killed the priest in the church." And that was in a town with no involvement in the war, solely populated by civilians. "We were going to (a church) service. Imagine; the war was going, and we were so isolated that we were going to service Sundays," he recalled incredulously. "And then one day these guys arrive. … They killed; they did whatever they pleased there."
Once the war ended, Corbella and his family returned to Barcelona. But the terror was not over, especially for Barcelona and its rebellious home province; the war's victorious dictator Francisco Franco made sure to continue the persecution.
Corbella began working at age 13, making jewelry to help support his family. Like many children at that time and in that situation, school wasn't an option. Although being forced to work in jewelry made him hate the craft for a time, he would return to making it many times in his life. It would become one of many creative outlets through which he expresses himself.
One of Corbella's most prolific and astounding modes of expression, in addition to his jewelry and many beautiful paintings, are his novels — he has written 19 in total, beginning with "The House of My Memories" in 1964. Through these, he examines many themes and events, with particular focus on human nature and history — including the Spanish Civil War. His goal is to transport his readers and put them in his characters' shoes.
Elsa Corbella, who also enjoys making crafts and miniatures, has read many of his novels and has always found the experience fascinating, if not a bit surreal.
"I know that it's him that is writing; I can see him in the writing. For me, I think it's very interesting," she said, adding that she often wonders how he can have such expansive worlds in his imagination.
In true poetic fashion, Agustin compared his artistic inspiration to the sea. "It goes, goes, goes and doesn't stop," he smiled. "Like waves."
Agustin had moved to Elsa's hometown of Maracaibo, Venezuela, when he was 19, many years before they met. He was travelling with the jewelry maker he worked with in Spain, with whom he had left the country to escape the war's horrific aftermath. In Venezuela, he had begun a new life making jewelry for a larger company, and in 1964 he began running Pan-Am tours through various routes all over the world each summer in his time off from making jewelry. On one of these tours he met Elsa.
Elsa Alvarez was born in 1936, and grew up very poor until her teen years and her 20s, when her father's store had taken off, carrying her family into the upper rungs of high society.
In her spare time, Elsa enjoyed being active and spending time outdoors: biking, running, walking, skating and dancing. She also loved children and doted on her nephew. Her love of family was always pronounced, and she was described as kind, candid and energetic — but also very shrewd and calculating. She wanted to work, but her father would hear none of it.
When she was 32, Elsa went on a 30-day Pan-Am tour across the United States with her siblings and sat next to the tour guide on the plane. Although they were just friends during and after the tour, Agustin still insists that his wife was enamored with him from the start.
This remained the case for a year, as they went to movies and dances together. "After this we travelled again, but we travelled to Europe, and in France we fell in love," she recalled with exaggerated nostalgia and a laugh.
Donna Cay Tharpe, one of the Corbellas' friends here, noted that "they seem like a well-matched couple, until you get to know them better and then you see how different they are."
They do bicker, like many couples who have been together as long as they have, but even in their quibbling, Agustin and Elsa's appreciation for one another is clear, says Tharpe, who describes their relationship as "argumentative, but loving."
In 1971, they married and travelled through Europe for a month before returning to Maracaibo and opening a store called Tabac Import. The store imported a variety of goods from Europe, including crystal, leather, pipes and tobacco. It was also Elsa's first chance to fulfill her desire to work. The store grew to be highly successful in a relatively short time, and in 1972 their son Agustin was born, followed by their daughter Catherine in 1974. In 1979, when their children were 7 and 5 years old, the couple moved to the United States.
"It was my dream to live in the United States," said Elsa, recalling that she had often begged her father to send her to school here. But after hearing many immigrants lamenting how much they missed their old lives, she was hesitant to leave her home country.
"I said, 'I'm never going to leave my country. Never in my life; I want to die (in Venezuela),'" she recalled. "In less than one year we were here."
Although the prospect of moving was scary, ultimately Agustin saw rumblings in Venezuela of the same chaos and upheaval that had consumed Spain years before. To give their children brighter, more secure futures, they decided it was time to leave.
The Corbellas left behind their home, their store, their apartment and all that was familiar. They moved to Gainesville, where they set about getting their legal documents in order to become residents — a process that took three years.
"We travelled with two bags, two children and money in the pocket," recalled Agustin Corbella.
After a few years of volunteering and taking classes (particularly English courses) as their legal residency processed, the couple began working. For a short time, Agustin made jewelry while Elsa volunteered and started working at a Latin American restaurant called Emilianos. After she had worked in the restaurant for about a year, the couple set about building a new business in their new home — their own restaurant, called Montserrat.
The restaurant served Spanish favorites to a highly receptive following in Gainesville for five years, with Agustin as the host and Elsa as the chef. Their children both worked in the restaurant, too — although their son eventually moved to study at New York University. Guests always enjoyed an effusive welcome, genuinely attentive service and astoundingly delicious food.
Gail Kennerson and her husband were regulars at the restaurant, where they met Elsa and Agustin and began a friendship that has lasted more than 25 years.
"They kept an immaculate place," she recalled. "(Elsa) was very particular. The food was excellent, all prepared by her."
Although the restaurant was extremely popular, the couple could not find help with the same dedication to service and passion for food, which meant they found themselves working from 7 a.m. to midnight seven days a week. Eventually, they decided to sell the restaurant.
As she and her husband got to know the couple better outside the restaurant, Kennerson grew quite fond of them both, appreciating their unique perspectives and candid nature. She said the most striking thing about them was how they responded to their backgrounds and personal histories.
Coming from a wealthy family, Kennerson was always impressed by Elsa's candor and grounded nature.
"She's a very strong lady," Kennerson noted admiringly, adding, "Coming from what Elsa came from, she's very down to earth … It's just refreshing."
Agustin's lighthearted and creative nature amazed Kennerson in equal measure.
"He's just an Old World gentleman. Agustin comes from unbelievable hardship, and he still sees beautiful things in the world," she said.
After they moved forward from the restaurant, Agustin returned to making jewelry — an art that had become second nature — and Elsa began doing something she had always wanted to do: taking care of children professionally, ultimately starting her own childcare business from home.
"When I saw her working with children, she honestly and truly loved each and every one of them. It was a delight to see," said Kennerson.
More than watching children, Corbella raised them and took care of them like her own — cooking healthy meals from scratch, giving each individual attention and encouraging them each to be strong and confident in their own ways. While children came and went — and there were many over the years — Elsa can remember quirky details about almost all of them.
She recalled one baby who was always crying. Once she learned the baby's mother was Hispanic. "I said, 'Give her to me.' I sang … in Spanish, and (she) went to sleep right away."
A few years ago, the Corbellas finally retired, moving to Tallahassee to be close to their son, his family and their first grandson. He is a source of immense and endless pride for both of them, as are their two children, both of whom have grown up to be very successful, each reflecting their parents in their own ways. Their son, Agustin, is the director of the Government Law & Policy Practice at Greenberg Traurig's Tallahassee branch. Catherine is the owner of her own Boca Raton-based photography business, CatalinaWorks, and is also a client service associate for The Pupo Wealth Management Group, a branch of UBS.
They are artists. They are hard workers. They are people who, like many, have faced unbelievable challenges. But unlike many, they have reacted by being constantly open and ready to spread warmth to everyone they meet, everywhere they go.
The author was the crying baby referred to in the story. The Corbellas took care of her from the time she was three months old to third grade.