The Life and Spirit of Marta
During hospice care, a Cuban immigrant shares her story of freedom and faith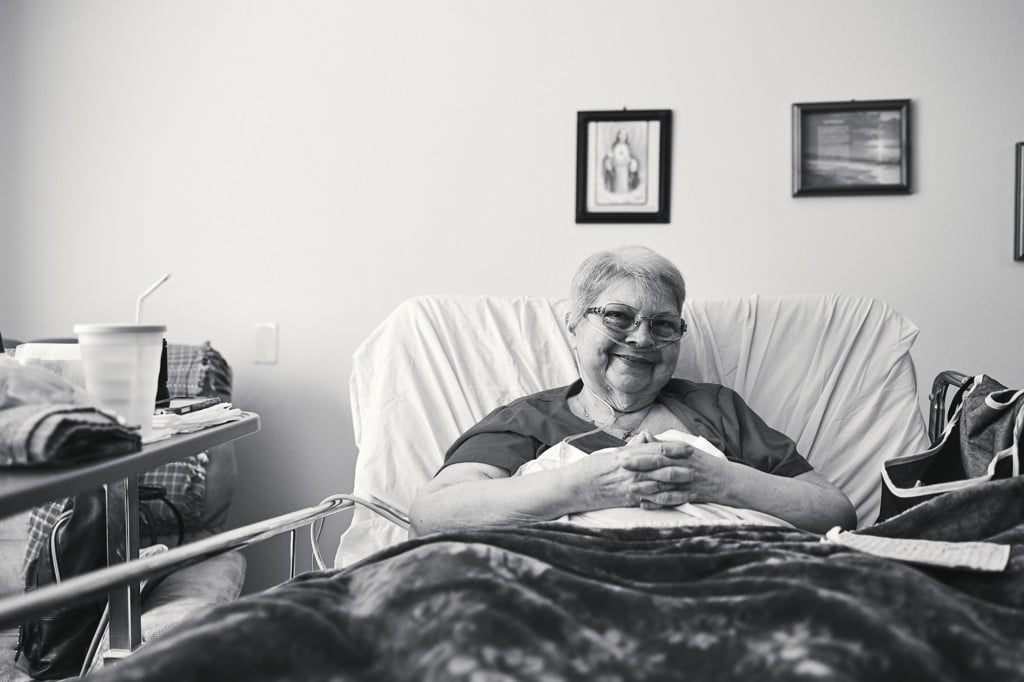 As death approached, Marta shined with life. At her bedside, a music therapist crooned of having lived a life that's full and having traveled each and every highway.
Giving the singer her full attention and spirit, Marta joined in with: "I did it myyyy waaay."
"I love your smile when you sing 'my way,'" the music therapist said.
"It's a happiness," Marta said.
She paused and added, "I'm ready to go. I want to go."
Then she pointed upward.
"It depends on Him."
Marta Becerra came to the U.S. in 1970 when she fled Cuba's Castro government with her husband and young son.
After spending 48 years in South Florida, she moved to Tallahassee in the fall of 2018 so that she could be near her son, daughter-in-law and granddaughter.
In May, she entered Big Bend Hospice care after doctors discovered metastasized cancer in her gallbladder. She died on Oct. 18.
During the summer, Marta agreed to talk with Tallahassee Magazine about her life and care. Over three visits, she shared anecdotes about Cuba, including tender experiences before the revolution and traumatic ones after it. She also shared her thoughts on the divine, on death and dying and on Big Bend Hospice.
Marta revealed herself as a woman of dignity, courtesy, generosity, humility, humor, peace and, most of all, faith — enough to fill a cathedral.
"When we leave, we go home — that is what I think," she said. "When we leave, we go with Him."
In her efficiency at the Cherry Laurel retirement community, Marta displayed poems that underscored her faith.
"Footprints in the Sand" told of a man who observes in a dream that he has seen two sets of footprints on the beach, one belonging to God, who had walked beside him.
But in the most challenging times, he has seen only one set of footprints, and he asks God why He would abandon him.
God replies: "It was then that I carried you."
Her apartment also showcased photos of the three most important people in her life: her son, Lazaro, her daughter-in-law, Nancy, and her granddaughter, Kayla, a student at Florida State University.
"They are wonderful to me," she said.
Her medical bed faced a small television, and she kept a cell phone on which she frequently received text messages from her family.
She otherwise had little use for 21st century technology and vices, especially Facebook. She wondered about the world she was leaving.
"We're going to have a new generation where people might not be talking to each other," she said.
Repeatedly, she apologized to her guest, once for audio text alerts she kept receiving from her son and once for having to adjust her eyes to see through her trifocals and medication.
"You know, the morphine," she said. "I lose focus sometimes."
She also apologized for the uncertainty of her words. At age 74, she still spoke in an accent that pronounced the language of her homeland. She likened having to speak English to having "lost my arms."
Yet she kept her faith.
Father John Cayer, the rector of the Co-Cathedral of St. Thomas More, visited her frequently during her final months and observed that "a smile seemed to be painted on her face."
"You need faith," Marta said. "The only thing I ask for is to give me strength to tolerate what I have to suffer before I leave."
This is her story, as related by Marta, her son and her daughter-in-law. It is a story of pain and perseverance, heartbreak and happiness, fear and freedom.
Life in Cuba
She was born Marta Ernestina Gonzalez in Havana. She attended an American-run elementary school where Mrs. Virginia Wilson taught English.
Mrs. Wilson would impose a 5-cent fine on students who slipped up and spoke Spanish. All of the money would go to an end-of-year party and a big pie.
Marta found it bittersweet, since she provided, at least at first, much of the funding.
"I used to ride home crying," she said. "Mami, I can't talk. I can't understand!"
When she was a child, her mother divorced and declared herself unable to raise her daughter. An aunt and uncle became her devoted Mami and Papi.
She maintained a relationship with her birth parents and also called them her mom and dad, creating confusion among family members.
Her aunt and uncle raised her in a modest but loving environment that included frequent gatherings with siblings and extended family and visits to Playa Varadero, about an hour east of Havana.
On Sundays, the extended family would load up in cars at 5 a.m. and get to the beach by 6.
They'd swim and play until 1, when they'd go to their hotel rooms for lunch that women in the family had prepared.
At night, they'd go into town and hear piano music as people danced into the night.
Those visits would remain painted on her soul.
The Castro Years
In January 1959, when Marta was 15, Castro's Cuban Revolution overthrew the government of right-wing military dictator Fulgencio Batista.
The Castro regime vowed to end U.S. economic domination of Cuba. It nationalized U.S. assets including land. It also nationalized private property and declared a socialist government.
The new government executed scores of Batista loyalists and established neighborhood watch groups to snitch on suspected anti-Castro conspirators.
"Ninety-nine percent of the people were on his side," Marta said.
"We were the few that didn't want it. When they find out, they start to spy on you. They start to come to your home. Strange people would call me," leaving her to wonder: "Why do they call me? Who are they?"
The fear became so intense that when she heard footsteps approaching the door of her Havana apartment, Marta would hide.
She attended a year of college before the Castro government closed all American schools.
In 1964, she married Felipe Becerra, a man of faith, fun and family. Wedding photos show a woman and man bathed in joy.
She would take care of the home. He would work as an accountant. They would raise a family and somehow, someway, find peace, happiness and freedom.
Only years before, Marta never would have imagined living elsewhere. "I love my country," she said. "I never in my life thought that I was going to leave. Never. Never crossed my mind."
Time to Leave
In January 1966, Marta gave birth to Lazaro, the couple's only child.
About two years later, they applied to leave the country via Freedom Flights, a program that President Lyndon Johnson initiated in 1965 through an agreement with the Cuban government.
Castro at the time, resolved to oust anybody who didn't support the revolution.
Freedom Flights relied on U.S. aircraft to fly Cubans to Miami and transported an estimated 300,000 refugees to freedom. Castro stopped the program for a year in 1971 and for good in 1973.
The wait typically lasted two years. Many became desperate and attempted a harrowing 90-mile escape via the Florida Straits, a trek that would claim countless lives.
Applicants would go not only on a waiting list but a black list.
The government fired them from their jobs, cut their food rations, applied steady harassment and humiliation, and labeled them gusanos — worms.
It would confiscate most personal belongings, save for some clothes and maybe some photographs.
"We were a target," Marta said.
Marta was among those assigned grueling labor, with long periods away from her husband and son.
For two years, she would lift rocks and concrete, dig ditches and help build roads. Her family would attribute her chronic knee and back problems to those two years.
The government cut food rations to the point of desperation.
Adults in the extended family would save food, particularly protein, for Lazaro and resort to the underground market for themselves. That meant danger.
"If you get caught," Marta said, "you go to jail."
At the airport as they were leaving their country, she said, she and her family suffered perhaps their deepest hurt and indignity: Their fellow citizens spat on them.
They boarded their plane to freedom on Sept. 23, 1970.
The family landed in Miami and later visited the Cuban Assistance Center inside "The Freedom Tower," where refugees received food, medical care, federal assistance, identification cards and resources for their transition.
The U.S. government released Marta, Felipe and Lazaro to Marta's first cousin and family, who had immigrated months before.
Marta would never see her biological parents and siblings again, and it would haunt her the rest of her life.
A New Start
"We started all over again," Marta said. "The first things we asked: What are the laws? What are the rules? What can we do? What can't we do? And, by the way, where can I find a job?"
Marta got a factory job assembling radios, and Felipe took on various janitorial and auto-repair jobs.
The three didn't have much. But they had each other. And, finally, they again could worship in public without fear of punishment. Every Sunday for mass, Marta would dress up little Lazaro in a three-piece suit.
"She never lost faith," Laz said. "It strengthened with every trauma and problem that we had."
Several years later, Marta's adoptive parents would join them in Florida, and they'd always stay together.
Marta started work in 1978 for the City of Miami, from where she would retire as a microfilm supervisor. Felipe kept various jobs, including as a janitor, mechanic and city office worker.
Laz graduated from Coral Gables High School and left in 1985 to attend Florida State University. There he met Nancy. When they finished school, they moved to Palm Beach County.
Wanting no more of Dade County's escalating crime, Marta and Felipe relocated to live near their son and daughter-in-law, who in 1999 gave birth to Kayla, the light of her grandparents' lives.
Doctors later discovered prostate cancer in Felipe, who started chemotherapy treatments in late 2004 and discontinued them in early 2005. He died that May.
His suffering would influence Marta's decision on how she would spend her final days, and his death sent her spiraling in sadness.
Three years earlier, her adoptive father, who lived in her home, died at age 93.
"I went into depression," Marta said.
With each year, the health problems related to her back and knees would worsen.
Meanwhile, Laz continued his job as a paralegal/investigator for a law firm in Palm Beach County. He and Nancy increasingly soured on the traffic congestion and the hyper development.
They saw Tallahassee as a place to get away from all of that, and they decided to return to the city in which they met. As a bonus, their daughter would get accepted to their alma mater.
Laz would keep his job, spend weekends in Tallahassee and drive 5 ½ hours to work on Mondays.
Marta preferred living in an efficiency, and her son found her one at Cherry Laurel.
"I love this place," Marta said. "People in Tallahassee are like the way I was raised. All neighbors were like family."
Her Cancer
Last January, three months after her move to Tallahassee, Marta began to experience stomach pain that exceeded the gastronomic problems she'd had for years.
She sought medical help for that and for the pain in her knees.
An internist suspected that she had ulcers, her son said, but she had to wait until March to see a specialist.
By that time, Marta was having trouble eating and was throwing up. In mid-March, she went to the hospital, and doctors targeted her gallbladder as the source of her problems.
They performed surgery to remove it and found cancer that had started in her small intestines.
Less than two months later, she decided on hospice care.
"From the beginning I didn't want any treatment," Marta said.
"My husband died of cancer 14 years ago, and I saw how much he suffered. He lasted only four months … 35 radiations, 11 chemotherapy … and I said I don't want any treatment."
She added, motioning upward: "He gave me the life, and He's the only one that's going to take me away."
Hospice Care
In late May, Marta began getting visits at her efficiency from Big Bend Hospice specialists who aimed to give her physical and spiritual comfort.
"Here, I'm happy," Marta said. "I don't want my family looking at me suffering like my son had to see his father."
A social worker would let her reflect on life and prepare for death. A chaplain would reinforce her faith in God.
A volunteer would put together a story about her in book form for her family. An art therapist would give her the tools to express her beauty. A music therapist would inspire soothing memories and tears that flowed into a smile.
"My experiences with Marta have been filled with a lot of life review … which kind of validates her life and gives her a sense of purpose," Haley Davis, MSW, of Big Bend Hospice, said in late September. "Most recently, she has felt like she's a little tired of talking about the past."
Twice in mid-August, Marta allowed a reporter and a photographer to observe her care as she told her story.
In late September, she again welcomed Tallahassee Magazine, this time to take photos of her with her son and daughter-in-law. At the time, she was alert, talkative and surprisingly energetic, though she emphasized that she found some days difficult.
"I think Marta is very brave," Gini West, chief clinical officer of Big Bend Hospice, said in September.
West said she found it unusual for a hospice patient to share reflections on life and death with a news organization. "I think for most people it's because they're afraid," West said. "They don't know what their journey is going to be."
Marta seemed to know.
"She is at peace, and that's the place where we'd like all of our patients to be," Darwin Box, spiritual care counselor for Big Bend Hospice, said at the time.
He added: "I get a kick out of visiting with her. She's the kind of person who makes you feel comfortable."
People would flow into her room. During late summer, one of Marta's caregivers had two deaths in the family. Marta gave the woman rosary prayer beads.
"When you're feeling bad," Marta told the woman, "hold this."
"That my mother's mission, to enlighten people on faith, not to flaunt her courage or her strength," Laz said in October.
"It's to allow people to see that it does exist, that there is peace when you die, that it's not the end of the world but the beginning. My mom truly believes that she is going back home."
Marta implored those she was leaving behind to consume less, to put down their phones and to consider what's happening to the planet.
"Look at the hurricanes, especially on the East Coast," she said. "Only Miami Beach used to be flooded. Now it's flooded more inside the city. That is dangerous."
On greed and consumerism, she said: "Most people are more concerned with accumulating for the future. What happens? One day, something happens to them. They die. They can't take whatever they accumulate. They were too busy working to get more and more that they find out that they haven't lived even one day — to look around, to go outside, to talk to somebody."
She kept her husband close to her heart, and she followed his passion for art: With hospice guidance, she painted.
Next to her TV she kept one of her latest works — until a journalist accidentally knocked it over.
"My painting!" Marta said. She added jokingly: "You don't like my painting."
"It's perfect," said one of her visitors, Dena Strickland, president of the Big Bend Hospice Foundation. "It's a beautiful painting."
Marta smiled. Her painting featured details including rippling waves, glistening grass and a promising sun — a scene inspired in part by the beach of her childhood.
"Yes, the colors," Marta said in response to the glowing feedback. "When you go to the beach early in the morning, the water is like a mirror, and you can even see the bottom."
During another visit, music therapy intern Josie Waugh sat at Marta's bedside and began to sing a Louis Armstrong classic.
By the time Josie got to, "And I think to myself, what a wonderful world," Marta was dabbing at tears.
When the song ended, Marta detailed a vision that she got from that song: a house on a hill and herself on a swing.
She was 11 to 14 years old and in her Sunday dress, basking in the tranquility.
The music therapist asked her how the song made her feel.
"I feel … nostalgic, like I am missing," Marta said. "I don't know. It is my country, and I am so happy."
Then she turned her thoughts to her family.
"It's important that they're going to be at peace," she said. "That's the only thing that I want — that people remember me like I was happy, singing."
Her Final Days
In late September, Marta began eating less, and she started experiencing sightings of loved ones who had passed.
By the first week of October, her condition deteriorated to the point that her son started staying overnight in her efficiency. Over a few days, she stopped eating and drinking, then became unresponsive.
Big Bend Hospice moved her to its inpatient care facility, Margaret Z. Dozier Hospice House, where her final days largely were free of pain, Laz said.
Holding her rosary beads, she died four nights later, on Oct. 18.
Upon seeing his mother's final expression, Laz said he lost it:
Marta was smiling.
About Big Bend Hospice
Founded in 1983, Big Bend Hospice serves eight Northern Florida counties and touts itself as the region's only in-patient hospice facility.
It offers direct patient care, music therapy, spiritual care, bereavement services and a valor program for military veterans, among other services.
"A focus of our mission is to make sure that patients come to Big Bend Hospice at the right time — not too late, but the right time," said Dena Strickland, president of the Big Bend Hospice Foundation. "We make sure it's not just a blanket of how we do treatment. It's individualized treatment for every family, every patient. We are trying to make their last days as comforting as possible."
The organization says it turns away no patients and that it provided care at no cost for 35 people in 2018. It supports its mission through grants, gifts, fundraising and donations.
***
CORRECTION: This version clarifies the Becerra family's reason for moving to Tallahassee.