The Lawn Whisperer
Pay Attention, and Your Grass Will Tell You When it Needs Watering and Fertilizer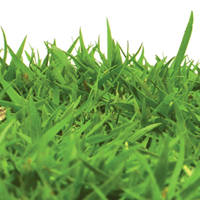 Q: What's the best way to water my lawn? I want to be responsible in my use of water but I also want to make sure I water adequately.
A: Good for you! We all need to think more about how much we water, where we water and how we apply the water to our lawns and planting beds. Fortunately, we had a decent amount of rainfall in summer of 2012 so watering wasn't really needed. Fall was a bit dry, though, and we really don't know what to expect this summer. Having a watering plan will help make sure your lawn gets what it needs without wasteful over-watering.
When we talk about watering, we also need to talk about fertilizing and mowing. Many people apply far too much fertilizer and water to their grass, because they want that lush, green "golf course" look to their yard. But overwatering can damage your grass and cause problems on property other than your own. The excess fertilizer washes away, causing pollution in our lakes, springs and streams and damaging the ecological balance downstream. Most people fertilize their lawns too early in the year, too. When the soil and roots are still cool, the plant can't absorb all the nutrients, so you're wasting your money and your effort. Centipede grass, in particular, will turn yellow if you fertilize too early.
It's tempting during those warm March days to get out the bag of "weed and feed," but find another outdoor chore to do instead. The soil doesn't warm as quickly as the air. Wait until early April, when your lawn has started to "green up" on its own, to apply fertilizer.
An established lawn in North Florida and the Panhandle needs ₁⁄₂ to ₃⁄₄ of an inch of water per week, depending on the type of soil you have. Clay and loam soils retain moisture more than sandy soils, so half an inch is probably enough; use the higher measure for sandy soil. Get a rain gauge, so you'll know how much water Mother Nature is providing. If you're getting at least half an inch of rain a week, you don't need to water. Overwatering will cause shallow root systems to develop, which makes the grass less drought-tolerant than it would be with a deeper root structure. It also encourages the development of thatch, a matted layer of dead plant tissue at the base of grass blades that prevents water, sunlight and nutrients from reaching the roots.
Overwatering also makes your lawn more susceptible to disease, pests and weeds.
In tandem with proper fertilizing and watering is proper mowing. St. Augustine cultivars should be 4 inches high; centipede should be 3 inches. Contrary to popular myth, the clippings don't contribute to thatch buildup, so leave them where they fall to feed the lawn. Cutting grass too short limits its drought-tolerance, and cutting too much at one time stresses the plant. Never cut more than a third of the height at one time.
Lawn-watering systems use overhead sprinklers. Many come with automatic timers, but if you want to be responsible about your water usage, set it to manual control. We've all seen it: It's pouring rain, and someone's lawn sprinkler is on. Don't be that guy. Go look at your grass and see if it's asking for water. If it is, turn on your sprinkler system.
You can check your system to see how much water it is dispensing, how fast and where it's landing by placing empty cans — short ones such as tuna or cat-food cans work great — around your yard. Mark the inside of the cans with a waterproof marker at quarter-inch intervals, set them out and then see how much was collected in 10-minute intervals. Then you can figure out how long to leave the sprinklers on to get the right amount of water where it needs to be. You'll also be able to see whether you have any dry spots in your lawn that the sprinkler isn't covering.
Water your lawn early in the morning, to reduce water loss from evaporation as well as reduce the chance of lawn disease.
Your lawn will tell you when it's time to water it. The leaf blades will fold and curl in an attempt to retain moisture. The color will also change from green to a blue-gray. Perhaps the most visible sign a lawn needs watering is footprints that remain long after they were made. If you don't see at least one of these signs, don't water.
©2013 PostScript Publishing, all rights reserved. Audrey Post is a certified Advanced Master Gardener volunteer with the University of Florida/IFAS Extension in Leon County. Email her at Questions@MsGrowItAll.com or visit her website at www.msgrowitall.com. Ms. Grow-It-All® is a registered trademark of PostScript Publishing.
Garden Events
Mar. 1: First Friday Brown Bag Lunch Lecture Series, "Our Fine Land – The Challenge of Invasive Species in Florida's Big Bend," noon to 1 p.m. in the Carriage House at Goodwood Museum and Gardens, 1600 Miccosukee Road. No reservations required.
Mar. 2: Heirloom Tomato Plant Sale, 9 a.m. to noon (rain or shine) at the Virginia McKee Greenhouse at Goodwood. This year's sale will feature the best-producing varieties from previous years plus some new favorites. Quantities are limited; come early for the best selection.
Mar. 2: "Using Native Wildflowers in the Home Landscape," presented by Dan Miller of Trillium Gardens at Birdsong Nature Center, 2106 Meridian Road, Thomasville, 10 a.m. to noon; reservations required. Cost is $15, which includes one native wildflower and a continental breakfast. Call (800) 953-2473 or (229) 377-4408.
Mar. 2: "Vegetable Gardening 101,"10 a.m., Native Nurseries. 1661 Centerville Road. Free but class size is limited; call (850) 386-8882 to register.
Mar. 6: "Vegetable Gardening 101," a Lunch-and-Learn program at Native Nurseries. Noon. Free but class size is limited; call (850) 386-8882 to register.
Mar. 9: "The Wonder of Bluebirds" with nature photographer and bluebird enthusiast Glenda Simmons, 10 a.m. at Native Nurseries. Free.
Mar. 16: The Old Timey Plant Sale, from 9 a.m. to 1 p.m. at Birdsong Nature Center features rare and unusual plants often not available in nurseries or catalogues, and pass-along favorites. Also for sale: native trees, basic landscape plants and lots of wild azaleas and native wildflowers. birdsongnaturecenter.org.
Mar. 16: "Annual Herbal Event at Native Nurseries" with B. O'Toole of O'Toole's Herb Farm in Madison and nursery co-owner Donna Legare, 10 a.m.; $5 fee and pre-registration required. Call (850) 386-8882.
Mar. 17: The 11th Goodwood Garden Symposium, noon to 3:30 p.m. at the Carriage House Conference Center. The featured speaker is Rick Darke, who will present "The Layered Landscape: Balancing Culture and Ecology in Today's Gardens." Also speaking is Mike Herrin, Goodwood's director of facilities and horticulture.
Mar. 23: "Hummingbird Homecoming" at Native Nurseries, 10 a.m. Jody Walthall will explore the natural history of these tiny birds and teach you how to attract them to your yard just in time for their return from Central America.
Mar. 30: "Children's Garden Workshop: Grow Your Own Italian Garden," 10 a.m. at Native Nurseries. Children will mix soil and mushroom compost in a 3-gallon container and plant a tomato, basil, parsley and garlic chive under the guidance of a parent. $7 per container; class size is limited; call (850) 386-8882 to register.
Apr. 5: First Friday Brown Bag Lunch Lecture Series, "Arboriculture: The Science of Tree Care," presented by John Tobe, Ph.D., botanist and certified arborist, who will discuss the importance and maintenance of a healthy urban forest; noon to 1 p.m. in the Carriage House at Goodwood. No reservations required.
Apr. 13: 20th Annual Goodwood Spring Heirloom Plant Sale, 9 a.m. to 1 p.m. (rain or shine) at the Virginia McKee Greenhouse. This plant sale will feature hundreds of heirloom perennials, annuals, ornamental vines, herbs, vegetables, shrubs, trees and groundcovers. Sale will continue on succeeding Fridays for several weeks.