The Kinsey Collection Paints a Vivid Picture of African-American History
Beyond Black and White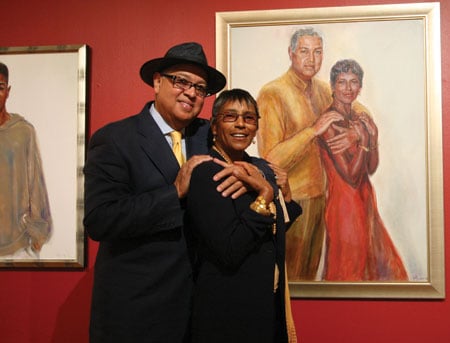 On the top floor of the Mary Brogan Museum, against a vibrant backdrop of red and golden walls, African-American history has transcended the confines of textbooks and come to life in the form of more than 100 paintings, sculptures, artifacts and rare books. Assembled by Florida A&M University alumni Bernard and Shirley Kinsey, the priceless collection spans four centuries of black history, beginning in 1632. The result is a reflection of diverse experiences ranging from oppression and enslavement to accomplishment and freedom of expression.
According to the Kinseys, each piece helps form the "connective tissue" of African-American heritage, bringing to light people and events that have been overlooked due to an often one-sided depiction of history.
"A lot of African-American history has been forgotten and never told, so the idea is to get those stories out," Bernard Kinsey says. "That's what this is about — bringing these stories out so we can give personality, a voice and a name to these accomplishments … People are going to leave saying, 'I didn't know that. I didn't know that.'"
Certainly, education is the keystone of the exhibition. Visitors have the privilege of viewing letters written by Malcolm X and the Rev. Martin Luther King, the original Emancipation Proclamation and a flag flown by the Buffalo Soldiers in 1889, as well as numerous sculptures and paintings by African-American artists such as Artis Lane, Jacob Lawrence, Romare Bearden and Henry O. Tanner. A guided cell-phone tour details the significance of each piece and, while not arranged in a strictly chronological order, the items steer viewers from one era to the next, creating a mental timeline of people, places and events.
A room containing a boulder from the Senegalese island of Goree, once a hub of the slave trade, empties into a walkway where a copy of Phyllis Wheatley's "Poems on Various Subjects — Religious and Moral," the first published book of poetry by an African-American, lies open in a glass case. Just behind this display, visitors can turn to see a stunning arrangement of oil paintings created in the 1800s — and a heart-wrenching letter carried by a young slave girl who, unbeknownst to her, was about to be sold and split from her family.
Eventually, relics of the enslaved are supplanted by documents written by equal rights activists such as Martin Luther King and Malcolm X. The artwork follows suit with the lively, inspired pieces of the Harlem Renaissance replacing the landscapes, still lifes and portraits that African-American artists created during more restrictive time periods.
"They were able to make a living (painting those subjects), but they could never paint our experience," Shirley Kinsey says. "Now, we can paint whatever we want to paint. I like showing the juxtaposition there and how things have evolved."
The Kinseys credit Alain Locke, often referred to as "the Father of the Harlem Renaissance," for encouraging African-Americans to paint what they saw.
"Before then we had no concept of who we were," Bernard Kinsey says. "Now we start painting black people in the cotton fields or black people going to church and just everyday life."
The background walls of the exhibition, which gradually lighten from a deep red to a golden yellow, are meant to reflect this ongoing progression toward racial equality and artistic freedom. The paint colors also mimic the effect of entering and exiting a dark slave ship — an idea spurred by the collection's former home in the basement of the Kinseys' California residence, which also gives the impression of going into a dark place. This is just one way in which the couple's personal lives are deeply intertwined with their collection.
The voice of their son, Kahlil, can be heard on the guided cell-phone tour, and family portraits given to them by artists Samuel L. Dunson Jr. and Artis Lane are showcased alongside the remainder of the collection.
The Goree Island Rock marks the last place to which Bernard Kinsey can trace his family's roots.
In fact, the Kinseys' desire to explore their personal heritage was a major catalyst for their collection.
"When Khalil was in sixth grade, he came home after having to do a family history report, and we could only go back so far," Shirley Kinsey says. "We still haven't gone as far back as we would like."
Even the decision to display the collection in Tallahassee has personal significance for the Kinseys. Both hail from Florida and met while earning their degrees at FAMU. In fact, they had their wedding reception at the FAMU student center, dined at the Silver Slipper restaurant and had their honeymoon at the Prince Murat Motel before moving across the country — with only $26 in their pockets and employment lined up in California.
Now, 42 years later, having retired from prosperous careers with the Xerox Company, the Kinseys maintain close ties with their native state and alma mater, having raised $11 million for FAMU.
"We have a strong relationship to Florida," Shirley Kinsey says. "We live in California, but we're in Florida two to three times a year. We've been coming to Homecoming since the '80s. Christmas we spent in West Palm Beach the past 15 years. We spend Thanksgiving here. We still have strong, strong roots here, and there's always someone at FAMU — niece, nephew, cousin."
While the nature of the exhibit brings the topic of race to the forefront, the Kinseys hope the overall message is unifying and equalizing.
"There's really no black art or white art. It's just art," Bernard Kinsey says. "If we can get people to get past some of this stuff, we can all live a different kind of life."
This must-see exhibition will be on display at the Mary Brogan Museum until March 21. The collection's next stop will be the Smithsonian Institution in Washington, D.C.