The Joy of Running
Retail politics at the local level has its rewards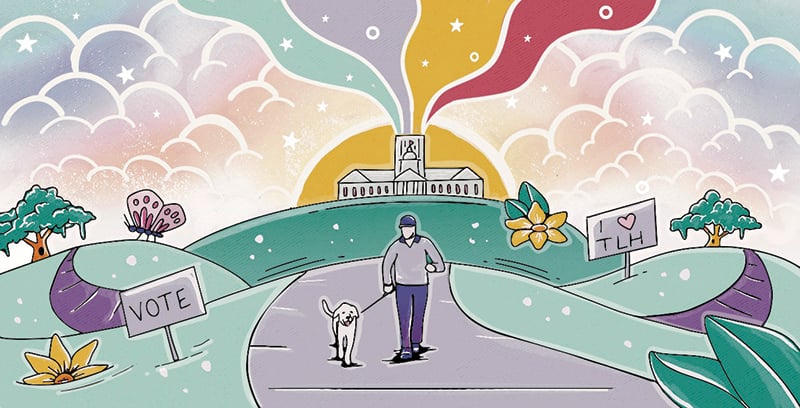 Most folks these days think of politics as a toxic pool best avoided.
I couldn't disagree more.
I found running for office to be a worthwhile experience on many fronts. In fact, I would offer anyone considering a run three reasons to jump headfirst into the deep end and do it.
First, the people you meet while on the campaign trail will inspire you. Behind every door I knocked on was a story worth hearing. To be a good candidate, you have to learn how to listen, and I'm grateful I had the chance to do that.
While canvassing neighborhoods, I met veterans, teachers, students, entrepreneurs and retirees. I had chats with neighborhood presidents, precinct captains and PTO leaders. They all share a deep love for our community and a strong desire to see our local government solve problems. Hearing their hopes and concerns for our shared future was the lifeblood of my campaign. When I left those conversations, often with a handshake or good luck wish, I felt like I had found another reason to run.
Secondly, running for office will help you fall deeper in love with your community. As part of our campaign, I took a Saturday to walk across the district on my way to casting my ballot during early voting. Along with a few dedicated volunteers who took shifts keeping me company, we walked all the way from the Chaires Community Center to the Leon County Courthouse downtown.
Along the way, I saw the sun rise over fields in rural Leon County. There were deer, turkeys and men on tractors waving good morning. Later as we arrived in Buck Lake, I stopped off to grab some boiled peanuts from a vendor who sets up there each weekend, and we talked about how much we were looking forward to the cooler weather of fall.
I strolled by new developments on Mahan Drive, stopped in a local restaurant during a rainstorm and finally walked right up Apalachee Parkway to the state capitol. All along the way and throughout each day I spent campaigning, I was reminded of the beauty and charm of our community. This is a special place, and running for office made me get out and see all the evidence of why.
Finally, and this may be the most important reason to run, I saw firsthand how much people appreciate a positive message about their community. I've always believed that Tallahassee had a marketing problem, and election season tends to make that worse. We are a community where, unfortunately, perceptions of our hometown depart from the amazing reality. I ran to change that.
A lot of politicians spend their time talking about everything that's wrong with the community or their opponents. My campaign took a different path. Of course, our community has challenges that need improvement, but I found that people are hungry to hear the good news about Tallahassee. They want to love where they live, and right now, there aren't enough folks telling stories that help make that happen.
Our campaign chose to be positive, forward-looking and committed to telling the story of just how great we are and can become. Seeing my neighbors respond to that made the whole effort worthwhile. Even after coming up short on election day, I still get positive feedback from strangers about the way we ran our campaign.
Our community needs people to run for office. We need people who want to help make Tallahassee and Leon County a better place. Win, lose or draw, there is so much to learn about the place we call home and the people we share it with.
As a candidate, you'll have an opportunity to know your community like never before. The community will also have an opportunity to get to know you. Whether you're walking the dog, shopping for groceries or dropping your kids off at school, when you run for office there's always a conversation to be had.
With each interaction, you'll gain a deeper understanding of why you love living here. Running for office isn't easy, but think of all the reasons to love Tallahassee you'll miss if you don't give it a try.
---
Jay Revell is the president of Revell Media, a provider of public relations services and branding advice. He was a candidate for the District 5 seat on the Leon County Commission but did not qualify for the Nov. 8 runoff.