The Jansen Home is The Most Elaborately Decorated Home You Will See This Holiday Season
Christmas With 'Sparkle'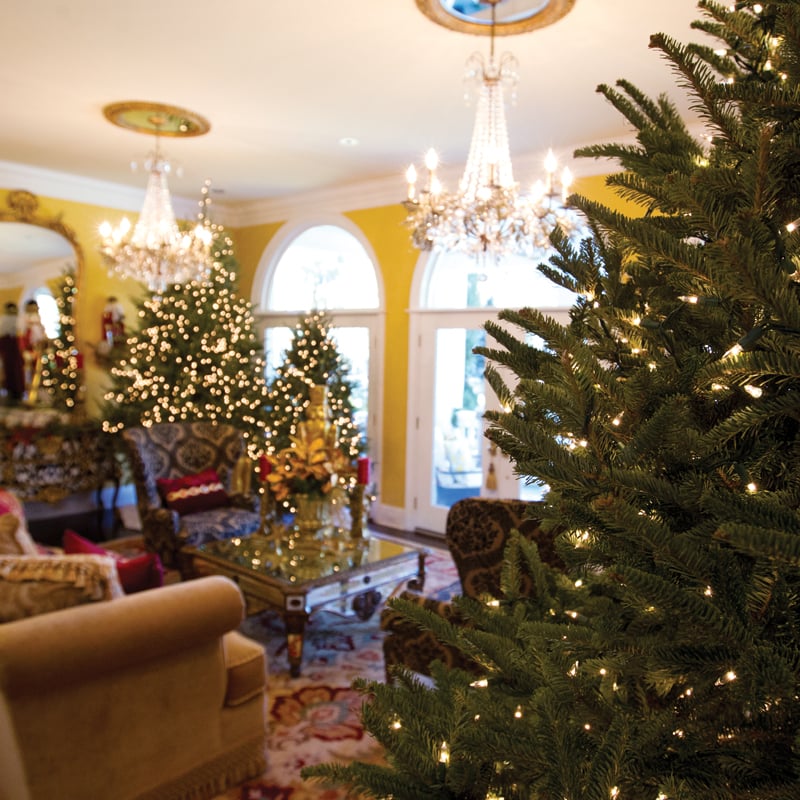 It's beginning to look a lot like Christmas at Tim and Stephanie Jansen's house. And we do mean a LOT.
That's because every room, every nook and every cranny in their 6,500-square-foot Highgrove manse contains a nod to the holiday season — from explosion of silver and gold glittery trimmings in the den, to the peacock-themed holiday décor of their doggie room all the way down to the tiny glass creche in the powder room.
The Jansens share their decorative efforts, entertaining throughout the holidays, but the high point of the season is the annual "Eve of Christmas Eve" party on Dec. 23. This will be the 18th year they've hosted the highly anticipated event, which began as a children's party when their daughters, Janie, 20, and Annie, 18, were tots.
"It started off very small, very casual. Our youngest was a baby," recalls Stephanie. "We wanted to have a little party where our closest people could just drop in — no pressure." Over the years the little ones have grown, but they still attend the party, along with their parents, grandparents, holiday houseguests and more … the guest list has grown to around 300 people. "Anybody and everybody family-wise is welcome. We've actually become friends just seeing each other once a year," she says.
Stephanie explains the party's appeal: "Everyone's exhausted from the holidays, and by the time it's the eve of Christmas Eve if you haven't done what you need to do, you're up a creek. Just stop and enjoy. Come to our house, and forget about it."
Two aspects of the party are anticipated year after year — nutcrackers and the banister decorations, she says.
While each room in their expansive home has different color schemes and themes that change from year to year, you're sure to find a nutcracker or two — or 10 — everywhere you look. They've collected them over the years, and at last count there were 563 in the house. Guests are sent home with their own nutcracker at the end of the night, although some make calling dibs on their favorite the first order of party business.
"It's hysterical. Some of my closest friends, they'll come in and … will go right to get theirs and stick it in their purse. I'm like 'Really? Hi. How are ya? Merry Christmas.' But I love that they love it."
Elaborate staircase decorations greet guests as they walk in the door and change every year. Last year, Dickens' "A Christmas Carol" was the theme, and the garland included a crutch, a lovely Ghost of Christmas Past and Jacob Marley's chains — bedazzled with glitter, of course.
Stephanie's love of all things shiny has earned her the nickname "Sparkle" in the Spanish Krewe of Springtime Tallahassee. The Jansens host their krewe's holiday party, and every year has a theme. One year, it was "Mafia" ("I don't even know how we got there!"), and Stephanie got to work on her holiday mobster theme. "We spray painted red and glittered all these plastic machine guns," displaying them on the banister garland, she said. "I remember stepping back and looking at it and I thought 'You know, you can spray and glitter anything at all and make it look like Christmas!' "
One of her favorite staircases was when she displayed all of the family photographs she saved that had been tucked in Christmas cards they received throughout the years. "I tied them all through the garland and all the kids, who were very tall teenagers by then, were finding themselves as babies," she recalled. "It was sweet to see the teenagers actually stop and have a melting moment instead of being too cool for school."
The outdoors is also uber-decorated, except for the back lawn. It slopes downhill to a beautiful view of Lake Hall, where, unlike the sparkling overload inside the house, simplicity makes a bold statement. The only ornamentation as you look out toward the lake is a lone lit Christmas tree on the end of the dock.
Tim, Stephanie says, is a "rabid" Gator fan (she's a Seminole), and on years when the Florida/Florida State game is played in Gainesville it's game-on for her holiday decorating.
"I always start Friday morning when everybody will be gone. I start off three days in my jammies and just rock and roll," she says. "When they play in Tallahassee it's hard because we always have company and we can't very well say, 'Move out of the way or haul some boxes.' So I start a little later. Oftentimes we have a party that first or second weekend (in December) so it all has to be done. Which is great. There's nothing like a party to give you a deadline."
With daughter Annie starting college at Auburn this year, Stephanie has lost a valuable holiday helper ("She was the one that brought all the nutcrackers down from the attic and up from the basement."), but she can always count on fun and creative times decorating with Everett Thompson, a friend and designer who owns Options by ET Designs. "We both think out of the box," she said, "and when you put the two of us together, lord, here we go!"
How, one might ask, do you store six-foot-tall nutcrackers, dozens of trees and miles of garland during the other 11 months of the year? Fortunately, says Stephanie, the lowest level of their home is a basement with as much square footage as the first floor. And there's attic storage, too. Smaller items are stored in about 50 see-through plastic bins.
Tim is a well-known defense attorney who was in the news last year when he represented Heisman-winning FSU quarterback Jameis Winston. Stephanie is co-owner of FIT & More, a medical weight loss and healthy living center located on Capital Circle Northeast. In addition to the Spanish Krewe, the couple is active in many civic activities and often opens their home to parties for nonprofits. For several years when their daughters were younger, The Tallahassee Ballet's holiday party was held at their home.
Stephanie estimates they host half a dozen "big, full-throttle" parties annually, including five weddings over the years. "Small ones? They're constant. We're always party-ready," she says.