The Insurmountable Hurdle
Last Year's Tragedy was a Blow to Red Hills Horse Trials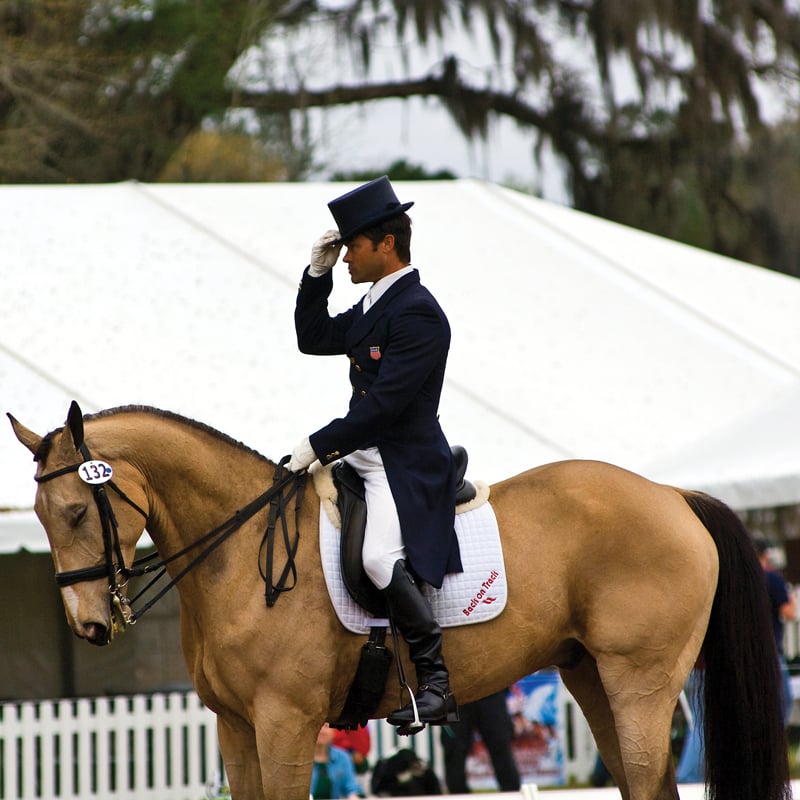 A year ago, Darren Chiacchia became a household name in Tallahassee as the community poured out its prayers for him and hospitality for his family. A near-fatal accident at the Red Hills Horse Trials had left him in a coma, fighting for his life.
But he made a remarkable recovery and was looking forward to capping it off by returning to compete where the journey began – at Red Hills. "I lived that competition and had a near-death experience there, so I really wanted to face that again," he says.
But Chiacchia will have to wait another year. Although it survived years with torrential downpours and tragedies, in 2009, the Red Hills Horse Trials met an unassailable nemesis – the sad state of the national economy.
A Tallahassee tradition for the past 11 years, the three-day equestrian event annually attracted more than 200 riders, many of international renown, and up to 25,000 spectators.
But this year the worsening economy put a damper on fundraising. Adding to the problem, entries were trickling in far more slowly than in previous years. Riders too were feeling the pinch of the economy – and there was no compelling reason to compete in this early season event. There are no Olympics and no World Cup to qualify for this year.
Reluctantly, organizers made the tough decision to cancel the equestrian triathlon that tests a rider's skill in dressage, cross-country and stadium.
"We couldn't take the gamble. It was a roll of the dice we didn't want to make," says Marvin Mayer, vice president of the corporate board of directors.
"We made the decision to retrench now and be in a super-solid position for next year," explains Jane Barron, president of the Red Hills board.
In 2010, Red Hills will be a qualifier for riders hoping to get into the World Cup, the Super Bowl of the equestrian community. It will also be the first of four competitions in the new Continental Cup series, which will attract more riders from Canada and Mexico.
Because he was an internationally renowned rider critically injured at a world-class show, Chiacchia's 2008 accident reverberated throughout the international equestrian community. Red Hills quickly found itself at Ground Zero in the debate over the safety of eventing. But the events of that sunny March day spurred a flurry of changes expected to save lives and, many hope, restore public – and rider – confidence in the sport.
This month, the 44-year-old Chiacchia (pronounced "cha-cha") had hoped to return to Tallahassee and Red Hills. He was expecting to enter 11 horses, five of which he planned to ride himself.
While disappointed, Chiacchia says he understands the reasoning behind this year's cancellation. "There is some truth to the concept of wanting to do it right," he says. "Red Hills has such an outstanding reputation, if they didn't think they could do it the right way, of course they made the right decision."
Last year, as Chiacchia lay critically injured and fighting for his life at Tallahassee Memorial Hospital, two horses died on the cross-country course designed by Capt. Mark Phillips, coach of the U.S. Olympic eventing team and former husband of England's Princess Anne.
Event organizers were shell-shocked. Riders were shaken. Spectators were stunned as the inherent dangers of the sport were dramatically uncloaked before their eyes.
In its prior 11 years, the event had few things go wrong. And the causes of these accidents were beyond anyone's ability to control.
Chiacchia was riding Baron Verdi, a 7-year-old German Trakehner stallion he was introducing to an intermediate level of competition. The horse had a misstep going into jump No. 5, the "Battle Berme." Unable to clear an immovable faux cannon, he somersaulted over the jump onto Chiacchia. The rider, who laid face down and unconscious, sustained serious head injuries and was in a coma for 42 days. The horse walked back to the barn.
Within hours two horses died on the cross-country course, victims of pulmonary hemorrhage, an extremely rare condition. Jonathan Holling was on 12-year-old Direct Merger, an Irish thoroughbred, when he collapsed and died at "The Mouse Trap." Soon after, Leprechauns Rowdy Boy, a Connamara/thoroughbred mix, died at "Apalachee Bay."
"To have two horses die from that in the same day was like the planets being misaligned," Barron says.
Injury and death statistics for riders and horses are testimony to why eventing is
often called the most dangerous sport. Most injuries occur during the cross-country phase, where horse and rider navigate a series of challenging fences at high speed over undulating terrain and water hazards.
Worldwide, there were 18 rider and 19 upper-level horse deaths between early 2006 and late 2008, according to eventing.zzn.com, a Web site that keeps track of each one.
But it was Chiacchia's accident, combined with an injured rider and two more horse deaths in Kentucky only a month later, that finally kick-started the sport's regulatory boards into action.
On April 29, 2008, a letter calling for a June safety summit went out under the signatures of U.S. Equestrian Federation President David O'Connor, an Olympic eventer who has participated in Red Hills, and U.S. Eventing Association President Kevin Baumgardner.
"Is the sport just too dangerous?" they wrote.
The cross-country phase of eventing is a test of the true grit of horse and rider.
Jumps resembling everything from a picnic table to a mousetrap to a mushroom dot the landscape of a 1 to 4-mile course that riders are given a certain amount of time to complete. Part of the thrill for spectators is watching a horse and rider galloping up a hill, collecting themselves in front of the jump and then taking a mighty lunge over the obstacle.
To accomplish that feat safely takes years of training for the horse and rider – and months of conditioning for the horse.
Many in the eventing community have noticed a disturbing trend – horses and riders being pushed beyond their competence and endurance level, opening the door to accidents.
Red Hills has volunteered to be in the forefront of ongoing scientific and medical studies aimed to determining whether the courses are putting an undue strain on the animals. And while a spate of new rules may not have prevented Chiacchia's accident, they may protect others.
"As much as it seemed there was a dark cloud over me that day, if what happened to me helps initiate change and education, it will have served its purpose," Chiacchia says.
Chiacchia remembers nothing of the accident other than having an out-of-body experience. Coming to terms with the impact of the accident, he says, is "a daily journey."
"To say I've made a complete recovery from what was a serious, complicated head injury, how does one really know?" he asks.
Carol Dover, a longtime friend who serves with Chiacchia on the Florida Horse Park Board, says his recovery has been a miracle. She credits his physical and mental stamina with giving him the strength to overcome tremendous obstacles.
"People wrote him off for dead, seeing him all hooked up with tubes," says Dover, who hosted Chiacchia's family at her home while he was hospitalized here and held a fundraiser that collected more than $250,000 to help pay his medical bills. "Having the will to come out of the coma and get on a horse. You could tell there was no question in his mind. When he opened his eyes the first time, you could see there was no question that he was getting out of there."
Chiacchia credits the quick reaction of Red Hills staff, the emergency crew on course, led by Rusty Lowe, the hospital and his Tallahassee doctors with saving his life.
"The bottom line is, without being too dramatic, if the care had not been what it was, we wouldn't be having this conversation," Chiacchia says.
Four months after his accident he was back competing.
"I think any sport is safe when people are competing at a level they are prepared for. But sometimes there are some things that are just simply called accidents."