The 'Inside Stuff' About Pageant Queen, Sports Broadcaster and Tallahassee Native Kristen Ledlow
Beauty and the Basketball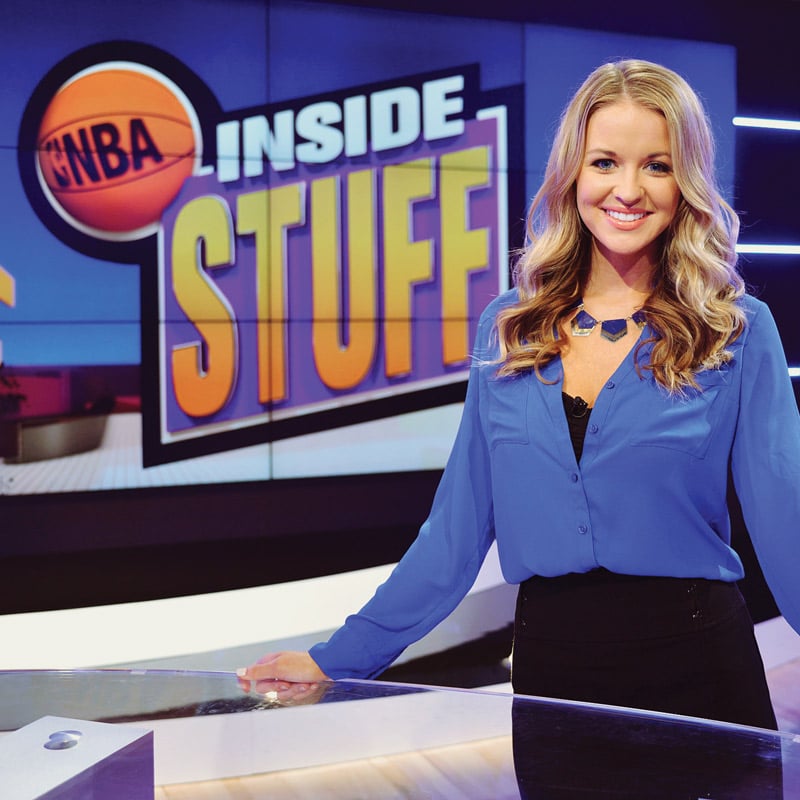 By her own admission, Kristen Ledlow is a very lucky girl.
At 26, when most millenials are getting bounced from Mom and Dad's insurance policies, she's already been a college athlete, beauty queen, local television anchor and Atlanta sports radio commentator. In November, she starts her second season rubbing elbows with roundball's greatest stars as cohost of the basketball roundup show "Inside Stuff," airing nationally at noon Saturdays on NBA-TV.
But, she would tell you, hers is not the hit-the-lottery, find-a-front-and-center-parking-space kind of luck. Instead, it's the sort referred to in the old chestnut: "Luck is what happens when preparation meets opportunity."
And that preparation is something she can track all the way back to her kindergarten days at Community Christian School. "I used tape to tape down the eraser, pencil and notebook inside my desk because at night they moved the desks to vacuum and I knew it wouldn't be … exactly how I left it," she said.
Since then, Ledlow's every move seems to have been taking her down a road leading directly to her job as a national television sports broadcaster — a rarefied position in general, but particularly for a woman.
Success, she said, "doesn't just come to you. It doesn't just happen. When I'm asked 'How did you get the job that you have?', I'm like, 'Hard work, the grace of God and a stroke of luck.' I put a lot of hard work into it, but I also recognize that there are thousands if not hundreds of thousands of women across this country that could do the job that I'm doing — and do it just as well. I just know they wouldn't love it as much as I do, and they wouldn't work harder for it."
Her youth was consumed by sports year-round; she was a star basketball and volleyball player, and ran track and cross country at North Florida Christian School. She continued to play volleyball through her years at Southeastern University, a religious college in Lakeland, where she majored in broadcasting and communications.
As a college freshman, she also played basketball and, after her games were over, she'd shower, change and then do the play-by-play broadcast for the men's games. "For all three people that were watching or listening, just to get that experience," she said.
Even her foray into pageantry was inspired by vocational desire. As she tells it, Ledlow, then a college senior, and her mother were at an Orlando Magic game when she saw sideline reporter Megan Clementi at work. "I told my mom, 'I could do that job.' And she said, 'What does she have that you don't have? And I was like, 'Well, she's Miss Florida USA.' And my mom was like, 'Why don't you be that?' "
So, without any previous pageant experience, Ledlow's mother signed her up for a contest and, after some coaching by local modeling agent Marsha Doll ("You don't stand like you're playing in a basketball game," Doll quipped.) she was crowned Miss Capital City USA and was third-runner up in the state pageant.
"The end of that story," she said, "is (Clementi) trained me and helped me get into this business."
After college, Ledlow returned home to Tallahassee and dove into local broadcasting, hosting the "Good News Show" on WTXL-TV. All the while, she was picking up more sports-related gigs — writing for the Tallahassee Quarterback Club and afternoon sports updates for ESPN Tallahassee radio that led to game-day sideline reporting for Florida State football.
"That was kind of my first gig in the sports world … and I decided this is what I want to do for real," she said.
She parlayed her local experience into regional jobs that would move her to Atlanta, where she now lives, including cohosting "The Opening Drive," a sports talk show on CBS Sports Radio.
"I really wanted to be in radio because it's not about what you look like … they hear what I know," she said, explaining why she turned down a sideline reporting gig to do the radio show that aired between 6 and 10 a.m. "I looked at that as an opportunity to not only improve my craft, but to prove that I have voice and I have an opinion on all these things and I know what I need to know."
With all the sports influences, Ledlow admits to going through a tomboy phase. "There was probably a period of about eight or nine years where I didn't wear anything but sweatpants," she said. Now, she describes herself as "a very girly tomboy," who can talk smack with the boys, but "I love all the things that girls love also. I make sure my hair and my nails are done. I like to go shopping, and I like to spend a day at the spa."
NBA-TV was taking a gamble bringing back "Inside Stuff" in 2013. In its initial run from 1990 to 2005, the fast-paced recap of the week in basketball geared toward younger fans was hosted by Ahmad Rashad and a series of female cohosts. "Ahmad is so respected, he's so loved in that circle and everyone loved the show when he did it," she said. "I was worried … . It's kind of a sequel to the movie that everybody loves: Everybody's very critical and, no matter what, you don't like the second one."
But fans responded — some of them dads who grew up watching Rashad's original version who were now sharing the re-do with their children.
Ledlow and Hill are back with another 30-episode season that begins Nov. 1. She's now a full-time NBA personality. In addition to "Inside Stuff," Ledlow also anchors sports on CNN and HLN, shoots features for the NBA on TNT and contributes to "NBA GameTime" on NBA TV.
At the time she was being considered for the show, producers knew they wanted a female to cohost with former NBA All Star Grant Hill, and they had auditioned seasoned broadcasters as well as WNBA basketball players.
"I think they were looking for a hybrid of those things," she said. "Someone who knew the game of basketball but also could do a good job on the broadcast and make it an entertaining show."
At one point, interviewers asked if she liked the game of basketball and would she watch the games. "Those questions aren't typically going to be asked of a man who goes into those rooms," she explained. "It's an uphill battle to be a female in this business and to prove that you want it and that you know your stuff and that you do belong."
Her response? "I sat in there and I said, 'I don't know how I can convey to you in 30 seconds how huge an NBA basketball fan that I am. I will watch all these games, read all these articles and do all of this stuff if you're not paying me to do it. If I have some regular job, I would still read the things I read, I would still watch the things I watch and I would go to the games that I go to."
Ledlow said her job on the show is like an iceberg: about 90 percent preparation and hard work under the surface and the 10 percent glamour seen on television.
But oh what fun that 10 percent can be. She teases cohost Hill, is chummy with Charles Barkley and once challenged Shaq to a free-throw contest (she lost). Her much-larger-than-life image has been seen in Times Square and NBA arenas throughout the country. "A friend of mine sent me a text message that was a picture of Grant Hill and me in Madison Square Garden. I honestly thought it was Photoshopped," Ledlow said.
A highlight of her career thus far was February's All-Star weekend in New Orleans, she said, with activities that included participating in a celebrity basketball game.
"I looked around on at least a dozen occasions and thought, 'How in the world did I get in this room with these people?' " she said. "It's such a cool thing to see the doors that have opened and the opportunities that have been laid out, because from the time I was a little girl living in Tallahassee this is all I ever wanted to do. Now it's kind of like waking up every single day and I actually get to do it. I mean, who actually gets to be what they wanted to be when they grow up?"