The Indefatigable Avis Berry
As teacher, performer and librarian, her plate is full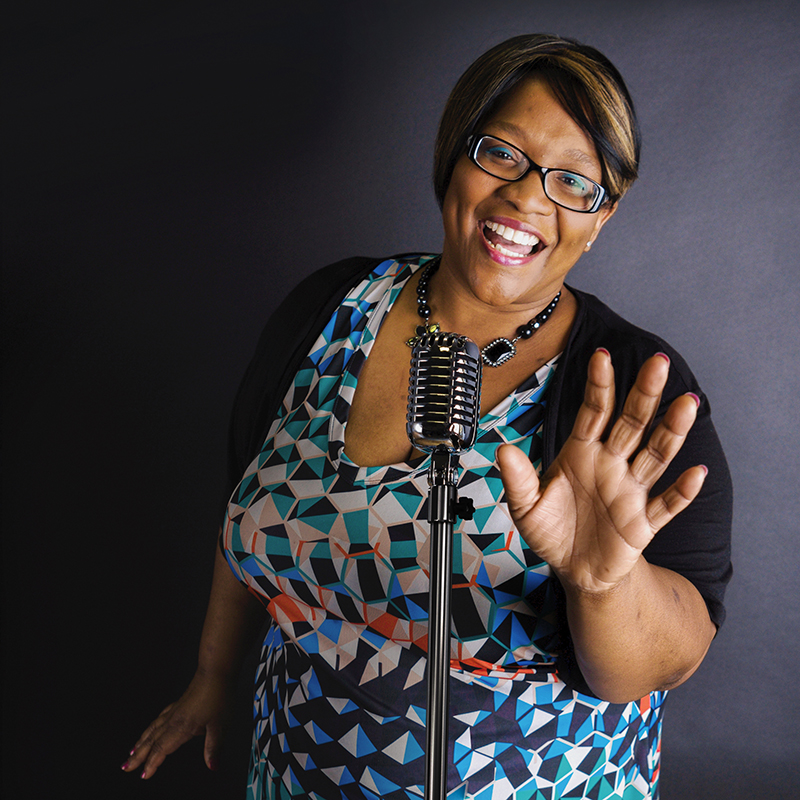 There's a video featuring Avis Berry singing the up-tempo jazz standard, "A Foggy Day (In London Town)," and backed by the TSOJazz orchestra. The filming took place at The Moon last November. Her smooth, sweet and soulful voice is a pleasure to listen to, and the pure joie de vivre she projects while singing is infectious, even when you're watching it months later on YouTube.
Berry's two or three times monthly singing gigs are definitely a highlight of her life, but not the only thing in her life — not by a long shot.
The "40-something" wife and mother of two is also a fifth grade teacher at Gilchrist Elementary and a full-time librarian at Florida State University's Music Library — a seven-day, 80-plus-hours a week schedule. 
"It's crazy, but it's good fun. I'm enjoying it. I wouldn't stay in it if I didn't love it," she says.
Born and raised in Clearwater, Berry started singing in church ("of course") and later joined a community performing group called Kids-A-Poppin. "I think it just built up the confidence, plus the feedback from the audience and the community. They just kept saying: 'You are really good, you have something special,' and I loved it."
And then she came to FSU to major in vocal performance — with coursework heavy on classical technique — and found out just how much she didn't know. "I came into FSU so green," she recalls. "I loved the discipline and the technique of classical music and I still do."
But the spontaneous nature of jazz is what lights her up. "It's sophisticated and classy, yet can be funky or it can be free," Berry says. "I feel like the palette is so open, and that caters to the Libra in me, which likes options."
 Those "options" can include performing at local music venues, churches and fundraisers, and collaborating with musicians including Scott Carpenter and Leon Anderson.  For the past two years, she's been part of the group Jazz Copeland, which has given her an appreciation of what it takes to be in a band — the management, marketing, scheduling and rehearsing.
"We have to consider our time together sacred, because we don't have a lot of it," she said. 
Because making music doesn't pay all the bills, Berry has her other jobs which, she claims, aren't as far afield from her vocal avocation as one might think.
After graduation, Berry took a job as a substitute teacher and found she enjoyed the classroom. She began her career in 2004, earning a master's degree in elementary education, and now teaches fifth-grade science at Gilchrist Elementary School.
"The classroom is like a stage too, and I thoroughly enjoy being in front of students and sharing what I know," she says. "It's like I go to a show every day with those students … and I love the kids. They have their own youthful creativity, and it's good to be around that kind of energy."
Things are much more low key at the library job, but it's still one that feeds her musical soul.
"There's music, the actual scores, there's sound recordings, video recordings, journal articles that keep everything new and relevant. Being in the College of Music, I'm surrounded by … all the different forms of music and musicians." (She's about to wrap up a second master's degree in Library and Information Studies.) It also helps that all of her co-workers are musicians, who are understanding about her taking time off when a gig pops up.
Berry's considered dropping a job, but laughed when she realized she was already thinking about other choirs and rehearsals she could join. "I'm always trying to fill my space," she says.
"At the end of the day, it comes down to: 'Do you love what you're doing?' Absolutely. Every last bit of it," she says. "I imagine life will slow me down at some point, but for now I'll just keep going."  
---
All That Jazz: Venues and Events
Bradfordville Blues Club 
Down a winding dirt road and under a canopy of oaks sits the famous Bradfordville Blues Club bursting with jazz and blues acts from near and far. A bonfire stays burning, the beer is cold and the music is hot! Kick back at 7152 Moses Lane.
B Sharps Jazz Café
B Sharps is a listening room where there is a minimum of conversation and a whole lot of listening going one. Enjoy some of the area's finest, developing jazz artists. This quaint and cozy jazz club is located at 648 W. Brevard St.
FAMU's and FSU's Jazz Ensembles 
Two highly ranked and nationally recognized collegiate jazz ensembles are housed right here in Tallahassee. The FAMU and FSU jazz ensembles hold concerts and recitals each semester for public viewing.